Warden 1.44

Warden is a website user-manager and .

Developer:
Fresh Software
software by Fresh Software →
Price:
14.00 buy →
License:
Shareware
File size:
0K
Language:
OS:
Windows Vista

(?)

Rating:

0

/5 (0 votes)
Warden is a website user-manager and .htpasswd generator. It controls access to any webpage running Apache in three quick steps and is currently in development.

Warden is a program that will allow you to protect your website.

Do you run your own website? Want to apply password protection to one or more webpages? Fresh Software's Warden project will make it a snap to manage web accounts for multiple users. Add new accounts in seconds, suspend them in a single click, or send email to one or many users from within the program. If you don't like making .htpasswd and .htaccess files the old fashioned way, download Warden and try it the Fresh Software way.
tags

fresh software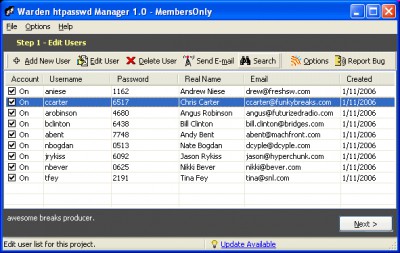 Download Warden 1.44
Purchase:

Buy Warden 1.44
Authors software

Sentry 3.0 Beta5
Fresh Software

Sentry locks down your computer on demand, watching over your desktop so it stays secure when you aren't using it.

Warden 1.44
Fresh Software

Warden is a website user-manager and .
Similar software

Warden 1.44
Fresh Software

Warden is a website user-manager and .

Htpasswd Generator 2.2
Aleo Software Inc.

Htpasswd Generator software represents a user admin tool designed for Apache web server.

indexsoft Access Manager 2.12
IndexSoft

The powerful web based manager of .

PassDir 1.7.0
Magenta Systems

PassDir, PassDir, Magenta Password Directory IIS Filter, is a powerful utility for protecting specified directories from unauthorised access using the Microsoft Windows IIS Web Server.

AutoSitePasswords 1.3
BRIZ Software

AutoSitePasswords is a user admin tool for Apache web servers.

AltaRiver Spam Blocker 1.02
AltaRiver Spam Blocker

AltaRiver Spam Blocker is a reliable program that allows you to protect the email addresses on your website against SPAM, instantly.

RssDownloader 1
www.csstemplateheaven.com

RssDownloader has become very popular to display Rss feeds on websites.

Easy Password Manager 4.3.33
Polygon Enterprises

Easy Password Manager is a secure password management system that allows One-Click login to many Internet accounts.

ChangeSite 2.5
Multimedia Australia Pty. Ltd.

ChangeSite Express, designed software to help users make website-wide modifications Making design changes to your HTML website is usually a time consuming process, involving the modification of all webpages that make up the site.

PageLock Website Copy Protection 8.0.0
Multimedia Australia

PageLock Website Copy Protection will protect your website's HTML code and design from any type of theft.
Other software in this category

AnalyseSpider 3.01
Jgsoft Associates

AnalyseSpider is a powerful Web Log File Analyzer tool with a wealth of analysis to help you optimize your site.

xIDS Web Log Analyser 1.2
ZClix Software

Network Security Administrators will agree that manually scanning web server logs for intrusion attempts is time consuming and not a loved task, not to mention small details that can so easily be missed.

Web Log Storming 3.4
Dataland Software

Dynamic Statistics - Feel the Power! You won't believe how much information you can get from your web logs! Web Log Storming is an interactive, desktop-based Web Log Analyzer for Windows, unlike any other log analyzer.

Surfstats Log Analyzer Standard Edition 8.3.0.1
SurfStats Software cc

SurfStats Log Analyzer is a useful and reliable program that can generate Website Activity and Conversion Tracking reports from log files.

RelayTest 2.4.3
DigiArch.org

RelayTest Pro is a program that will test your mail server for open relays.