AutoSitePasswords 1.3

AutoSitePasswords is a user admin tool for Apache web servers.

Developer:
BRIZ Software
software by BRIZ Software →
Price:
25.00 buy →
License:
Shareware
File size:
0K
Language:
OS:
Windows Vista

(?)

Rating:

0

/5 (0 votes)
AutoSitePasswords is a user admin tool for Apache web servers.

AutoSitePasswords manages user databases and allows you to append, edit, delete and search the user records.

AutoSitePasswords will create Apache password files (compatible with files generated by htpasswd) and allows you to upload them to the server.

Features:

keeping user database

append, edit, remove and search user records

disabling of the user records on expiration date

generates random login/password series

generates Apache password files (.htpasswd)

encryption of user passwords with MD5 algorithm

uploads password files to FTP server

imports user records from comma delimited text files

tags

user records password files the user apache password and search allows you append edit and allows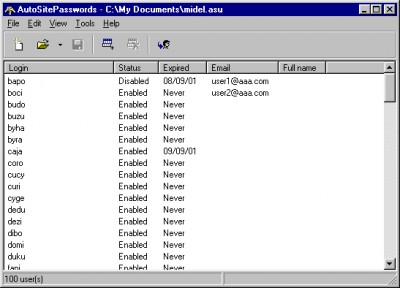 Download AutoSitePasswords 1.3

Download AutoSitePasswords 1.3

Purchase:

Buy AutoSitePasswords 1.3
Authors software

AutoSiteGallery 2.05
BRIZ Software

AutoSiteGallery is a time-saving software that helps you create web-based photo albums.

AVI Joiner 1.0.9.0
BRIZ Software

AVI Joiner is an easy-to-use tool to join multiple AVI files into one larger AVI file.

AVI Splitter 2.30
BRIZ Software

AVI Splitter is an easy-to-use tool to split AVI files.

ASPThumb 2.11
BRIZ Software

ASPThumb is an ASP component (ActiveX) that will allow ASP application to create high-quality thumbnails.

AutoSitePasswords 1.3
BRIZ Software

AutoSitePasswords is a user admin tool for Apache web servers.
Similar software

AutoSitePasswords 1.3
BRIZ Software

AutoSitePasswords is a user admin tool for Apache web servers.

Htpasswd Generator 2.2
Aleo Software Inc.

Htpasswd Generator software represents a user admin tool designed for Apache web server.

Apache Admin 2.5
HQware Ltd

Apache Admin is the right tool for tuning your Apache web server.

Secure Password Store 0.81
L.M. Photonics Ltd

Secure Password Store is a secure Password database manager that stores all passwords in a safe database.

PassDir 1.7.0
Magenta Systems

PassDir, PassDir, Magenta Password Directory IIS Filter, is a powerful utility for protecting specified directories from unauthorised access using the Microsoft Windows IIS Web Server.

Warden 1.44
Fresh Software

Warden is a website user-manager and .

PDF Password 10.1.6805
LastBit Software

PDF Password recovers lost passwords to password-protected PDF files (*.

Proactive System Password Recovery 6.52
ElcomSoft Co. Ltd.

Proactive System Password Recovery (PSPR) is a program to recover all types of Windows passwords: logon password (when user is logged on and has Admin privileges), screensaver password, .

Shaz Password Manager 1.0
Shaz Software Solutions

Shaz Password Manager is a desktop application that stores all your logins and password details for fast and easy reference.

ASPRunner Professional 4.0
Xlinesoft

ASPRunnerPro generates set of ASP pages to access and modify Oracle, SQL Server, MS Access, MySQL, DB2, FileMaker database or any other ODBC datasource.
Other software in this category

AnalyseSpider 3.01
Jgsoft Associates

AnalyseSpider is a powerful Web Log File Analyzer tool with a wealth of analysis to help you optimize your site.

xIDS Web Log Analyser 1.2
ZClix Software

Network Security Administrators will agree that manually scanning web server logs for intrusion attempts is time consuming and not a loved task, not to mention small details that can so easily be missed.

Web Log Storming 3.5
Dataland Software

Dynamic Statistics - Feel the Power! You won't believe how much information you can get from your web logs! Web Log Storming is an interactive, desktop-based Web Log Analyzer for Windows, unlike any other log analyzer.

Surfstats Log Analyzer Standard Edition 8.3.0.1
SurfStats Software cc

SurfStats Log Analyzer is a useful and reliable program that can generate Website Activity and Conversion Tracking reports from log files.

RelayTest 2.4.3
DigiArch.org

RelayTest Pro is a program that will test your mail server for open relays.