internet › chat instant messaging

software

Universal Messenger Plus 1.02
Universal Messenger Plus LLC

Universal Messenger Plus is a multi-protocol instant messenger designed with the goal to bridge the difference of various Instant Messengers and provide a single convenient interface that will allow users to easily communicate over different protocols.

EasyIPPhone v1.20
Slongsoft, Inc

-> What is EasyIPPhone? EasyIPPhone is a easy and powerful video IP phone for Windows.

Smilecam 3.0
Sintec Technologies

SmileCam messenger merges high-quality video conferencing capabilities with a high-speed, wide-range pan/tilt camera, and the first-of-its-kind auto-tracking features.

MessengerLog Pro 6.20
formessengers.com

We are proud of our latest version MessengerLog and Pro for their ability to automatically log everything from Windows Messenger 4.

Simpsons MSN Display Pictures 1.0
MSN Display Pictures

The Simpsons Display Picture Pack contains many display pictures featuring all of your favorite characters from the show for use in MSN Messenger 6 and 7! The display pictures are easy to download and use, and are fully compatible with MSN Messenger 6/7, so give these free pictures a try today! This download may include additional applications bundled with the software's installer file.

Matrix MSN Display Pictures 1.0
MSN Display Pictures

The Matrix MSN Messenger Display Pictures pack contains over 30 display pictures based on the classic Matrix movies! All of the characters are featured in this free display picture set, which is fully compatible with MSN Messenger 6/7, so give this free display picture set a try! This download may include additional applications bundled with the software's installer file.

Air Messenger Pro 11.0.5
Internet Software Solutions

Transmitting text messages to alphanumeric messaging devices, such as Cellular Phones, Pagers, Personal Digital Assistants, and Laptops has emerged as an important new technology of the 2000's.

IMSpeak! 3.8
East Bay Technologies Inc.

IM Speak! is a tool that adds speech and personality to incoming messages from your favorite Instant Message program (AOL IM or MSN IM).

Akeni Jabber Client (XMPP) Corporate IM 1.0
Akeni

Akeni Jabber Client ( XMPP ) is an instant messaging client for Jabber ( XMPP ) compliant coporate instant messaging IM servers.

Gossip Corporate Messenger 1.1
SEM Software

Gossip ables you to create private and secure instant messaging network, based on client-server architecture.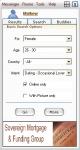 Instant Messenger Dating 1.0
30MC Corporation

IM-Dating is an Instant Messenger Dating program.

Christmas MSN Emoticons 1.0
Christmas MSN Emoticons

Equip your MSN Messenger with this free Christmas MSN Emoticons pack and spread the holiday spirit in your Messenger conversations this Christmas season! This free emoticon pack is quick to download and easy to setup, you'll be spreading the Christmas joy in minutes! This download may include additional applications bundled with the software's installer file.

Messenger Jump! MSN Content Installer 1.10
MessengerJump.net

Messenger Jump! MSN Content Installer is a program that helps you preview, install additional MSN Messenger Content (such as winks, emoticons, display pictures, moods, backgrounds) to your MSN Messenger.

Akeni Instant Messaging Server Pro 1.2
Akeni

Akeni Instant Messaging Pro is a client/server instant messaging platform that allows companies to host their own secured private IM system.

Super Cipher P2P Messenger 4.0
Brooks Younce Software

Dynamic Multithreading Messenger & File Transfer Program with unbreakable encryption.

ShixxNOTE 6.net
Mavel

netShixxNOTE 6.

Meeting Pal 1.40
Meeting Pal

Meeting Pal is software that enables people to meet over the Internet or computer network.

VueChat Express 1.4
VueCam

VueChat Express is a Customer Service solution for the government and corporations that enables a web based Customer Service / online Help Desk techology with CRM, Live Video and VoIP (Voice over IP) technologies.

Yahoo! Messenger Archive Decoder 1.1
Retina-X Studios LLC

Yahoo! Messenger Archive Decoder is a full-packed archive viewer for your YIM monitoring needs.

OfficeIntercom 4.01
NCH Swift Sound

OfficeIntercom lets you use your computer to speak to others over the internet or your local office computer network.

Buddy2Buddy 1.0
Buddy2Buddy

Buddy2Buddy is a universal instant messaging software which lets you combine major chat networks such as AOL, ICQ, MSN, and Yahoo.

Clique Video Messenger 2.1.4.598
Clique Communications LLC

Clique Video Messenger is the first all-in-one video, audio and text communication tool Clique Video Messenger is a new breed of video communication that allows you to create and deliver high-quality video from right from your PC.

The Manor 1.0
MadWolf Software

The next generation of 2-D virtual chat.

GRCLive 1.1
GrassRoots Communications

GRCLive is a powerful and affordable communications tool that combines superior quality video and audio conferencing with a synched Calendar, File Share storage area, Whiteboard collaboration, Application and Document Sharing, and a Remote Desktop function that is especially useful for meetings, presentations, and training seminars.

Friend Messenger 2.0
iWalton

Friend Messenger allows you to promote yourself on MySpace and build up your friend list with the single click of a button.