eMenutree 5.0

eMenutree can make javascript (DHTML) window explorer like tree menus (which are great for frames or on the left side of the page) or drop down tree menus (the kind you see at the top of many web sites).

Developer:
eMenuTree
software by eMenuTree →
Price:
19.00 buy →
License:
Shareware
File size:
0K
Language:
OS:
Windows Vista

(?)

Rating:

0

/5 (0 votes)
eMenutree can make javascript (DHTML) window explorer like tree menus (which are great for frames or on the left side of the page) or drop down tree menus (the kind you see at the top of many web sites).

These tree menus work in all major browsers (Internet Explorer 4-6, Netscape 4-6, Opera) and many other browsers.

eMenutree is easy to use and it does not require any javascript programming.

eMenutree has a graphical interface. You see the tree as you create it; you can drag and drop, copy, cut and paste branches.

eMenutree has both a CSS editor and a simple HTML editor built in, which allows you to make changes very quickly.

eMenutree has many options. You can make a vertical tree or a horizontal tree. You choose your own folder images or choose not to use folder images. You select your indents, fonts, margins, tree menu background color, whether to begin each page with an open tree or closed tree.

You can insert any HTML code anywhere in the tree.

You do not need to manage links between your pages. You create pages with HTML content. The tree menu contains all your links. When you add or delete pages from your web site, all you need to do is add or delete links from your tree menu and re-write the menu.

Advanced features: write your own script to change a tree menu, automatically add multiple links and folders to the tree from your hard disk at either build time, run time or by ASP server side scripting, read the tree menu from a database.
tags

the tree tree menu tree you you can emenutree has tree menus from your folder images you create you see can make your own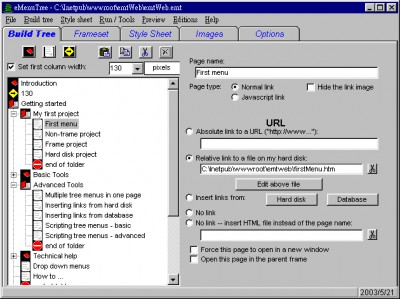 Download eMenutree 5.0
Purchase:

Buy eMenutree 5.0
Authors software

eMenutree 5.0
eMenuTree

eMenutree can make javascript (DHTML) window explorer like tree menus (which are great for frames or on the left side of the page) or drop down tree menus (the kind you see at the top of many web sites).
Similar software

eMenutree 5.0
eMenuTree

eMenutree can make javascript (DHTML) window explorer like tree menus (which are great for frames or on the left side of the page) or drop down tree menus (the kind you see at the top of many web sites).

Creata-Tree 3.0
Neotext

Creata-Tree will create one of the most powerful JavaScript menu trees available for your website.

Sothink Tree Menu 2.1 build 70313
SourceTec Software

Sothink Tree Menu is an application that lets you view and browse every link page on the web site clearly.

Xtreeme SiteXpert Standard Edition 9
Xtreeme GmbH

With SiteXpert you can create a professional navigation scheme (such as a DHTML drop down menu or site map tree) within a few minutes.

iNavigate 4.2.4125
Cirkadia

iNavigate is the ultimate tree menu for your intranet, internet or custom product project.

Advanced Treeview Explorer 1.0
Sirius Computer Consultants Limited

Make a professional navigation tool for your site with the Advanced Treeview Java Tree Menu! The Advanced Tree Menu can even execute JavaScript functions.

Deluxe Tree 4.1.3
Deluxe-Menu.com

Improve your web-site navigation with the most powerful multi-featured JavaScript Menu on the Web! Deluxe Tree is a versatile, ready-made solution that allows professional and amateur web developers to create superior dhtml navigation systems for their web sites and web applications.
FullDisk 5.3
Paul Gerhart

FullDisk lets you view your hard disk contents on a tree-by-tree basis.

Sothink DHTML Menu Suite 5.5
SourceTec Software

Sothink DHTML menu products are bundled towards you, which gives you more favor price, better quality.

GYZ Tree Document Editor 1.0
Yanzhong Gui

GYZ Tree Document Editor is a tree-structured rich document editor and viewer.
Other software in this category

Ulead Menu.Applet 1.0
Ulead Systems

Ulead Menu.

Anything3D Glide Menu 1.0
Anything3D Corp.

Anything3D Glide Menu is a Java applet that can provide any website with a professional looking navigation system, create a text-only menu, or combine both text and images together.

Fungus Menu Wizard 1.0
Orchard House

Fungus Menu Wizard is a program that allows you to create menus for web pages.

Just Tabs 3.2
Lincoln Beach Software

Just Tabs instantly creates a customized tabbed interface to make your web site easier to navigate.

Xara Menu Maker 1.1
Xara Ltd

Xara Menu Maker will enable you to create professional menus and stylish navigation bars - and there's no artistic or technical skill required! Menu Maker makes it so easy to add your NavBars to your web page - even your granny could do it.