AllWebMenus Pro 5.3.940

AllWebMenus is a useful dhtml menu/javascript menu builder for web site navigation which requires absolutely no DHTML or Javascript experience.

Developer:
Likno Software
software by Likno Software →
Price:
59.00 buy →
License:
Demo
File size:
0K
Language:
OS:
Windows Vista

(?)

Rating:

0

/5 (0 votes)
AllWebMenus is a useful dhtml menu/javascript menu builder for web site navigation which requires absolutely no DHTML or Javascript experience.

AllWebMenus creates any cross-browser, popup or drop-down menu that works alike in all browsers supporting DHTML (all Netscape Navigator and Internet Explorer versions of 4.0 and later, Opera and Mozilla included)

DHTML/JavaScript menus are designed with a treelike approach. Users can tailor their menu by using the Properties Pane or by choosing a predefined appearance from the Style Gallery.

The menu can be either vertical or horizontal (pop-up or drop-down menu), it can be movable, stay visible while scrolling, contain static or animated images, borders, colors, and much more.

Once everything is set, you can use the insert-menu-into-Web-page command to add your menu in the Web page in a fast and easy manner without any code.


AllWebMenus Pro features
Optimized menu building with separate javascripts for different browsers

Full documentation on all features and properties! The HELP file is about 460KB offering you complete help on your design efforts. A complete manual can also be downloaded

Ability to use menus over flash objects, form elements, applets and iframes

Create any kind of menu fast by using pre-designed menu styles from the Style Gallery

Create, link and update a menu into your web pages in no time and without any code required

Import FrontPage Navigation Structures

Use multiple menus in the same page

Free Sitemap generator based on the functional menu structure

Use flexible positioning for your menus

Use menus with Shared Borders, Templates and Libraries

Create menus for framed web sites (cross-frame menus)

Create popup and hidden menus

Design both horizontal and vertical menus

Use static or animated images for both the background and content

Specify optional Javascript Commands to create fully extensible and programmable menus

Several unfolding effects


Requirements
Internet Explorer installed

Windows 98 require an XML parser for AllWebMenus to show menus properly. Download the XML Parser from here


Limitations
You can use all the features except the "compile menu" and "link menu" commands

tags

without any web page menu into any code use menus xml parser menus use can use you can internet explorer down menu from the the style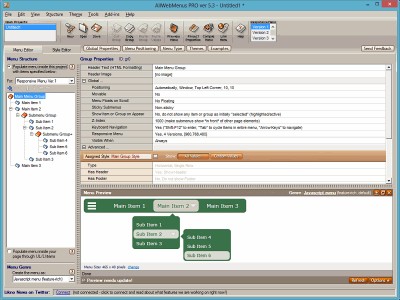 Download AllWebMenus Pro 5.3.940

Download AllWebMenus Pro 5.3.940

Purchase:

Buy AllWebMenus Pro 5.3.940
Authors software

AllWebMenus Pro 5.3.940
Likno Software

AllWebMenus is a useful dhtml menu/javascript menu builder for web site navigation which requires absolutely no DHTML or Javascript experience.

FrameShow 1.3.112
Likno Software

FrameShow is a useful and innovative application used for framing pictures taken with your digital camera and giving them a personal touch.

Likno Web Button Maker 2.0.162
Likno Software

Likno Web Button Maker is a user-friendly program that creates unique and professional custom 3d web buttons for your web pages and projects fast and easy.

Photo Frame Show 1.0.16
Likno Software

Photo Frame Show is a useful and reliable imaging and desktop enhancement program which adds stylish frames to digital photos in order to enhance your personal albums, projects, websites or desktop wallpapers with remarkable ease.

AllWebMenus LITE 4.1.624
Likno Software

AllWebMenus is a dhtml menu/javascript menu builder for web navigation that requires absolutely no DHTML or Javascript experience.
Similar software

AllWebMenus Pro 5.3.940
Likno Software

AllWebMenus is a useful dhtml menu/javascript menu builder for web site navigation which requires absolutely no DHTML or Javascript experience.

AllWebMenus LITE 4.1.624
Likno Software

AllWebMenus is a dhtml menu/javascript menu builder for web navigation that requires absolutely no DHTML or Javascript experience.

Active DHTML Drop Down JavaScript Menu 1.0
Sirius Computer Consultants Limited

The DHTML Drop Down JavaScript Menu is cross browser and highly customizable.

ACEMenu Creator 3.6.3
NavSurf

ACEMenu Creator lets you create cross-browser, cross-platform compatible DHTML navigation menus for your web site with ACEMenu Creator quickly and easily.

DHTML Menu Wizard 1.0
Gokhan Dagli

DHTML Menu Wizard is a tool that helps you to design web menus in minutes and instantly see the results.

Toggle Tab Menus 3.0
Baldean.com DevZone

Toggle Tab Menus is an advanced cross-browser DHTML/JavaScript easy-to-use menu that requires no programming knowledge from the user to customize it.

eMenutree 5.0
eMenuTree

eMenutree can make javascript (DHTML) window explorer like tree menus (which are great for frames or on the left side of the page) or drop down tree menus (the kind you see at the top of many web sites).

Sothink DHTMLMenu 7.3 Build 70329
SourceTec Software

Sothink DHTMLMenu can help web designers to create professional DHTML pop-up menu for web pages without writing a single line of code.

Flash Horizontal Menu Wizard 2.0
Gokhan Dagli

Flash Horizontal Menu Wizard is a tool that allows you to design your Flash based dropdown menu Flash in a few minutes and instantly see the results.

Selteco Menu Maker 4.1.4.1
Selteco Software

Selteco Menu Maker is an application that allows you to create menus without writing code.
Other software in this category

Ulead Menu.Applet 1.0
Ulead Systems

Ulead Menu.

Anything3D Glide Menu 1.0
Anything3D Corp.

Anything3D Glide Menu is a Java applet that can provide any website with a professional looking navigation system, create a text-only menu, or combine both text and images together.

Fungus Menu Wizard 1.0
Orchard House

Fungus Menu Wizard is a program that allows you to create menus for web pages.

Just Tabs 3.2
Lincoln Beach Software

Just Tabs instantly creates a customized tabbed interface to make your web site easier to navigate.

Xara Menu Maker 1.1
Xara Ltd

Xara Menu Maker will enable you to create professional menus and stylish navigation bars - and there's no artistic or technical skill required! Menu Maker makes it so easy to add your NavBars to your web page - even your granny could do it.