SpyZooka 2.5

SpyZooka will guarante 100% removal of spyware, adware, hijackers and malware.

Developer:
BluePenguin Software Inc.
software by BluePenguin Software Inc. →
Price:
29.00 buy →
License:
Shareware
File size:
0K
Language:
OS:
Windows Vista

(?)

Rating:

0

/5 (0 votes)
SpyZooka will guarante 100% removal of spyware, adware, hijackers and malware.

I personally guarantee SpyZooka will remove 100% of your spyware, adware, hijackers, keyloggers, unwanted toolbars, dialers, trojan horses and malware or I will give you a free update in 24 hours (or less) that will...Plus SpyZooka will prevent future infection! Don't get me wrong.

Since the SpyZooka Research Team is constantly investigating new spyware, normally your spyware is removed the first time. SpyZooka is the only company in the world to offer a 100% removal guarantee. Spyware removers only remove (at best) 90% of the spyware (usually less) out there.

The reason is with new spyware flooding the net every few minutes its simply impossible for any company to have every spyware in its database. And to remove your spyware we need to have it in our database. Certified SpyZooka Agents are here 24/7 to help you with any question you have. Most questions are answered in a couple hours, but normally much faster.


Limitations
Only scans, does not remove

tags

spyzooka will your spyware new spyware and malware adware hijackers 100 removal spyware adware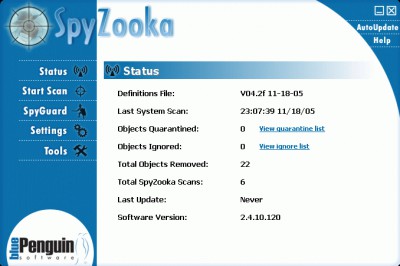 Download SpyZooka 2.5
Purchase:

Buy SpyZooka 2.5
Authors software

SpyZooka 2.5
BluePenguin Software Inc.

SpyZooka will guarante 100% removal of spyware, adware, hijackers and malware.
Similar software

SpyZooka 2.5
BluePenguin Software Inc.

SpyZooka will guarante 100% removal of spyware, adware, hijackers and malware.

PC Adware Spyware Removal 2.1
PowerNeT Softwares

PC Adware Spyware Removal - if you don't want it on your computer, you can try to remove spyware manually.

Venom 1.2
Copperhead Security Software

Venom spyware remover will provide unbeatable anti-spyware protection against spyware, adware, trojan horses, keyloggers, auto dialers, spyware cookies, rootkits, adbots, browser hijackers, spybots, phishing attacks and other malware threats.

Spyware & Adware Removal 3.0i
Synergeticsoft

This program has an amazing pop up blocker that blocks 98% of all pop up ads! It is virtually impossible to remove all spyware from your computer, for new spyware comes out on a daily basis.
Advanced Spyware Remover Pro 2.9
Advanced Spyware Remover Pro, Inc.

Advanced Spyware Remover (ASR) is an advanced but easy-to-use software that protect your computer against stealthy spyware, aggressive adware, browser hijackers, Malware Trojans, tracking cookies, keyloggers, dialers, as well as other malware.

Spyware Seizer 2007 3.1
MoatSoft

Spyware Seizer comes with the ability to scan your RAM,Registry,hard drives,advertising,and tracking components, and provides 9 advanced real-time anti-spyware/trojan protection against Trojan horses,spyware,adware,viruses,worms,keyloggers,spybots,browser hijackers,hosts file,and other malware threats.

Spyware Scanner 3.0.18
East Soft Inc

Spyware Scanner utilizes a sophisticated database of malware infections to detect and remove malware from your computer.

Adware Removal 8.0.18
AdwareRemoval.com

Adware Removal software will detect a multitude of spyware, adware, Trojan horses, keyloggers, and trackware components, sources of irritation that many antivirus products do not deal with.

Spy Blaster 2.11
Jarred Fenalson

Blast Away Malicious & Annoying Spyware Making Your Computer Run Like New.

AAA Spyware C.O.P. 10.0
Spyware C.O.P.

This product will scan your P.
Other software in this category

WinKill 1.52
BrotherSoft

The annoying pop-up advertisement windows disturb your sights and occupy your system resource.

AdPurger 2.51
Alex Fishman

AdPurger is a powerful plug in for Microsoft Internet Explorer for removing ad banners, popup windows and other annoyances.

Spy Hunter 2.0 Build 3
Tooto Technologies

Spy Hunter monitors and blocks spyware, data spills, Web bugs, un-friendly referers, malicious cookies, advertisements, third party scripts, third party style sheets, and third party animations.

Popup preventer 1.20
chenziyi

Popup preventer is an intelligent pop-up killer that prevents unwanted pop-up windows from appearing as you surf the web, with no need to set up for particular websites or keywords.

galaxySpy v1.1.1
galaxyTrading

Display, filter & record ALL network activity on your PC! Detect, block and track unauthorized information leakage and intrusions by Advertisements, Adware, Cookies, Hackers, Scripts, Spyware, Trojans, Viruses, Web Bugs and Worms! Log every web site visited, cookie contents and requested URLs! See what information applications are sending home to their developers! galaxySpy Download galaxySpy Screenshots Find Related Downloads Similar freeware programs RECOMMENDED DOWNLOADS IN THIS CATEGORY ( Popup / Ad/ Spyware Blockers ) PestBlock 4.