SmartPOP2Exchange 8.7.2

SmartPOP2Exchange helps you to connect your existing POP3 accounts to an SMTP or Exchange mail server.

Developer:
JAM Software
software by JAM Software →
Price:
77.00 buy →
License:
Trial
File size:
0K
Language:
OS:
Windows Vista

(?)

Rating:

0

/5 (0 votes)
SmartPOP2Exchange helps you to connect your existing POP3 accounts to an SMTP or Exchange mail server. SmartPOP2Exchange works in the background and downloads all messages from various POP3 accounts and forwards them to your SMTP/Exchange server.

SmartPOP2Exchange is a software that helps you to download messages from POP3 servers.

SmartPOP2Exchange is an easy to use configuration tool allows you to adjust common options like download interval, timeout, log file and to add, delete or configure your SMTP/Exchange and POP3 accounts.

A configurable spam filter allows to tag or to delete mails, that have been identified as spam. The popular SpamAssassin software is used to identify the spam mails.

SmartPOP2Exchange also supports a flexible and powerful set of rules which allows you to define additional actions for certain messages. Several virus scanners are integrated if installed in order to identify mails that are infected by a virus or trojan.

Here are some key features of "SmartPOPExchange":

POP3 and IMAP connector for MS Exchange and any other SMTP server

RSS Feeds can be downloaded by SmartPOP2Exchange and delivered as mails

Runs as system service in the background

Easy to use configuration application

Spam filter SpamAssassin included and ready to use, with Bayesian filter and the option to learn spam and ham mails automatically or manually

Integrated blacklist and whitelist (for email addresses and words)

Support for catchall accounts that contain emails for multiple addresses. These emails are automatically divided and forwarded to the appropriate persons.

Most installed virus scanners are integrated to identify infected mails

A powerful set of rules allows additional actions to be performed for certain mails

A backup feature, that can save every incoming email to a specified folder on the hard disk

A scheduler allows to define on which days and hours mails should be forwarded

A log file logs all events, the log level is adjustable

Support for SSL encrypted connections to POP3 and IMAP servers


Limitations
30 days evaluation period and 10 accounts limitation

tags

pop3 accounts virus scanners for certain powerful set scanners are additional actions are integrated support for and imap pop3 and mails that exchange and your smtp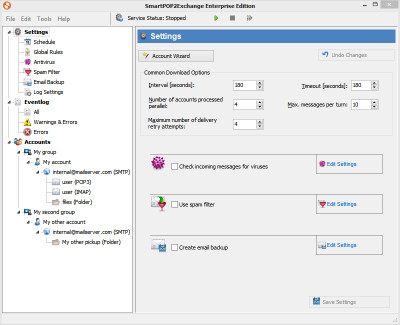 Download SmartPOP2Exchange 8.7.2

Download SmartPOP2Exchange 8.7.2

Purchase:

Buy SmartPOP2Exchange 8.7.2
Authors software

SmartSerialMail 7.3
JAM Software

SmartSerialMail will allow you to automatically send mail messages to a variety of recipients.

SmartPOP2Exchange 8.7.2
JAM Software

SmartPOP2Exchange helps you to connect your existing POP3 accounts to an SMTP or Exchange mail server.

TreeSize Pro 4.2.2.319
JAM Software

TreeSize Professional is a powerful and flexible harddisk space manager for Windows 98/ME/NT/2000.

SpaceObServer 6.1
JAM Software

SpaceObServer - a hard disk space manager for Windows 2/XP/2003.

ShellBrowser Components for Delphi Win32 5.51
JAM Software

The ShellBrowser components set provides a Delphi programmer easy access to the Win32 shell functionality.
Similar software

SmartPOP2Exchange 8.7.2
JAM Software

SmartPOP2Exchange helps you to connect your existing POP3 accounts to an SMTP or Exchange mail server.

Exchange Server Toolbox 5.8.2
JAM Software

Exchange Server Toolbox is a plugin for Microsoft Exchange Server that can manage e-mails messages Exchange Server Toolbox is a plugin for the Microsoft Exchange Server.

Advanced Mailcheck+ 2.5
Bit-Bite Software Development

With Advanced mailcheck+ you have the perfect tool for your mails: It supports POP3, IMAP and SSL accounts! So beside all "normal" POP3 accounts, it is compatible with AOL and Googlemail Accounts, too.

popConnect 6.0
ppedv AG

popConnect is a program that allows you to receive POP3 mails with Exchange! MS Exchange Server is not able to collect mails from external POP3 or IMAP4 accounts.

AdvMathAppl Spam Filter 1.0
AdvMathAppl

Spam Filter will help you to separate and filter non-spam and spam e-mails before downloading them.

POP3 Sweeper 2.0.2
Devicode Technology

POP3 Sweeper is an email removal program that allows you to delete email messages directly from your email server, before it is dowloaded into your computer.

Spam Nullifier Pro - Anti Spam Mail Filter 3.6.0.0
SpamNullifier.com

Eliminate Junk E-Mail Spam, Viruses, Tojans, Spyware.

TZ Anti Spam Filter 3.0.0.1
TrackZapper.com

Eliminate Junk E-Mail Spam, Spyware, Viruses & Tojans.

KooMail 5.41
Koomail Software

KooMail - Full-featured email client,support IMAP/ POP/ SMTP and Hotmail/ MSN.

Spamcc Pro 4.9
Spamcc Software

Spamcc is a powerful, safe and user-friendly spam filter and mail assistant.
Other software in this category

Postal Inspector Outlook 2000/2002/XP Edition 3.0
Giant Company Software

Say Good Bye to Spam! Time you spend working is valuable, so having your email inbox flooded with messages is not only annoying but also costly.

Secure Address Book 1.0
Brady & Associates, LLC.

Secure Address Book for Windows allows you to protect your email contact information in a secure, encrypted database file that is totally immune to email viruses and worms.

Forgotten Mailbox Password 2.0
ZZEE

Need to recover the mailbox password that is shown as a series of asterisks in the email program? This program can do it for any POP3 compatible email client, that stores the passwords, such as Eudora, Netscape, IncrediMail, MS Outlook, Outlook Express, Opera, The Bat!, etc.

AnswerTool 2.3.1
DTLink Software

AnswerTool - Turn email answers into assets! Save your email answers with AnswerTool, then use them again and again.

MailArmor 1.1.2 for Windows
Paolo Manna

MailArmor helps to keep your electronic mailbox free of spam: it looks at the relevant parts of your email before it leaves the mail server, and lets the legitimate messages pass through undisturbed, while leaving suspect messages on the server, "invisible" for the e-mail client, to be reexamined later or just deleted after a while.