Scripts Encryptor (ScrEnc) 3.0.3.2

Scripts Encryptor is a handy utility to scramble (obfuscate) HTML, JavaScript/JScript, C/C++/MFC code.

Developer:
www.dennisbabkin.com
software by www.dennisbabkin.com →
Price:
19.00 buy →
License:
Shareware
File size:
0K
Language:
OS:
Windows Vista

(?)

Rating:

0

/5 (0 votes)
Scripts Encryptor is a handy utility to scramble (obfuscate) HTML, JavaScript/JScript, C/C++/MFC code. Unlike many other obfuscators it does not employ JavaScript for encoding, which significantly increases the number of web browsers that will be able to open scrambled documents without distortion.

Use this software to protect your online content from unauthorized copying, reverse engineering and from webbots collecting email addresses and other personal data.

Features:

Obfuscation (scrambling) of JavaScript, JScript standalone files;

Obfuscation of HTML and HTML-style files that might include JavaScript, JScript blocks inside;

Encryption of JavaScript, JScript data in a file or imbedded in HTML page using Windows Script Encoder method (emulation of screnc.exe by Microsoft);

Compression (reduction of size) of HTML/JScript documents without obfuscation (to downsize your bandwidth and increase loading time);

Flexible settings for obfuscation that allow to fine-tune level of scrambling;

Ability to preview obfuscated page and compare it with an original document;

Scrambling of C/C++/MFC source code files into solid code chunks making them hard to view and edit;

Checking of missing and/or extra semicolons in JavaScript, JScript code;

Ability to organize (decrypt) JavaScript, JScript files (including those encrypted using Windows Script Encoder);

Support of international code pages and file encodings (overall Unicode support);

Ability to change code page and file encoding while saving in a file;

Ability to make a Unix-compatible file (with a single linefeed at the end of lines);

Compatible with Windows XP SP2, and IE6 popup blocker in general (so your previewed code is not blocked as potentially dangerous);

Command line support (so you can use it on your web server or as a part of other software

tags

javascript jscript page and and file script encoder windows script documents without using windows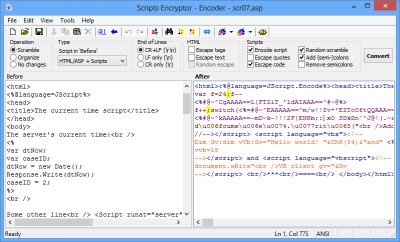 Download Scripts Encryptor (ScrEnc) 3.0.3.2

Download Scripts Encryptor (ScrEnc) 3.0.3.2

Purchase:

Buy Scripts Encryptor (ScrEnc) 3.0.3.2
Authors software

Scripts Encryptor (ScrEnc) 3.0.3.2
www.dennisbabkin.com

Scripts Encryptor is a handy utility to scramble (obfuscate) HTML, JavaScript/JScript, C/C++/MFC code.
Similar software

Scripts Encryptor (ScrEnc) 3.0.3.2
www.dennisbabkin.com

Scripts Encryptor is a handy utility to scramble (obfuscate) HTML, JavaScript/JScript, C/C++/MFC code.

Stunnix JavaScript Obfuscator 3.1
Stunnix

Stunnix JavaScript Obfuscator is an unique solution for this piracy and misuse problem for code written in ECMAScript or JavaScript programming languages - it's both obfuscation and encoding tool for JavaScript source code in .

Jasob 2.1.8
Jasob.com

Jasob is the best solution for JavaScript obfuscation! With Jasob your JavaScript code will become impossible to understand thus preventing anyone to steal and modify it.

HTMLShip 2.0
Excellence Software Inc

HTMLShip is a useful, powerful and easy-to-use web page encryptor utility.

Encrypt HTML Pro 3.0
MTop Software Inc

Encrypt HTML Pro is a software to encrypt HTML source code and protect your web pages from unauthorized copy.

Javascript Obfuscator 4.3
Javascript-Source.com

Stop theft of your JavaScript sources! Javascript Obfuscator converts the JavaScript source code into scrambled and completely unreadable form, preventing the analysing and theft.

DebugBar 4.0
Core Services

The DebugBar is an Internet Explorer toolbar which brings new services to surfers and professionals.

HTMLPack 2.6
Pullsoft

HTMLPack is a useful and powerful HTML compression tool created for webmasters(The old name is HTMLSpeed).

Webscript Encoder 1.1.3 build 11
Bluecygnet Technologies

Webscript Encoder is a powerful tool that not only facilitates quickly encoding your web pages but also protect your HTML code against being acquired when people are viewing the source.

Html2JavaScript 1.2.5
Digital Architects Software

Html to JavaScript is a handy utility for web developers.
Other software in this category

Web Protector 4.0
Corsac Software

If you are a web designer, you know how much time, energy and money it takes to create a unique and professional Web site.

HTML LZW Pro 2.5.0415
HTML LZW Pro

Do you want to reduce the size of your HTML files? A small size Html file will save your web storage space and increase the network throughput.

Spam Protector 1.0
Benutec Software, Inc.

If you are a Web-Developer and you want to decrease SPAM in your mailbox, this program for you! Spam Protector will protect your HTML page from robots that collect EMAIL addresses from web sites.

Script Master Compressor/Protector 1.8
Hanspeter Imp

Compress or protect your html files.

SiteSentry 2000 V1.0.0.1c
Moonlight Software

Password Protect your Web site with this amazingly easy to use Java Applet.