Quick Web Photo Resizer 2.1.0.1

Quick Web Photo Resizer is the new way to prepare your images for the web, extremely easily and quickly.

Developer:
DzSoft Ltd
software by DzSoft Ltd →
Price:
29.00 buy →
License:
Trial
File size:
0K
Language:
OS:
Windows Vista

(?)

Rating:

0

/5 (0 votes)
Quick Web Photo Resizer is the new way to prepare your images for the web, extremely easily and quickly.

Modern digital cameras produce images with up to 6 times higher resolution than their ancestors.

While the resolution is very important to photo-printers, such resolution can be a severe drawback for on-screen and Internet viewing.

This is why, before uploading your images to the Web or sending them via e-mail, you use your imaging software to reduce their size. There are two main disadvantages of this method.

First, you need to do the same repetitive actions every time. Normally, you have to navigate to the folder containing images from your camera, then you need to select the images, set up resizing options, select a target folder, etc.

The second disadvantage is that when resizing your images you never know exactly what file size they will have after resizing. Photos with a lot of small details will be significantly bigger in size than simple images after resizing with the same level of JPEG Quality/Compression.

Quick Web Photo Resizer from DzSoft solves both problems. From now on, you don't need to bother with browsing through folders with your image viewer.

This program offers an easy, yet very powerful, technique of resizing your photos. You simply select a conversion scheme and drag the photos to the program's window.

Your photos get automatically converted and you can drag them out, upload to the Web or send via e-mail. A "Conversion scheme" is a set of user-defined resizing options. You can define several sets for different purposes.

The most exciting feature of the resizing options is that you can select the desired resulting image file size. The program will automatically choose a JPEG Quality/Compression level for each image to best fit the file size and dimensions that you've selected.

In addition, the program can automatically watermark your images or place your logo on them.


Limitations
30 days free trial

Nag screen

tags

your images resizing options file size the web the program you can quality compression that you your photos conversion scheme jpeg quality resizing your photo resizer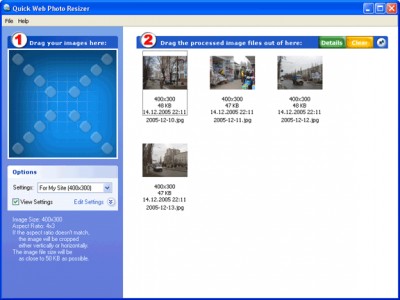 Download Quick Web Photo Resizer 2.1.0.1

Download Quick Web Photo Resizer 2.1.0.1

Purchase:

Buy Quick Web Photo Resizer 2.1.0.1
Authors software

DzSoft Slide Show 2.0.0.2
DzSoft Ltd

DzSoft Slide Show is a Windows shell extension that allows you to view groups of images as a slide show instantly from Windows Explorer - just select them and choose an appropriate item of the context menu.

DzSoft Perl Editor 5.8.9.8
DzSoft Ltd

DzSoft Perl Editor is a tool for writing, editing, and debugging Perl/CGI scripts.

DzSoft WebPad 2.3.0.2
DzSoft Ltd

DzSoft WebPad is a HTML editor that has PHP and ASP syntax highlighting.

Easy 3D Creator 3.0 Freewa
DzSoft Ltd

All you need is to set some parameters that determine your screensaver's appearance and behavior in step-by-step mode, seeing the result immediately.

DzSoft PHP Editor 4.2.7.8
DzSoft Ltd

DzSoft PHP Editor is a handy and powerful tool for writing and testing PHP scripts and HTML/XML pages.
Similar software

Quick Web Photo Resizer 2.1.0.1
DzSoft Ltd

Quick Web Photo Resizer is the new way to prepare your images for the web, extremely easily and quickly.

Photo Resizer Pro 5.5
Show Your Photos

Photo Resizer Pro is a application that will help you resize photos and images for the purpose of email and web sites, or just to save space on your hard drive, or whatever reason you might have.

EasyImage Batch 2.3
Chameleon Systems Inc

EasyImage Batch is the simple way to resize all of your digital pictures.

Imazer Expert 1.0
Exmont LLC

Imazer Expert is an effective resizing software that allows you to resize your images in all major graphic formats.

Photo to PSP 1.10
Maple & Star AB

Photo to PSP is a useful program that makes it easy to view photo collections on your PlayStation Portable handheld.

MySpace Image Resizer 1.0
TowTag

MySpace Image Resizer is a small flexible application that will allow you to change the dimensions as well as the file type of your images to better fit the needs of myspace.

IT Image Resizer 1.5
It Software

IT Image Resizer is used to resize pictures in most popular graphic formats.

Digital Photo Resizer 2006
Icegiant Software

The award winning Digital Photo Resizer quickly and accurately resizes a mass of photos at once ( JPGs, GIFs, PNGs and BMPs ).

Magic Image Resizer 1.8
Magic Project

Magic Image Resizer is used to resize pictures, in most of the popular graphic formats.

JpegSizer 5.3e
TangoTools.com

JpegSizer is an inexpensive image-resizing utility for shrinking images into compact JPEG files ready for e-mail attachments, Web pages, photo-sharing Web sites, and Office documents.
Other software in this category

SVD.RO 2.0
C SOLUTION S.R.L.

SVD.

BySoft StayAlive Pro 3.1.5.196
BySoft

StayAlive Pro is 32-bit program that simulates Internet activity so you don`t get disconnected from your ISP.

Netcustomer scanner 1.10
worldcatcher.com

Netcustomer Scanner is a fast and easy to use search tool that you can use collect contact data from specific web sites or find them based on keyword input, using search engines like Yahoo ,Google, AlltheWeb ,Aol, Msn, Looksmart, Dmoz etc.

AlterWind Log Analyzer Professional 4.0
AlterWind Software

AlterWind LogAnalyzer is a powerful web site traffic analysis software.

The Classified Connection 2.1.3
Creative Software Systems

The #1 classified submission tool on the market.