K-Lite Pro 2.0

K-Lite Pro is the best available file-sharing application.

Developer:
Anthony Norton
software by Anthony Norton →
Price:
19.00 buy →
License:
Demo
File size:
0K
Language:
OS:
Windows Vista

(?)

Rating:

0

/5 (0 votes)
K-Lite Pro is the best available file-sharing application.

K-Lite Pro gives you access to files available all over the world for FREE. K-Lite Pro is the world's fastest P2P file-sharing application, letting users share and search for any type of computer files.

K-Lite Pro is easy to install, and very easy to use. Features include dynamic querying, the ability to preview files while downloading, advanced techniques for locating rare files, and an extremely intuitive user interface. Don't worry about corrupted files, because K-Lite Pro detects corruption before the download is completed.

K-Lite Pro can download single files from multiple users to ensure you get the most efficient use of your bandwidth. K-Lite Pro supports multiple networks including eDonkey2, Gnutella, BitTorrent, and Gnutella2. Despite the usual performance flaws found in all file-sharing clients, this new version offers a breath of fresh air in the P2P category.

K-Lite Pro respects your privacy and guarantees of no adware and no spyware. You will also never seen any advertisement during using K-Lite Pro.Also included are antivirus protection, popup prevention, free song lyrics and technical support.


Limitations
Downloading is disable in demo version

tags

lite pro file sharing the world sharing application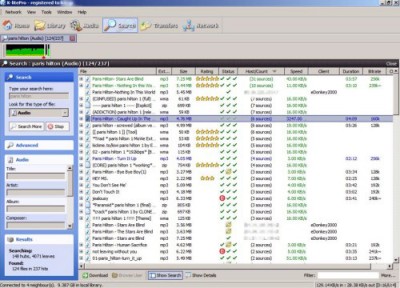 Download K-Lite Pro 2.0
Purchase:

Buy K-Lite Pro 2.0
Authors software

K-Lite Pro 2.0
Anthony Norton

K-Lite Pro is the best available file-sharing application.
Similar software

K-Lite Pro 2.0
Anthony Norton

K-Lite Pro is the best available file-sharing application.

IT Journal Lite 1.0
bigabytes

IT Journal Lite is a tool that helps small organizations keep track of requests made to their IT department.

Audiotouch Lite 1.4
No-U-Turn, Inc.

Audiotouch Lite is an application that offers new was to the record/playback method.

MailBee WebMail Lite .NET 4.0
AfterLogic Corporation

MailBee WebMail .

WebHare Lite 1.01
B-Lex Information Technologies

WebHare Lite is a software application developed to make creating and managing websites as easy as possible.

TZO Dynamic DNS Lite 1.67
Tzolkin Corporation

TZO uses true dynamic DNS client/server technology to fix static domain name to a dynamic IP address.

Speak Lite 1.0.41
ShadiSoft.Com

Speak Lite is an application designed to read text for you.

EasyImage Lite 1.2.3
Chameleon Systems, Inc.

EasyImage Lite is an easy to use application that optimizes photos and images to make them more suitable for use on the web.

Flexiblesoft Dialer XP Lite 4.6
FlexibleSoft Co.

Flexiblesoft Dialer XP Lite adds convenience to your everyday dial-up networking.

PPPshar Lite 1.3
PPP Infotech Ltd

Connect your entire network to the internet with just one Internet connection.
Other software in this category

Audiogalaxy 0.609w
Audiogalaxy

The Audiogalaxy Satellite is a small and simple program that allows you to share your music with friends and other users on Audiogalaxy.

Intranet File Sharing 1.0
Sorin OSTAFIEV

Intranet File Sharing is a powerful utility designed to search local area network for all kinds of files.

Toadnode 3.1.3
Toadnode

Toadnode is a peer-to-peer (P2P) file-sharing program that will make it easy to search for and share files with people from all over the world.

Free Mp3 Finder 1.0
Cequal Software

With 25 build-in Mp3 Search Engines, Free Mp3 Finder will provide you at least 1,000,000 free mp3 files.

P2P Share Spy 4.0
RebrandSoftware.com

You can use P2P Share Spy to search the internet/world for computers with shared files! Browsing and downloading is done with Windows Explorer, which can handle any file type: MP3, MPG, AVI, DIVX, JPG, Etc! Other file sharing programs only allow you to download files that have been shared specifically for that program, but P2P Share Spy lets you browse and download publicly shared files no matter what program they were shared with! Unlike Kazaa and Morpheus, P2P Share Spy only finds shared files, it does not share your files with anyone else, so you won't have to worry about RIAA knocking on your door with a lawsuit.