Javascript Obfuscator 4.3

Stop theft of your JavaScript sources! Javascript Obfuscator converts the JavaScript source code into scrambled and completely unreadable form, preventing the analysing and theft.

Developer:
Javascript-Source.com
software by Javascript-Source.com →
Price:
29.00 buy →
License:
Shareware
File size:
0K
Language:
OS:
Windows Vista

(?)

Rating:

0

/5 (0 votes)
Stop theft of your JavaScript sources! Javascript Obfuscator converts the JavaScript source code into scrambled and completely unreadable form, preventing the analysing and theft.



Javascript Obfuscator features
process javascript tags in html files and all .js files associated with html pages as well as separate .js files

remove comments and white spaces, reducing the file size and minimizing the loading time

pack the code as a long line

add finishing ";" when appropriate

create a list of function and variable names

generate new non-understandable names and rename functions and variables depending on user settings


Limitations
30 days or 30 executions

tags

javascript obfuscator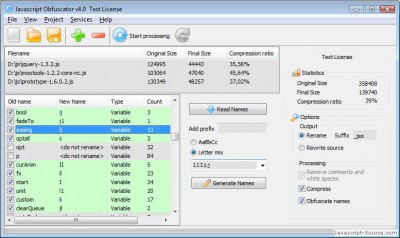 Download Javascript Obfuscator 4.3

Download Javascript Obfuscator 4.3

Purchase:

Buy Javascript Obfuscator 4.3
Authors software

Javascript Obfuscator 4.3
Javascript-Source.com

Stop theft of your JavaScript sources! Javascript Obfuscator converts the JavaScript source code into scrambled and completely unreadable form, preventing the analysing and theft.
Similar software

Javascript Obfuscator 4.3
Javascript-Source.com

Stop theft of your JavaScript sources! Javascript Obfuscator converts the JavaScript source code into scrambled and completely unreadable form, preventing the analysing and theft.

Jasob 2.1.8
Jasob.com

Jasob is the best solution for JavaScript obfuscation! With Jasob your JavaScript code will become impossible to understand thus preventing anyone to steal and modify it.

Stunnix JavaScript Obfuscator 3.1
Stunnix

Stunnix JavaScript Obfuscator is an unique solution for this piracy and misuse problem for code written in ECMAScript or JavaScript programming languages - it's both obfuscation and encoding tool for JavaScript source code in .
Obfusc PHP 1.2
S.C. Axiologic Research SRL

Obfusc PHP is a professional source code obfuscator.

Javascript PopupTip Builder 1.0
USINGIT.COM

Javascript PopupTip Builder is a powerful Javascript-producing design tool for creating pop tip on Web pages.

Javascript Menu Builder Titanium 1.2
USINGIT.COM

Javascript Menu Builder is a powerful Javascript-producing design program for creating menu on Web pages.

Web Compressor 2.0
IMF

Web Compressor helps you to reduce the size of your aspx, html, javaScript and C# files.

1st JavaScript Editor Lite 3.8
Yaldex Software

1st JavaScript Editor is a powerful JavaScript Editor, Validator and Debugger for beginners and professionals! Beside rich possibilities of editing scripts (JavaScript, HTML, CSS, VBScript, PHP and ASP syntax highlighting, etc) the program offers large snippets library with full collection of HTML tags, HTML attributes, HTML events, JavaScript events and JavaScript functions, attributes, statements and operators etc.

Javascript Menu Builder IRIS 1.0
USINGIT.COM

Javascript Menu Builder is a powerful Javascript-producing design tool for creating menu system with special effects on Web pages.

1st JavaScript Editor Pro 3.8
Yaldex Software

1st JavaScript Editor is a powerful JavaScript Editor, Validator and Debugger for beginners and professionals! Beside rich possibilities of editing scripts (JavaScript, HTML, CSS, VBScript, PHP and ASP syntax highlighting, etc) the program offers large snippets library with full collection of HTML tags, HTML attributes, HTML events, JavaScript events and JavaScript functions, attributes, statements and operators etc.
Other software in this category

Web Protector 4.0
Corsac Software

If you are a web designer, you know how much time, energy and money it takes to create a unique and professional Web site.

HTML LZW Pro 2.5.0415
HTML LZW Pro

Do you want to reduce the size of your HTML files? A small size Html file will save your web storage space and increase the network throughput.

Spam Protector 1.0
Benutec Software, Inc.

If you are a Web-Developer and you want to decrease SPAM in your mailbox, this program for you! Spam Protector will protect your HTML page from robots that collect EMAIL addresses from web sites.

Script Master Compressor/Protector 1.8
Hanspeter Imp

Compress or protect your html files.

SiteSentry 2000 V1.0.0.1c
Moonlight Software

Password Protect your Web site with this amazingly easy to use Java Applet.