Bulk Email mailer 7.352

Bulk Email mailer Intended to sending email utilizing mailing lists.

Developer:
IM-Soft
software by IM-Soft →
Price:
49.00 buy →
License:
Shareware
File size:
0K
Language:
OS:
Windows Vista

(?)

Rating:

0

/5 (0 votes)
Bulk Email mailer Intended to sending email utilizing mailing lists. It's a useful tool for anyone who needs to send information/notifications to a large number of recipients.

Bulk Email mailer allows you to manage and create mailing lists and to generate individual messages while sending. You can create separate mailling lists which contain information about the recipients, the messages, and the SMTP servers. This software is a handy tool for keeping feedback from your clients or users, it's a mailing list manager.


Bulk Email mailer features
Send Personalized Emails

Create and manage subscription-based mailing lists

Import your subscriber's Email Lists with personal details

Generate individua

tags

mailing lists email mailer bulk email tool for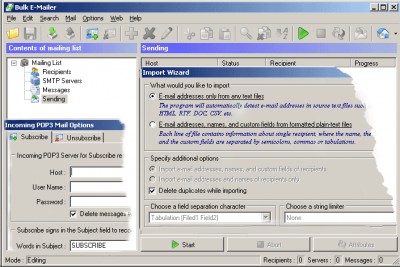 Download Bulk Email mailer 7.352

Download Bulk Email mailer 7.352

Purchase:

Buy Bulk Email mailer 7.352
Authors software

Access Manager for Windows 10.02
IM-Soft

Access Manager for Windows allows you to restrictaccess to to key features of Windows, such as Control Panels or Start menu, network, Taskbar, desktop, system tray, Network Access Control Page, Control Internet usage and more.

Easy File Protector 5.134
IM-Soft

Easy File Protector is a very flexible password protected security utility that restricts access to your files and folders by user-defined time schedule.

Hide & Protect any Drives 2.3 build 410
IM-Soft

Hide or restrict access to any drives such as Hard drive, CD, DVD, floppy and flash, and deny access to partitions of your hard drives with "Hide & Protect Drives".

Evidence Exterminator 2.767
IM-Soft

Evidence Exterminator was designed to clean all PC usage history information.

Advanced Desktop Shield 10.02
IM-Soft

Advanced Desktop Shield - security utility is a must for public access PCs located in school or university labs, Internet cafes, libraries and other public places where you need to stop users from changing desktop wallpaper and screen saver, deleting, creating and renaming desktop icons, changing display settings and so on.
Similar software

Bulk Email mailer 7.352
IM-Soft

Bulk Email mailer Intended to sending email utilizing mailing lists.

1st Mass Mailer 6.642
IM-Soft

1st Mass Mailer is a very fast mass mailer with a lot of useful features.

Rich Mailer 3.1
SoftFolder Inc

Rich Mailer helps you maintain subscribal mailing lists and broadcast personalized e-mail messages with easy and fast Rich mailer.

Nico's Mailer 1.14
Nico Cuppen Software

Nico's Mailer, for sending e-mail messages to large numbers of recipients.

Mail Bomber 11.4
Getfreefile

Mail Bomber - email and mailing lists have become an important feature for many web sites and individual PC users.

E-Mail Manager 1.0.10
EmailSmartz Ltd

The Email List Manager is a useful and reliable mailing list management software that allows you to manage your email newsletters or mass email distribution campaigns.
JSoft Mail 3.10
JSoft Consulting

JSoft Mail is a DNS email list manager, designed to handle your in-house mailing and subscription lists.

1st Mail Sender 4.2
SoftFolder Inc

1st Mail Sender is a powerful software used for sending notification messages or requested newsletters to your subscribers by email.

007 Email Sender Express 4.8
1-bulk-email-software.net

Email Sender Express allows you to send E-mail bypass your Smtp, Fast bulk Email Software for Direct Email.

Email caster 2.10
CZY software

Email caster is a program tha can validate e-mail addresses and send bulk message directly to recipients.
Other software in this category

KinderMail 1.0.0
Kinder Shield Labs

KinderMail is a POP3 e-mail client designed for children ages 3 to 11.

Geminisoft Pimmy 4.1
Geminisoft

Geminisoft Pimmy is your personal postman.

JBMail 3.3 beta 2
Jem Berkes

JBMail is a compact and portable secure e-mail client.

Starfish Family Mail 1.51
Lincoln Beach Software

Starfish Family Mail is a useful Windows email program which allows you to communicate via email with all your friends and family! Parents or teachers can set up friend lists for each person so that you can rest assured that they are only communicating with their friends! Each person logs in as themselves and using passwords they can keep others out.

Bulk News 2006 3.0
TEC Software

Bulk Post to over 2000 newsgroups an hour with this Internet marketing application.