Easy-FTP 1.0

With Easy-FTP software you can transfer files between your PC and a FTP server.

Developer:
CAD-KAS GbR
software by CAD-KAS GbR →
Price:
16.00 buy →
License:
Trial
File size:
0K
Language:
OS:
Windows Vista

(?)

Rating:

0

/5 (0 votes)
With Easy-FTP software you can transfer files between your PC and a FTP server. So
tags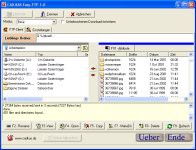 Download Easy-FTP 1.0
Purchase:

Buy Easy-FTP 1.0
Authors software

PDF-Creator 2.0
CAD-KAS GbR

Do you ever wanted to create professional looking PDF document files? With PDF-Creator you can create PDF files from each application, which is able to produce a printer output.

PDF-Security 1.0
CAD-KAS GbR

Protect PDF files against unauthorized access and encrypt them! The program limits the access to PDF documents.

PDF-Forms 3.0
CAD-KAS GbR

PDF-Forms helps you fill out PDF forms, easily save and print them.

Paper 2 PDF 1.6
CAD-KAS GbR

Do you want to use modern computers to store the paper hill on your desk in digital form? This is no longer a problem.

Poster-Printery 4.5
CAD-KAS GbR

Poster-Printery gives you the opportunity of making your own large scaled posters.
Similar software

My FTP 1.3.2
SPCK Software

My FTP is an easy to use File Transfer application loaded with many features! If you need to transfer files to and from your server, then your search for what tool to use has ended.

WorldWide FTP 2.433
WorldWideFTP.com

WorldWide Ftp is a secure ftp software client that will be used to connect to a FTP server and transfer files to or from the server.

Terminal Services FTP 3.4.02
IBEX Software, Inc.

Windows Terminal Services FTP enables you to transfer files between a Terminal Services/Remote Desktop Server and a Terminal Services/Remote Desktop Client.

FTPConnector 1.1
Alex Artemiev

FTPConnector is a FTP client component that runs within your web browser.

SimpleFTP 3.1.2
BizonSoftware Corporation

SimpleFTP is the easiest, feature rich FTP client.

CC File Transfer 3.2
CC File Transfer

CC File Transfer is a web based file transfer software built for people that need transfer file pc to pc regularly.

FileBuffer 7.8
xTy Technology

Simply put, FileBuffer is a "Jump Drive" that can be accessed from anywhere on the Internet.

FTP GLIDE 2.43
Innovative Technology Consulting, LLC

FTP GLIDE is a Full-Featured FTP (File Transfer Protocol) Client Software.

PortaWhiz FTP Client 1.0
PortaWhiz

PortaWhiz FTP Client offers you an FTP Client for your Pocket PC that gives you a fast, easy and reliable way to transfer files and directories between your PC and the FTP server.

AbsoluteFTP 2.2.10
Van Dyke Technologies

AbsoluteFTP is the easy, powerful way to transfer files using FTP, with a simple Explorer-like interface and advanced features like direct server-to-server transfers.
Other software in this category

ZillaFTP 5.0
ZillaFTP Inc.

ZillaFTPis a useful utility that allows tou to transfer files easily using this intuitive and powerful full-featured FTP client with Multi-Language Support.

Robo-FTP 3.11.5
Robo-SOFT, Ltd. USA

Robo-FTP is a secure, script-driven Windows FTP client designed to conduct unattended file transfers with normal FTP and 128-bit SSH and SSL secure servers.

MCFTP v1.04
Myles McLeod LLC

Easy to use file transfer utility that greatly simplifies file managment.

Crystal FTP Pro 2.8
Crystal Art Software

Crystal FTP Pro makes it possible for first time FTP users to transfer files over the Internet within minutes, and yet satisfies FTP veterans with its highly configurable layout and easy access to advanced FTP tools.

CraftFTP 1.1
123 FTP Client

Used by millions worldwide, CraftFTP is the one of the best FTP client software to transfer files between your PC and remote computers.