VideoMan 3.0

VideoMan 3.

Developer:
STOIK Software
software by STOIK Software →
Price:
39.00 buy →
License:
Shareware
File size:
0K
Language:
OS:
Windows Vista

(?)

Rating:

0

/5 (0 votes)
VideoMan 3.0 is a complete rewrite of previous version undertaken primarily with the aim to provide user with capability to import-export video from DV cameras, and use modern video compression formats.

VideoMan 3.0 provides completely new Capturer module for output/import of video through DV cameras and capture boards.

Video Man also comes with Pocket PC presets to help you create new project with optimal video and audio settings.


VideoMan features
General functionality
Support of DirectShow filters and codecs (such as MPEG, DivX, or QuickTime)

Import and export to DV cameras trough IEEE1394 (FireWire)

Export movies directly to Windows Media video files

Export to Windows Media format

Complete DV camera playback control from within the application

Stop-frame animation

Chroma/color/luma/super screen key. 'Super screen' color keying particularly

effective for fast and accurate keying of small details such as hair, smoke transition track

SMPTE timeline

Unlimited file size of output (no 2Gb limit)

Unlimited number of overlay video tracks

Unlimited number of audio tracks

Video Capture utility

Auto insert mode for fast and easy movie composing

Ability to insert project as a clip

Set Mark In and Mark Out during clip import

51 Transition effects with previews

20 Dynamic special effects filters

Higher quality of text rendering, in particular if text clip is on motion path

Navigator window to easily locate clips on the timeline

Trimming with ability to create interlaced output from non-interlaced video input.

You can convert your Flash animation to broadcast-quality video

Unlimited Undo and Redo

Preview with sound

Text Composition over video: titling/text animation, drop shadows

Export frame from Preview

Grouping of clips on the timeline

Instant reaction to user input

Redesigned and customizable interface

Additional functions

Time Lapse capture mode in VideoMan Capturer.

Antialiasing and interpolation of text shadow and transparency.

Antialiasing of frame edge in Motion Path.

Support of alpha channel in Motion Path.

Close document command to File menu.

Interface

Preview, Navigator, Transition Palette can be made popup and non-popup using the

system menu.

All windows are disabled during rendering.

Cursor is not blinking during rendering.

If SHIFT is pressed than full clip can be dragged to allow for dragging short clips

even at very large time scale/

Program remembers position of document windows.

Progress indicator can be dragged.

Icons in Construction and Project window captions.

Meaningless indicators (e.g. CAP and NUM) removed from StatusBar

Preview

Option to make Preview without writing temporary video file on disk.

Preview window size can be changed during preview

Preview settings is stored between program sessions

Preview is shown during rendering


Requirements
Microsoft Windows 98, 98 SE, NT 4.0 with Service Pack 6, ME, 2 and XP

DV support requires Windows 98 SE, 2 or higher version

Intel Pentium with MMX compatible system (Pentium 4 recommended)

64MB RAM (128 or higher recommended)

20MB of available hard disk space required for installing (4GB or higher recommended)

True color or high color display adaptor

Mouse or windows compatible pointing device

Windows compatible sound card with speakers

tags

during rendering motion path the timeline higher recommended windows compatible unlimited number windows media super screen for fast fast and cameras and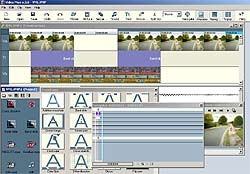 Download VideoMan 3.0
Purchase:

Buy VideoMan 3.0
Authors software

PM Painter 2.0
STOIK Software

PM Painter 2.

Picture Man 4.2
STOIK Software

Picture Man is a professional photo processing software with complete graphics capabilities.

Deformer 2.0
STOIK Software

Deformer is an application for image transformation and animation in real time.

VideoMan 3.0
STOIK Software

VideoMan 3.

PM Stitch Creator 3.0
STOIK Software

PM Stitch Creator automatically converts pictures to a stitch pattern designed for a specified floss brand, cloth and stitch type.
Similar software

VideoMan 3.0
STOIK Software

VideoMan 3.

MorphMan 4.0
STOIK Imaging

Morphman is a powerful tool for morphing pictures and videos.

VideoEdit Mobile ActiveX Control 1.0
Viscom Software

VideoEdit Mobile ActiveX Control is a handy utility designed for Professional Windows Developers who need to provide creating high quality audio and video files playable on most mobile devices such as the iPod.

Video Edit Magic 4.47
DeskShare

Video Edit Magic is an easy-to-use video-editing software that allows you to capture video, edit, cut, copy, paste and trim your audio and video.

Open Video Capture 1.0.3.5
DigitByte Studio

Open Video Capture can capture video from webcam, TV Tuner card, digital video, digital camera and other capture devices.

VisioForge Video Capture 2.1
VisioForge

VisioForge Video Capture is a Delphi / C++ Builder control that will allow programmers to easily integrate video capturing and processing capabilities into their software applications.

Focus Video Converter 1.8
www.focussoft.net

Focus Video Converter is a powerful, professional and easy to use program for videos converting to VCD, DVD and SVCD.

AVIedit 3.39
AM software

AVIedit is the smart video editor and capture tool for Windows.

River Past Video Cleaner Pro 7.8
River Past Corporation

River Past Video Cleaner is a easy-to-use, flexible, powerful, and fast video converter.
Video to 3GP Converter 2011.15
Anvsoft, Inc.

Video to 3GP Converter will transform raw videos into professional-looking movies and will convert them to 3GP MP4 format files playable on phone.
Other software in this category

AVI Joiner 1.0.9.0
BRIZ Software

AVI Joiner is an easy-to-use tool to join multiple AVI files into one larger AVI file.

FlyVCD 3.0
AVSuper

FlyVCD is a useful, powerful and easy to use application that lets you to make your own SVCD, VCD or DVD compatible files that can be viewed on your computer or burned to a CD-R or DVD-R for viewing on your DVD player.

MorphMan 4.0
STOIK Imaging

Morphman is a powerful tool for morphing pictures and videos.

Ulead VideoStudio 8
Ulead

Ulead VideoStudio programis is an video editor for the PC.

VideoMan 3.0
STOIK Software

VideoMan 3.