Moodmixer 1.17

Moodmixer is an intuitive automated music-title-selector as Winamp 2.

Developer:
PWsoft
software by PWsoft →
Price:
11.00 buy →
License:
Shareware
File size:
0K
Language:
OS:
Windows Vista

(?)

Rating:

0

/5 (0 votes)
Moodmixer is an intuitive automated music-title-selector as Winamp 2.x/5.x- plugin. Digital music in Mp3 format can be collected according to ID-Tag information and personally defined rating values.

A special algorithm automatically calculates the sequence of titles for the playlists. Playlists can be produced for any desired length, for specific dates or occasions ( parties etc) or for a specific amount of time, but also for a non-stop home-streaming.

All play lists are independant of the actual amount of available titles. Even with a small title pool Moodmixer produces highest possible variation. The home-streaming mode resembles a radio program which is totally constructed of one's own titles. The mood can be instantly changed by it's mixer-slider-controls.

In order to match the users mood even more, Moodmixer offers the possibility to comfortably mass-rate titles with personally defined rating criteria or conduct mass-changes of ID-Tag informations, Songs can also be edited with the search and replace function.

Collecting titles for a playlist basis is easily conducted with the help of a highspeed, easy to handle database and numerous intelligent search and sort functions.

The streaming of titles can be regulated at any time during play by a mixing control panel, the streaming actually reacts flexibly to a change of rating values. Ie- you need some faster, more danceable titles? Simply pull up the sliders and Moodmixer selects new matching titles according to their ratings and a set of predefined rules. The music selection is independant of the genre, new genres can be added to the Database.

Moodmixer is not only suitable for private use but can also well be used in business locations such as Shops, Restaurants, Hotels- wherever one needs to have continious music running which has to be varied and well selected.
tags

with the search and the streaming can also home streaming defined rating rating values titles for personally defined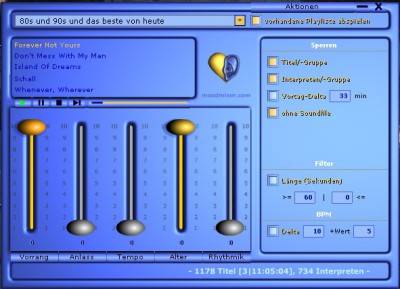 Download Moodmixer 1.17
Purchase:

Buy Moodmixer 1.17
Authors software

Moodmixer 1.17
PWsoft

Moodmixer is an intuitive automated music-title-selector as Winamp 2.
Similar software

Moodmixer 1.17
PWsoft

Moodmixer is an intuitive automated music-title-selector as Winamp 2.

Jentschi's CD-Text plugin for Winamp 1.4.5
Matthias Jentsch

Why doesn't show the Winamp Player the titles of my homemade Audio-CD's? I've burned the titles as CD-Text! My CD player in the car shows the titles! The Winamp Player don't have this feature.

Radiotracker Platinum 5
RapidSolution Software AG

State-of-the-art, distributed technology is the secret to Radiotracker's power.

KingLister 1.36c
KingLister

Some programs let you create custom play lists.

AudioWriter 1.5.345
R.M. de Boer Software

AudioWriter lets you create your own customized Audio CD's.

MP3 Explorer Pro 1.0
Nehuen Multimedia

With MP3 Explorer Pro you can download and play over 1,000,000 FREE mp3 songs and music from MP3.

CD MegaManager 1.0
cdmegamanager.com

CD MegaManager is developed to help you manage all your CDs, whether they are in your home, car or office.

BluffTitler DX9 8.5.0.1
Outerspace Software

BluffTitler is an effects program for creating 3D text animations and 3D picture/video wipes.

CDLib 2
ITB Solutions, Inc.

CDLib 2 allows for the cataloging of CDs with a new twist.

DVD Profiler 3.0.1 Build 1104
InterVocative Software, LLC

DVD Profiler is a complete DVD management solution that will offer an extensive array of features including an ever growing online database that provides information about many DVD titles.
Other software in this category
Alion 1.0
Sycory Co

Alion will allow you to do your loved WinAmp translucent.

Arboretum Realizer Plus 1.1 for Winamp
Arboretum Systems, Inc

Unlike conventional equalizers and bass/treble controls, Realizer Plus actually adds missing frequencies and synthesizes new harmonics to recreate the sizzling realism of the original recording.

Wav Arts 3.2
Wave Arts Inc

WaveSurround™ for Winamp was the first and is still the best DSP/Effect plugin for Winamp.

Space Synthesizer 2.0.3
MHC

The Space Synth is a polyphonic VST instrument plugin, with an ambient sound.

Dee2 for Winamp3 2.2 build 10600
Michal Charydczak

Dee2 is an advanced digital audio processing software which provides the sound enhancement algorithms to maximally improve the experience of listened music: Bass/mid/treble boost, 3D boost, reverb, noise reduction, high frequencies lost by MP3 compression recovery.