EZ Photo Renamer 2.5

Rename digital photo files (eg DSC00001.

Developer:
SmartTools Software
software by SmartTools Software →
Price:
14.00 buy →
License:
Shareware
File size:
0K
Language:
OS:
Windows Vista

(?)

Rating:

0

/5 (0 votes)
Rename digital photo files (eg DSC00001.jpg) generated by digital cameras. New file names can include same prefix, counters and creationg date. It's a must-have software to organize your digital photo files.

Features:

Batch-rename names of photo files. Rename many photo files with one click. You can select rename different photo files in different folders.

Preview photo files and renamed file names. Preview photo files before adding to rename file list. An example will show how the file names will be, when changing some options.

Automatically insert file creation date into file names. Insert the file creation date into each renamed file names, eg Jordan20001031-003.

Custom counter. The starting counter number, increment of counter and the number of counter digits can be set.

Copy photo files and rename them in a different folder. You can rename original files in their original folder. Also you can choose to copy files to a different folder and rename files in the new folder.

tags

photo files file names you can creation date date into and rename different folder file creation renamed file preview photo files and digital photo the file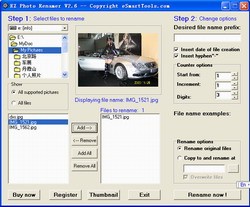 Download EZ Photo Renamer 2.5
Purchase:

Buy EZ Photo Renamer 2.5
Authors software

EZ Photo Renamer 2.5
SmartTools Software

Rename digital photo files (eg DSC00001.

EZ Thumbnail Builder 1.9.1
SmartTools Software

EZ Thumbnail Builder is an online catalog software that can help you create your impressive and professional online catalog with a few mouse clicks, including product catalog, photo catalog, gift catalog, furniture catalog etc! Just add your photos, select the style and layout of your online catalog.
Similar software

EZ Photo Renamer 2.5
SmartTools Software

Rename digital photo files (eg DSC00001.

MagiName 1.2 build 23
Keronsoft

MagiName is a file rename program desined to rename fast digital photo files and picture files.

File Rename 2.0
Black Knight Software Solutions

File Rename is an application created to help you rename files quickly.

Fast Photo Renamer 4.25
Alexander G. Styopkin

Fast Photo Renamer - do you want to rename files with your photos quickly and comfortably? If you are not happy about such names of your photo as "Dsc00403.

Easy File Renamer 1.05
MIKLSOFT

Easy File Renamer will allow you to rename multiple file with ease.

FileName Pro 2.0.22
JerMar Software Corp.

Whether you have a few or thousands of files to rename, FileName Pro will rename your files in seconds.

Renamer Pro 1.0
Emtec.no

Renamer Pro allows you to rename multiple file names.

Batch File Rename 1.23
Chosen Software

Batch File Rename is a powerful and flexible file renamer that provides an easy way to simplify renaming multiple files and folders.

Multi File Renamer 1.0
Patrick Veenstra

Multi File Renamer is a batch file renamer that is able to rename multiple files at once.

Rename Files Master 1.0
Low Budget Designs

Rename Files Master is a program you'll wonder how you managed without and makes renaming files a snap.
Other software in this category

click'n share photo 1.0
Stomp

Organize your images and create slide shows and web pages that can be burned to CD-ROM.

Album3D Builder 1.6
AM Software

Album3D is a digital DOOM-like photo album.

Color By Number 2.5
STOIK Imaging

Color By Number allows you to convert photo to a paint-by-number pattern.

Digital Photo Slide Show 2003.2
James M. Voelker

Digital Photo Slide Show is a suite of slide show creation tools to present your digital photos in a variety of slide show formats.

Image M8 for Digital Photography 1.01
M8 Software(UK)

View, slideshow, photo enhance, remove red eye, crop, rotate, email and print your digital photos.