VIPlayer 1.0

VIPlayer - Media player with possibility to play many media files together and MS Access Database support.

Developer:
Valeri Vlassov
software by Valeri Vlassov →
Price:
9.00 buy →
License:
Shareware
File size:
0K
Language:
OS:
Windows Vista

(?)

Rating:

0

/5 (0 votes)
VIPlayer - Media player with possibility to play many media files together and MS Access Database support.

Why use it:

Normal and simply Windows User interface.

Simply open a media file as you do it in Word or Excel and show it.

You can open more than one media-files (video, audio and pictures) together.

When you open a file, all files with those extention will be automaticaly imported in an Access-database file (mdb).

No limits for a database of media files, you can hold a million and more media files in a Table.

You can sorting media files by name, size, directory, date of creation, extention.

You can play a list of media files (video, audio or mixed) sequently.

Using VIPlayer you can view files from various formats, such as: avi, mpg, wmv, bmp, jpg, mid, mp3, wav, wmg media files

Usefull Keyboard buttons:

ESC - to return back from Full-screen mode.

arrows Up or Down - Sound volume up or down

Home or End - Sound Volume to Full or Zero

m - Sound mute on / off


Shift, Ctrl - to select more then one files in the Playlist.

Ctrl + A - to select all files in the Playlist.

Enter - to play a selected file in the Playlist.

Delete - to delete selected files from the Playlist.

Numpad "Plus"- to increase a Time-delay between a pictures.

Numpad "Minus"- to decrease a Time-delay between a pictures

Hints:

Drag the progress bar below for positioning a media file.

Click a column headers in a Playlist for sorting it.

Open more then one Playlist and sorting each of them.

When you open a media file, all files with that extention will be imported from directory in a Playlist.

Select a lot of media files in a Playlist and play all of them sequently (Menu: Playlist / Play selected files)





rominten

tags

media files you can the playlist all files media file then one more then access database selected files playlist and delay between time delay sound volume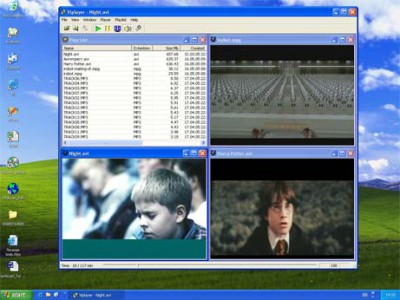 Download VIPlayer 1.0
Purchase:

Buy VIPlayer 1.0
Authors software

VIViewer 1.1
Valeri Vlassov

The Viewer for 3ds files with possibility to walk around objects.

VIGraph 1.5
Valeri Vlassov

VIGraph - draws a diagramms from your txt-data files.

VIMeteo 1.2
Valeri Vlassov



VITicker 1.1
Valeri Vlassov

World stocks ticker with diagrams and lists for NYSE, NASDAQ etc and possibility to open a lot of quotes and lists together.

VIBio 1.2
Valeri Vlassov

VIBio - Biorythms with diagramms and comments.
Similar software

VIPlayer 1.0
Valeri Vlassov

VIPlayer - Media player with possibility to play many media files together and MS Access Database support.

@MAX Tray Player 2.5b
@MAX Software

@MAX Tray Player is a small and useful media player.

Ace Media Player 2.8.398
GustoSoft, Inc.

Ace Media Player is the most convenient mpeg, divx, rm(Real), mov(QuickTime), dat(Video-CD), asf, wmv, avi media player under windows platform.

MultiMediaPhile 1.6
George Taylor ISD

Catalog your computer's entire music and video collection in minutes, find single files or groups of files instantly and compose a playlist in seconds! Play Mp2, Mp3, Wav, Midi, Mpeg, Avi, and Wmv files using the built-in playback system or launch the audio playlist in your default media player with one click.

Search and Play - Media Player 1.1.0
Brenaige Co.

Search and Play - Media Player is an audio and video player and it supports the usual file formats (such as avi, asf, wav, mp3).

Active Media Player Screen Saver 3.0
e-motional.com software

View live Streaming Media or full motion MPEG, AVI, ASF, WMV or MOV Clips as a Screensaver.
BlazeDVD 5.0.0.1
BlazeVideo, Inc.

BlazeDVD is a full-featured and simple-to-use DVD, Audio-CD, Video CD and media file player.

Blaze TrayAudio 3.0
Mystik Media

Blaze TrayAudio is a little yet strong media player for playing all of your favorite multimedia files.

TrayList Player 1.0
D-Net Software

TrayList Player is a truly unique media player and m3u playlist manager that has the ability to load and play your playlists from the system tray, within a few clicks of the mouse you can jump from one playlist to another and back again without even opening the application window.

Player 1.7.5
RF1 Systems

Audio and video player, playlist editor, mp3 tags editor.
Other software in this category

Koala Film Player XP 2.6
Koala

Koala Film Player is a program developed to offer the users fast and high quality playback of movie files with subtitles.

MovieView 1.0
Bersoft Inc.

Video player that uses the Windows Media Player engine to play videos in its own fully customizable window.

Gusto MiniCinema 1.40
GustoSoft, Inc.

Gusto MiniCinema is an all-in-one universal media player that works by using external media engines, it supports DivX, QuickTime, RealMedia and Windows Media files, this means that you have to have the media engines installed in order to use Gusto MiniCinema for these formats.

DivX Operational Player 1.35
Gromkov's Software

DivX Operational Player is an unique player with additional functionalities, and is much more useful than all standard media players.

Cool Flash Player 2.18
Siskin Software

Cool Flash Player is a very easy-to-use flash player which not only reinforces functions provided by Macromedia Flash Player, but also has its own expanding that give you the opportunities to enjoy or collect flash and manage your flash movie files more conveniently.