TrayList 2006.04

WinAmp is by far the most popular mp3 player in the world.

Developer:
Intellized Computing Group
software by Intellized Computing Group →
Price:
19.00 buy →
License:
Shareware
File size:
0K
Language:
OS:
Windows Vista

(?)

Rating:

0

/5 (0 votes)
WinAmp is by far the most popular mp3 player in the world.
The reason for it is a perfect combination of usability and simplicity.

Yet even the most avid and staunch WinAmp fans admit that some things could be done better and some important features aren't available in the current version of the widespread music media player.

That is why both amateurs and professionals in droves download TrayList — a popular plug-in for WinAmp that gives you the power of hotkeys, hothits, a media organizer, on screen display (OSD) and statistics features.

The hotkeys enable users to perform any operations with WinAmp instantly, regardless of the application currently active.

But the plug-in media organizer is even better — TrayList will arrange all media files in any order you prefer, so that you can group performers, song, music styles and so on.

An entire new album can be added to the playlist with only two clicks! On screen display (OSD) allows users to see the names of new songs as well as all the actions being performed.

All of the OSD tips are customizable. 'Now playing…' is a pretty cool feature, too. Another great option is the hothits.

You can create up to 10 different lists and launch them by pressing Win plus the number of the list (Win+0..Win+9).

Windows 2 and XP users are sure to appreciate the custom transparency settings for the WinAmp window in active and inactive states.

The automatic play option lets start the song right from the place where you exited WinAmp last time, start it from the beginning or return to the first song in the playlist.

There is even a preview or rather 'intro' feature that lets you quickly listen to a huge number of music files to get an idea of them all. Another great feature is a logarithmic scale to set the desired level of the sound volume.

The best thing is that you get to try TrayList absolutely free of charge. You pay for it only if you are completely satisfied with the performance of this WinAmp plug-in.
tags

the playlist another great from the you can that you media organizer screen display display osd the most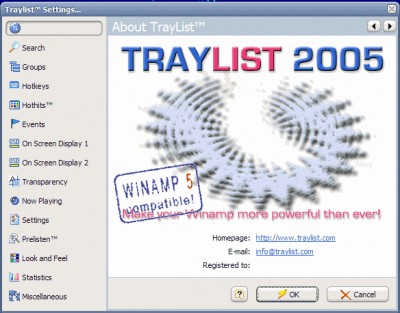 Download TrayList 2006.04
Purchase:

Buy TrayList 2006.04
Authors software

TrayList 2006.04
Intellized Computing Group

WinAmp is by far the most popular mp3 player in the world.
Similar software

TrayList 2006.04
Intellized Computing Group

WinAmp is by far the most popular mp3 player in the world.

Minilyrics 7.6.43
MiniLyrics

MiniLyrics is a fascinating lyrics viewer for synchronizing and displaying lyrics of the currently playing song in Winamp 2.

TrayList Player 1.0
D-Net Software

TrayList Player is a truly unique media player and m3u playlist manager that has the ability to load and play your playlists from the system tray, within a few clicks of the mouse you can jump from one playlist to another and back again without even opening the application window.

FlashWAmp 1.1
FeatherySoft

FlashWAmp is a useful utility which will transform any original Winamp skin to Flash sound player for publishing background music to your home page.

LyricFX - Find Song Lyrics 2.5
iProgram Design

LyricsFX is a visualization plug-in for Winamp to automatically search for and display lyrics.

Ozone for Winamp 3 1.03
iZotope, Inc.

Analog modeled audio enhancement.

XSound DSP Plugin for Winamp (2, 3, 5) 7.3
XSound DSP Plugin for Winamp

XSound DSP Plugin is known to be the best DSP plugin for winamp audioplayer.

Volume Logic for Winamp 1.3
Octiv

Volume Logic makes any playlist sounds great with automatic adjustment of volume dynamics and spectral balancing.

Ultimate Jukebox 3.0
Tony Murphy Software

Ultimate Jukebox is a full screen capable PC Jukebox application.

MP3rat 1.0 Build 234
Kaylon Technologies Inc.

MP3rat is feature packed piece of software.
Other software in this category
Alion 1.0
Sycory Co

Alion will allow you to do your loved WinAmp translucent.

Arboretum Realizer Plus 1.1 for Winamp
Arboretum Systems, Inc

Unlike conventional equalizers and bass/treble controls, Realizer Plus actually adds missing frequencies and synthesizes new harmonics to recreate the sizzling realism of the original recording.

Wav Arts 3.2
Wave Arts Inc

WaveSurround™ for Winamp was the first and is still the best DSP/Effect plugin for Winamp.

Space Synthesizer 2.0.3
MHC

The Space Synth is a polyphonic VST instrument plugin, with an ambient sound.

Dee2 for Winamp3 2.2 build 10600
Michal Charydczak

Dee2 is an advanced digital audio processing software which provides the sound enhancement algorithms to maximally improve the experience of listened music: Bass/mid/treble boost, 3D boost, reverb, noise reduction, high frequencies lost by MP3 compression recovery.