EZPlay 2.0

Makes it easy to play your WAV, MP3, Midi & CD Tracks.

Developer:
William F. Cravener
software by William F. Cravener →
Price:
9.00 buy →
License:
Shareware
File size:
0K
Language:
OS:
Windows Vista

(?)

Rating:

0

/5 (0 votes)
Makes it easy to play your WAV, MP3, Midi & CD Tracks.

Enables you to browse through your audio files and pick up to 50 songs at a time to be played.

Quickly skip to the next song with just a click of the mouse. If you stop play during a lengthy pick list it will begin play again with the last played song. You can minimize to your system tray during play.

Mute audio play and easily control the volume up or down. Change audio file type with just one click. A a very tiny simple to use audio player that includes 2 custom skins. Create your own custom skins with your favorite graphics editor.

Purchasing entitles you to all future updates.


Limitations
This is a full functioning 15 day free trial of EZPlay.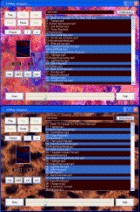 Download EZPlay 2.0
Purchase:

Buy EZPlay 2.0
Authors software

EZPlay 2.0
William F. Cravener

Makes it easy to play your WAV, MP3, Midi & CD Tracks.

TitleBarClock Pro 5.4.4
William F. Cravener

Displays the Day Date Month Time Year FreeDriveSpace and Megabytes of free physical memory on the right side of the title bar in any main window that has the mouse or keyboard focus.
Similar software

EZPlay 2.0
William F. Cravener

Makes it easy to play your WAV, MP3, Midi & CD Tracks.

uAmp 2.0
CombatVetsWeb

uAmp application plays most audio and video files and is small and resourceful.

D'Accord Drums Player 1.0
D'Accord Music Software

D'Accord Drums Player is a useful program that enables you to practice and learn how to play the drums! This software can open and play any MIDI file (.

KingLister 1.36c
KingLister

Some programs let you create custom play lists.

Acez Jukebox 1.0
Acez Software

Acez Jukebox is a windows audio player that plays MP3, MP2, Wav files, and audio CDs.

Blaze TrayAudio 3.0
Mystik Media

Blaze TrayAudio is a little yet strong media player for playing all of your favorite multimedia files.
Audio Play And Record OCX 2.13
Station Media

Audio Play And Record OCX let you play multiple instance of any audio file and/or stream and record audio from any input.

Fx Magic Music and CD Writer 5.7.8
J. Hepple, Inc. DBA Fx, Sound and Magic

Create Redbook CD-A audio CD's that can be played in any stand alone CD or DVD player or create MP3 CD's to be played in MP3 players or on a computer.

Search and Play - Media Player 1.1.0
Brenaige Co.

Search and Play - Media Player is an audio and video player and it supports the usual file formats (such as avi, asf, wav, mp3).

eXmedia Player 4.192
Macrobyte

eXmedia Player is a diverse media application which runs nearly every type of media on your comptuer.
Other software in this category

CD/Spectrum Pro 2006.0204
Synthesoft

CD/Spectrum Pro is a 32bit shareware CD-Audio Player with Graphical Spectrum Analyzer and MP3/WAV player.

StarCD 1.4
Fyang.com

StarCD is a full featured AudioCD player with very nice digital audio processes.

CDMaster32 6.0.0.0
Zittware

CDMASTER is a shareware (free to try) CD player that provides conversion technologies for WAV, MP3, and CDs.

WinCD 2.71
Konrad Windszus

WinCD is a multimedia player, that can play back MP3s, CDs, Wave and Ogg-Vorbis files.

iPilot 1.01
Invention Pilot, Inc

iPilot is an attractively-looking control center for your CD-ROM and WinAMP.