Blaze Audio Power Record 2.0

Blaze Audio's Power Record is the no.

Developer:
Blaze Audio
software by Blaze Audio →
Price:
29.00 buy →
License:
Trial
File size:
0K
Language:
OS:
Windows XP/Vista

(?)

Rating:

0

/5 (0 votes)
Blaze Audio's Power Record is the no. 1 internet radio recording program of its kind. Think of it as an in-line VCR for your favorite internet radio shows. Sports. Music. Interviews. Schedule multiple events (even months ahead of time), then forget about them. Power Record does the rest.

With Power Record's exclusive Song Grabber, you can even record part of a program that you might have otherwise missed. Here's how it works: Keep Song Grabber running in the background while you work at your computer.

Then, if you happen to tune into that special news program and realize that you missed the first 15 minutes of an interview you wanted to hear, turn on Power Record, enable Song Grabber, and it's automatically recorded. Just like that.

Whether it's instant recording in MP3 or scheduled recording as a high-quality Wave file, Power Record does it all. It even features Automatic Gain Control to prevent clipping.

Power Record is perfect for catching a sports broadcast or news program that you can't listen to while it's on the air. The only limit to the length of the recording is the size of your hard drive!

Use Power Record with our powerful wave editors, RipEditBurn and Wave Creator!


Blaze Audio Power Record features
Schedule as many events as you want for later recording;

Choose one-time, daily, weekly, or monthly recording;

Specify an internet radio station- Power Record will automatically start it before recording;

Select the exact recording quality and record source;

Record instantly right from your tool tray;

"Grab" programming you might have otherwise missed with Song Grabber.


Requirements
A working Soundblaster compatible sound card.

Internet connection to record internet radio.'

Windows media Player 9 or higher


Limitations
14 days trial.

tags

power record song grabber internet radio that you have otherwise news program might have otherwise missed program that record does you can blaze audio you might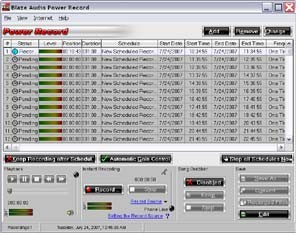 Download Blaze Audio Power Record 2.0

Download Blaze Audio Power Record 2.0

Purchase:

Buy Blaze Audio Power Record 2.0
Authors software

Blaze Audio RipEditBurn 2.3
Blaze Audio

Welcome to the integrated and easy CD creation solution.

MIDIMaster Karaoke 3.5
Blaze Audio

Now MIDIMaster Karaoke not only lets you play, mix, and orchestrate both MIDI and Karaoke files - the brand new performance feature turns your PC into a karaoke recording studio! The features that made MIDIMaster the most flexible and easy-to-use karaoke software on the market are better than ever, and the performance feature adds a whole new dimension to the fun.

Blaze Audio Wave Creator 3.2
Blaze Audio

Wave Creator will bring you full audio editing and transformation capabilities with a clear, simple, easy-to-use interface.

Blaze Audio Power Record 2.0
Blaze Audio

Blaze Audio's Power Record is the no.

Blaze Audio Wave Breaker 1.1
Blaze Audio

Wave Breaker will take an audio file, detect silent places in the file and break the file into smaller files at those silent places.
Similar software

Blaze Audio Power Record 2.0
Blaze Audio

Blaze Audio's Power Record is the no.

Power MP3 WMA Recorder 1.03
SagaSoft

Power MP3 WMA Recorder makes high-quality recordings directly from your sound card.

Power WMA Recorder 6.0
CooolSoft

Power WMA Recorder is able to record sound into MP3 WAV WMA format directly.

Power Video to Audio Converter 1.03
SagaSoft

Power Video to Audio Converter is a powerful tool to extract audio from video files to MP3, WAV, WMA and OGG files.

Power Audio Recorder 1.55
OnDotSoft

Power Audio Recorder(MP3 Audio Sound Recorder) enables you to record sound from any input source on your computer, including anything that is played back via your sound card, external microphone or any other audio input source.

Power MP3 Recorder (MP3 Sound Recorder) 3.1
CooolSoft

Power MP3 Recorder(MP3 Sound Recorder) is a professional and powerful audio recording software.

Blaze Audio Overdub! 1.0
Blaze Audio

Blaze Audio Overdub! is a program that easily creates overdubs for radio, commercials, internet radio, movie sound tracks, and any other situation where you need to create voiceovers quickly and easily.

RockN Recorder 1.7
RockNAudio.com

RockN Recorder is an audio file recorder.

AVS iRadio Recorder 3.8.2.5
Online Media Technologies Ltd

AVS iRadio Recorder is a nice and convenient, compact internet radio recorder application with the help of which you can record music from Internet radio stations.

Easy Audio Record 2.0.18
AML SOFTWARE

With Easy Audio Record you can turn your PC into a complete audio recording studio.
Other software in this category

GuitarPower 1.2.9
JanaSoftware

GuitarPower - The Ultimate Chord, Scale and Arpeggio Reference for Guitarists.

Any Recorder 3.60
Zjsoftware

Any Recorder is a very useful sound recording tool.

Speak & Mail 2000.15
Shadi Shalabi

Speak & Mail allows your computer to "talk to you".

BpmChecker 4.0
Shareware Hangvogel

Determine the tempo or BPM of a song or other piece of music with BpmChecker by manually tapping along with the music, using your pc keyboard.

Mp3 Media Studio 3.0
ortam.com

Mp3 Media Studio is all-in-one MP3 organizer for converting audio CDs to MP3 and WAV format using CDDB (Internet Compact Disc Database), editing ID3 tags, converting Wav to Mp3 files and Mp3 to Wav files, managing M3u playlists, renaming files using ID3 tags, searching for duplicate Mp3 files, searching and cataloging Mp3 files into Mp3 library, listening Mp3's using your favorite Mp3 player, and much more.