TreeSize Personal 7.0.4

TreeSize Personal is a powerful and flexible harddisk space manager.

Developer:
Joachim Marder
software by Joachim Marder →
Price:
21.00 buy →
License:
Trial
File size:
0K
Language:
OS:
Windows Vista

(?)

Rating:

0

/5 (0 votes)
TreeSize Personal is a powerful and flexible harddisk space manager.

Find out which folders are the largest on your drives and recover megabytes of disk space.

TreeSize Personal shows you the size, allocated and wasted space, the number of files, 3D bar and pie charts, the last access date, the file owner, the NTFS compression rate and much more information for several folders or drives you choose.

TreeSize Personal also helps you to clean up old, big and temporary files. The application has an intuitive Explorer-like user interface and it is fast and multithreaded.

TreeSize Personal can be started from the context menu of every folder or drive.


TreeSize Personal features
Visually Track down disk usage and see the size of all folders including their subfolders and break it down to the file level.

The integrated multi-path file search helps you to find and archive the largest, oldest, obsolete and temporary files, e.g. invalid shortcuts or files owned by a non existant account.

Statistics about file types and file owners on directory level. Additionally it is possible to limit the file system tree on the left to a certain user or file type

The visible columns can be configured separately for the TreeSize Personal window. A lot of optional columns are available. The columns can be selected and sorted in the Options dialog.

TreeSize Personal ships with a shell extensions that adds an additional TreeSize column to the Windows Explorer that is showing the size not only for files but also for folders.

Multithreading: Browse the results during scanning, scan and view several folders at the same time

Include and exclude certain files and folders in your scans

A list of all files in the scanned folder and its subfolders can be exported, for example for use in a database

Support for the file based NTFS compression, compression rate can be shown for each folder and file

Explorer context menu is supported inside the TreeSize window

A list of the top 100 largest files is generated automatically for each scan.

Support for Unicode file and folder names.


Requirements
128 MB free RAM


Limitations
21 days trial

tags

treesize personal the file the size for the columns can the treesize support for for each and file folder and and temporary ntfs compression the largest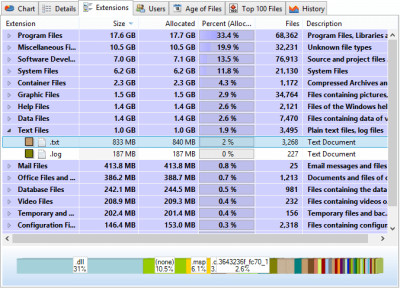 Download TreeSize Personal 7.0.4

Download TreeSize Personal 7.0.4

Purchase:

Buy TreeSize Personal 7.0.4
Authors software

TreeSize Personal 7.0.4
Joachim Marder

TreeSize Personal is a powerful and flexible harddisk space manager.
Similar software

TreeSize Personal 7.0.4
Joachim Marder

TreeSize Personal is a powerful and flexible harddisk space manager.

TreeSize Pro 4.2.2.319
JAM Software

TreeSize Professional is a powerful and flexible harddisk space manager for Windows 98/ME/NT/2000.

PropertyEditor 5.0
UsefulSoft

PropertyEditor is a shell extension for Windows Explorer that allows you to customize desktop icons and context-menu of each folder, file and drive you choose.

Analyze Outlook 1.0.5
Wisco

Analyze your Outlook folder and emails with Analyze Outlook! AnalyzeOutlook is a powerful and flexible Outlook space manager for Outlook 2000, Outlook XP and Outlook 2003.

SpaceObServer 6.1
JAM Software

SpaceObServer - a hard disk space manager for Windows 2/XP/2003.

MBS Disk Space Analyzer Professional 1.7
Crave Worldwide

MBS Disk Space Analyzer is a powerful and easy to use harddisk space analyzer for Windows 98/ME/NT/2000/XP.

Nth Folder Scan 1.0.1
Nth Design

How is your hard drive space being used? Nth Folder Scan is a useful program that analyzes all of the files and folders on your hard drive and shows you: The size of every folder The most recent modification date of every folder The number of files in every folder This may sound familiar.
Need3Space 1.5.8.84
585Soft

Need3Space is a useful and comprehensive set of tools that helps you control and manage your disk space, while also gathering free space, for any drive.

DiskAnalyzer Professional 1.7
Crave Worldwide, India

With DiskAnalyzer you can find out duplicate files, oldest files, biggest files, files without extension, temporary files, junk files, empty folders, zero size files, compressed files, audio/video files, image/graphics files on your disk.

Folder Security Personal 4.1.312
Y0YS Software

Folder Security Personal is a useful protection utility that gives you the opportunity to hide and lock folders and files.
Other software in this category
Paragon Ext2FS Anywhere 3.0
Paragon Technologie GmbH

Paragon Ext2FS Anywhere allows the user to mount Linux partitions under Windows operating systems as normal logical drives with appropriate drive letters.

DiskShare 04.02.00.06
Shaffer Solutions

DiskShare allows UNIX users network-based access to Windows NT files.

Hard Drive Mechanic 8.6.718
Higher Ground Software Inc.

The Hard Drive Mechanic is the ONLY PC crash recovery program designed so anyone can get their PC back up and running in minutes.

Active SMART Monitor 1.11 Build 142
PanteraSoft

Active SMART Monitor is a full-featured failure-prediction agent for machines using Windows 95, 98, NT, Me, 2000 and XP.

Power Defrag 3.02a
e-technik

Power Defrag is a utility designed to make common system maintenance tasks faster and easier.