StatTrak Address Manager 3.1

Address Manager is a simple, easy to use address management program.

Developer:
All-Pro Software
software by All-Pro Software →
Price:
29.00 buy →
License:
Demo
File size:
0K
Language:
OS:
Windows Vista

(?)

Rating:

0

/5 (0 votes)
Address Manager is a simple, easy to use address management program. Perfect for sending your holiday cards or other correspondence.

You can easy add names, addresses, phone numbers, and birthdays. Select your label or envelope size and your addresses are automatically aligned and ready to print.

Create reports of any info you've entered. Great for printing your own Address Book, Church Directory, or Phone Listing for a handy reference. Import addresses from Outlook, and other software programs using a comma delimited file.

Keep all family member names together under one address. You'll never have to wonder what their kids' names are again (or how to spell them!). Group addresses by address types that you define allowing you to organize family, friends, and business contacts separately.


Limitations
limited to adding only 5 addresses
tags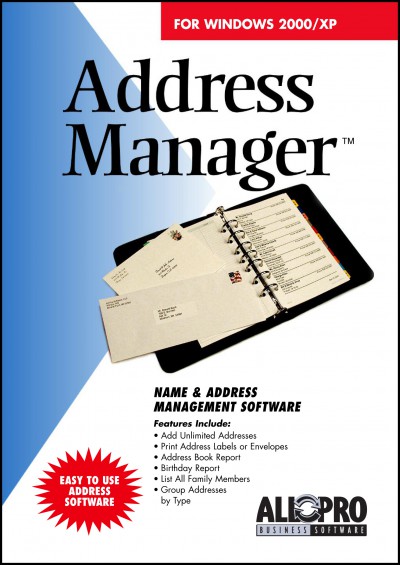 Download StatTrak Address Manager 3.1

Download StatTrak Address Manager 3.1

Purchase:

Buy StatTrak Address Manager 3.1
Authors software

Tournament Scheduler Pro 5.0
All-Pro Software

Tournament Scheduler Pro is a complete tournament management software program.

StatTrak Address Manager 3.1
All-Pro Software

Address Manager is a simple, easy to use address management program.

StatTrak for Baseball / Softball 9.0
All-Pro Software

StatTrak for Baseball is a complete statistics management software application, perfect for tracking stats for individual teams and leagues.

League Scheduler 6.0.5
All-Pro Software

League Scheduler application can be used to create your round-robin or traveling league schedules.
Similar software

StatTrak Address Manager 3.1
All-Pro Software

Address Manager is a simple, easy to use address management program.

Address Database Pro 5.0
Pragmatic Software

Address Database Professional replaces your rolodex by allowing you to track names, addresses and phone numbers.

Addraman Address Manager & Phone Dialler 2.0.0.0
Correllan Computing Services

This is a fully featured address book application in which you can store work and home addresses and telephone numbers of your friends, colleagues and business contacts etc.

The Address Manager 6.5
Kentronics inc.

The Address Manager will let you keep your personal and business data, addresses, phone numbers, email addresses, websites, memos, anniversaries and group these records in any category you desire.

Address Wizard Pro 4.23
RzK GmbH

Address Wizard is an application that will identify available stations on the network It shows IP- and corresponding MAC-addresses as well as station names and NetBios data (name, group and user).

LabelEase 1.0
R&R Media Sales

LabelEase allows you to easy print an address on any label on a lablesheet or on an envelope.

Addza Address Book 1.0.7
Tenmiles Corporation

Address Book Software is an application that manage your addreses Address Book Software change the way you manage, sort and print your addresses.

Email Address Collector 6.0.175
DS Development

Email Address Collector is developed to be an email extractor for Microsoft Outlook, Outlook Express, Win/MSN Messenger, Windows Address Book, Outlook Contacts, DOC, PDF, mail EML files or for other local files.

Phone Book 5.1
PrimaSoft PC

Phone Book for Windows is a handy application that will help you to gather and organize information about all your personal or business addresses, phones.
Contacts Verifier 2.5
MAPILab Ltd.

Contacts Verifier is the first add-in for Microsoft Outlook 2000/XP/2003 made to monitor validity of e-mail addresses from the contacts.
Other software in this category

dataStor 0.3
LAD

With dataStor you will be able define structures for storing any sort of information.

The Birthday Chronicle 9.0
Ken Kirkpatrick Software

The Birthday Chronicle produces a personalized mini-newspaper front page, including graphics, that will be treasured for years.

The Sands of Time 1.32
Ken Kirkpatrick Software

Ken Kirkpatrick Software, the largest publisher of personalization software, has released The Sands of Time, an easy-to-use Windows program that produces a suitable-for-framing keepsake memento that commemorates people`s birthdays, anniversaries, and other special days.

My Diary 5.4
RB59.COM SOFTWARE

My Diary is the ideal application for anyone who makes a diary.

SchedulerLite 1.3 build 144
Atkinson, Inglis & Associates

SchedulerLite is a general purpose staff and resource rostering / scheduling / booking software tool.