Offline CHM 1.1

Offline CHM can download web pages and compile to CHM quickly.

Developer:
Direct-Soft Inc.
software by Direct-Soft Inc. →
Price:
30.00 buy →
License:
Shareware
File size:
0K
Language:
OS:
Windows Vista

(?)

Rating:

0

/5 (0 votes)
Offline CHM can download web pages and compile to CHM quickly. CHM is Compiled Html Help file format. It is a very popular and abundant file formats in internet.

And it is very convenience to share resource and pack files up and backup them.
tags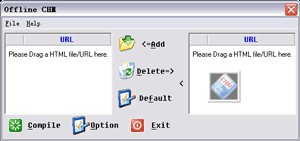 Download Offline CHM 1.1
Purchase:

Buy Offline CHM 1.1
Authors software

Offline CHM 1.1
Direct-Soft Inc.

Offline CHM can download web pages and compile to CHM quickly.

WinMPG DVD Ripper 1.9.0.1
Direct-Soft Inc.

WinMPG DVD Ripper is an application that will help you rip DVDs.

DirectFlashDown 1.01
Direct-Soft Inc.

DirectFlashDown is a utility to download flash files from webpages.
Similar software

Offline CHM 1.1
Direct-Soft Inc.

Offline CHM can download web pages and compile to CHM quickly.

Web Page Archiver 1.2
INEXP Software

Web Page Archiver (WPA) gives you an add-on for Internet Explorer (IE) allowing you to effectively and quickly create archives out of Internet publications and export these archives into files of the Compiled Html Help (CHM) format.
Resource Builder 3.0.2
SiComponents

Need a simple, powerful and fast resource file builder? With Resource Builder you can create, edit, compile and merge RC scripts to build new resource files (.

WebZIP 7.1.2.1052
Spidersoft

Download web pages or entire web sites, to your hard drive and then you can browse them offline.

SoftPepper Video Pack 1.0
SoftPepper

SoftPepper Video Pack is a simple yet smart and powerful video converter and DVD ripper.
My Offline Browser 1.3
Newprosoft.com

My Offline Browser is a software for offline browsing.

Internet Spider Download 2.3
Tensons Corporation

This superb program allows you to automatically download pictures, movies, mp3 and other files to your hard drive for offline viewing.

HTML Executable 3.2.2.2
G.D.G. Software

HTML Executable is a powerful and versatile HTML compiler that will turn websites (or any group of HTML pages) into single executable files which are real stand-alone Windows applications.

eBook Pack Express 1.75
Caislabs Software

eBook Pack Express is a professional ebook creation software.

Offline Downloader 3.60
InternetSoft Corporation

Download whole websites to your computer - and view them offline.
Other software in this category

Internet Explorer Security Pro 7.0.1.1
Eugene Mihailov

Internet Explorer Security is an utility that customizes many aspects of the Internet Explorer Web browser.

iSpellit v1.0
interjag

iSpellit is the one tool that integrates spell checking functionality into your Internet Explorer browser.

Ie Minder 1.0
Screechy

Test all the URLs you have saved in your Internet Explorer favorites list.

IEQuickSaver 1.02
PNAsoft

IEQuickSaver helps you to save the web pages to groups into your collection, the only operation is just one click.

IEPlus Pro 1.4
ShuttleSoft Inc

Features: - unique feature of searching bookmarks; - flexible and customizable quick search function (such as Google); - conveniently saves Flash and image files embedded in web pages to local drive; - choosing from multiple proxy servers without closing Internet Explorer; - disable the download of Flash, images, videos and sound files, which enhances your browsing experience significantly.