WinQuota 3.0.0

WinQuota is 100% automatic and provides a great relief to Administrator.

Developer:
WinQuota LLC
software by WinQuota LLC →
Price:
299.00 buy →
License:
Trial
File size:
0K
Language:
OS:
Windows XP/Vista

(?)

Rating:

0

/5 (0 votes)
WinQuota is 100% automatic and provides a great relief to Administrator.

For some data warehouse available to many users at the same time it is not effective to provide each group with a physical drive. In this case the question about partition rises.

To manage drive capacity in the most efficient way strict limitations on the dedicated space for each group should be set. Disk quota management is meant to solve this problem.

For Windows servers where disk volumes are formatted with NTFS system there is an entire quota management mechanism, but its functionality doesn't cover all needs that can arise during administering a server with a huge disk space shared by multiple users.

The most considerable problem for NTFS quota management mechanism is that quotas cannot be set to arbitrary directories and files, only to a volume as a whole.

What is WinQuota?

To cover all network Administrator necessities, concerning managing space limits and monitoring their keeping, WinQuota LLC designed disk quota management mechanism WinQuota. It allows specifying rich set of rules to manage drive space without any additional re-partitioning or logical volume manipulation as well.

Designed especially for network administration, WinQuota provides quota management for directories and files separately for any kind of users, groups, remote hosts and trusted domains.

There is a possibility to set quota limitations for any specified directories and files, including subdirectories, inner mount points, system and sparse files. Disk quota settings can not be exhausted by any kind of operation, including file moving, renaming, copying and other.

User cannot overdrive its hard limits, but in the case of attempting to use more space than quota set, administrator intervention is not required to unlock/solve quota overflow.

WinQuota as networking quota management solution provides possibilities to:

Enable or disable disk quotas on a volume for every directory
Prevent users from saving new data when their quota is exceeded
View quota settings for each user
Set the default space limit assigned to new users
Get complete support with shared disk quota management of Windows domain structure
Define any kind of user notifications about quota limit excess.


Limitations
30 day trial

tags

quota management disk quota directories and any kind management mechanism and files for any quota settings problem for manage drive the most for each each group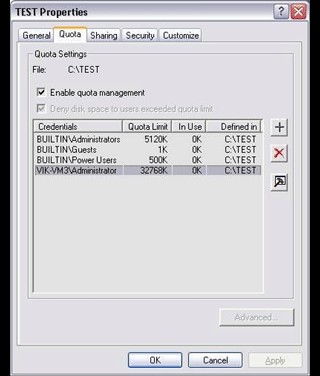 Download WinQuota 3.0.0
Purchase:

Buy WinQuota 3.0.0
Authors software

WinQuota 3.0.0
WinQuota LLC

WinQuota is 100% automatic and provides a great relief to Administrator.
Similar software

WinQuota 3.0.0
WinQuota LLC

WinQuota is 100% automatic and provides a great relief to Administrator.

SpaceGuard SRM 6.0 Build 1113
Tools4ever

SpaceGuard SRM is a directory based quota management tool featuring quota enforcement, notification through popup and SMTP/MAPI mail, and Active Directory integration.

TrafficQuota 1.0
DigiRain Technologies

TrafficQuota is a quota enforcement extension for Microsoft ISA Server.

CheckQuota 5.0
Timo Kosiol - Softwareconsulting

CheckQuota is the professional monitor program for directories.

Storage Monitor Pro 3.1.13
Power Admin LLC

PA Storage Monitor Pro edition is a useful solution that allows you to monitor large disk volumes, report on the stored content, track quotas and more.

Ocean FTP Server 1.1.7.0
Code Ocean

Ocean FTP Server is a fast, secure and easy to use FTP Server with support for SSL, disk quota limits, bandwidth restrictions, IP restrictions, and a range of security protection options.

PaperCut NG 7.0.4260
PaperCut Software Pty Ltd.

PaperCut NG is a print quota, charging, tracking and monitoring solution created to promote the responsible use of IT resources.

Disk Space Inspector 3.9.3
AdvexSoft LLC

Disk Space Inspector is a feature-packed, yet easy to use, useful and reliable hard disk analysis, file management and disk space reporting software.

MailBee.NET IMAP 2.0
AfterLogic Corporation

MailBee.

BulletProof FTP Server 2019.0.0.52
BulletProof Software


Other software in this category
Paragon Ext2FS Anywhere 3.0
Paragon Technologie GmbH

Paragon Ext2FS Anywhere allows the user to mount Linux partitions under Windows operating systems as normal logical drives with appropriate drive letters.

DiskShare 04.02.00.06
Shaffer Solutions

DiskShare allows UNIX users network-based access to Windows NT files.

Hard Drive Mechanic 8.6.718
Higher Ground Software Inc.

The Hard Drive Mechanic is the ONLY PC crash recovery program designed so anyone can get their PC back up and running in minutes.

Active SMART Monitor 1.11 Build 142
PanteraSoft

Active SMART Monitor is a full-featured failure-prediction agent for machines using Windows 95, 98, NT, Me, 2000 and XP.

Power Defrag 3.02a
e-technik

Power Defrag is a utility designed to make common system maintenance tasks faster and easier.