watchDirectory 4.2.5

WatchDirectory automatically starts your .

Developer:
GdP Software
software by GdP Software →
Price:
49.00 buy →
License:
Trial
File size:
0K
Language:
OS:
Windows XP/Vista

(?)

Rating:

0

/5 (0 votes)
WatchDirectory automatically starts your .bat or .cmd file when the directory contents that this program is monitoring changes (a file or directory is added, deleted or changed). watchDirectory is a security software that can backup files that are created in a directory.

The bat or command file that is executed receives all information on what has changed on the command line and in environment-variables.

Basically you can do anything you want with this information. Several example bat-files to get you started are included in the online help.
There are more examples available on our web site and forum.


watchDirectory features
Automatically backup files that are created in a directory.

Automatically FTP modified files from a directory to an FTP server/web-site.

Automatically compile sources that arrive in a directory (Auto Make).

Synchronizing 2 directories.

Efficiently monitors directories: watchDirectory receives a notification from Windows when the monitored folder changes.

Easy to start automatically at system start-up.


Limitations
30 days trial

tags

are created web site that are files that backup files when the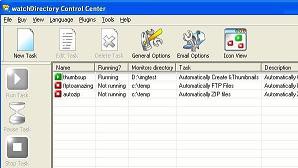 Download watchDirectory 4.2.5
Purchase:

Buy watchDirectory 4.2.5
Authors software

imgThumb 1.5.2
GdP Software

The imgThumb thumbnail maker software enables you to make a smaller sized thumbnails and HTML for your original pictures.

watchDirectory 4.2.5
GdP Software

WatchDirectory automatically starts your .
Similar software

watchDirectory 4.2.5
GdP Software

WatchDirectory automatically starts your .

File Watcher 1.0
Steve Lohja & Associates

You can use the File Watcher application to monitor a file system and react when changes to the directories or files it contains occur.

Directory Replicator 2.2.6
BlochWeb

Directory Replicator creates or maintains an exact duplicate of the original directory.

QSyncFTP 1.8
QUESTER

Publish or update your web site by mouse-click automatically or by timers fully automatic to any FTP server.

Directory Compare 2.11
Glenn Alcott

Directory Compare offers a comparison of the contents of two directories and the ability to synchronize the directories.

dfg BackUp XP 3.14.2
d.f.g

It's simply the best! - The fastest, award winning and easy to use back up and restore program for nearly all backup medias - HD, ZIP, FTP, CD R/RW, etc.

AJC Directory Synchronizer 2.9.0
AJC Software

This is a very powerful, yet easy to use directory compare and synchronize program.

DirSync Directory Synchronizer 3.0.6 build 128
Frank Archer

DirSync is an application designed to synchronize directories or folders smartly and quickly.

Directory Classifier 2.2
Adolix

Directory Classifier lets you view a customizable listing of the contents for any folder on your computer.

Sentry-go Quick File Monitor 6.4
3Ds (UK) Limited

The Sentry-go Quick File Monitor allows you to quickly & easily monitor changes made to both local and remote files, the contents of those files, directory changes & structure modifications, entries written to local Event Logs.
Other software in this category

AutoMove 1.9.4
K.Tkalec

AutoMove is a service, which moves, copies and renames files/direcotries on hard disks by user defined criteria.

1 Click Runner 2.0
Gapso Software

1 Click Runner is specially designed for fast start of programs, fast opening files, fast access to WWW and FTP sites, fast starting of e-mail writing, and fast creation of links.

Windows Keyboard Indicator 2.0.1
Clever Components

Windows Keyboard Indicator is a small utility which stays in your windows system tray.

Invisible Launcher 1.01
Segobit Software

Invisible Launcher is a configurable software designed to offer you a fast way to organize and start up your applications and to open folders, shortcuts and documents that you frequently access.

LogonStudio 1.0
Stardock Corporation, Inc.

LogonStudio allows users to easily customize new logon screens for Windows XP.