Virtual Tree 4.1

Virtual Tree is a combined Tree/ListView .

Developer:
Infralution
software by Infralution →
Price:
120.00 buy →
License:
Shareware
File size:
0K
Language:
OS:
Windows XP/Vista

(?)

Rating:

0

/5 (0 votes)
Virtual Tree is a combined Tree/ListView .NET control with advanced data binding capabilities and unmatched performance displaying large data sources.

Virtual Tree comes with advanced data binding capabilities and much more.

You can use VirtualTree as a simple tree, a standard list view, or you can combine the best features of both and provide your users with a dynamic interface that allows them to explore a hierarchical view of their data while displaying and editing all the relevant information in columns.

VirtualTree's unique support for context sensitive columns allows you to display only those columns relevant to the currently selected item (see example below). This makes it possible for the first time to meaningfully display heterogeneous data in a combined Tree/ListView control.


Requirements
Visual Studio 2003 or 2005


Limitations
30 days trial

tags

binding capabilities capabilities and you can data binding advanced data combined tree tree listview with advanced virtual tree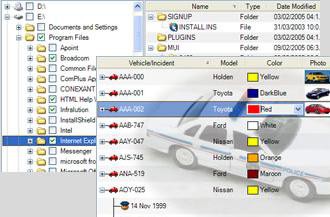 Download Virtual Tree 4.1
Purchase:

Buy Virtual Tree 4.1
Authors software

Virtual Tree 4.1
Infralution

Virtual Tree is a combined Tree/ListView .

Infralution Licensing System 4.7
Infralution

Infralution Licensing System (ILS) is a powerful .
Similar software

Virtual Tree 4.1
Infralution

Virtual Tree is a combined Tree/ListView .

Application Aspect Hierarchical DataGridView 1.0
Application Aspect

Hierarchical DataGridView is a new Windows Forms component that will extend DataGridView component included in Microsoft .

Teroid Data Source Browser 3.0
Teroid Software

Teroid Data Source Browser is a .

Tree Navigation System. 1.3
Sirius Computer Consultants Limited

This java applet will provide a sophisticated Tree style view to your web pages.

RapidTree 8.0.5
9Rays.Net

RapidTree offers you a control with combined TreeView/Grid/List functionality (multicolumn TreeView).

TreeTable 2.2
Scand

TreeTable - This Java applet combines both table (grid) view and tree view.

eXTree Lite 4.0.0.3
Exontrol Inc

Add an enhanced exTree component to your application.

EditListView Enhanced ListView 1.0
EzTools Software

EditListView is a useful program that extends the Microsoft ListView's capabilities to allow column editing, control font styles and color, and background color on a per row, column or cell basis.

Table Library 3.9.21
Scientific Applications

Table Library - A Java GUI library that enhances the functionality and appearance of JTable.

FlyTreeView 8.0.5
9Rays.Net Inc.

100% Delphi VCL suite FlyTreeView represents the fastest tree/grid/list technology available on the VCL (Delphi/C++ Builder) components market.
Other software in this category

PickList 1.3.36
Dev4Dev

PickList is an ActiveX control for selecting items from one list (available) and moving them to another list (selected).

LLLib Licensing Library 3.0
GPP Software

LLLIB is a Software Licensing Library, supplied as .

TreeView 1.8.76
Dev4Dev

TreeView displays a hierarchical list of Node objects, each of which consists of a label and a bitmap.

TachyonSpell 1.1c
Tachyon Labs

An ActiveX DLL that adds Spell Checking functionality to COM-enabled development tools, it contains a 102,000 word list and a very easy to use Interface.

PSS Update Check Control 1.1
Practical Software Solutions L

PSS Update Check is a Royalty Free Active X component that allows you to add that "Check for Update" button or menu item to you application in just a few lines of code.