Save Keys 6.0

Save Keys 5.

Developer:
Froebis
software by Froebis →
Price:
15.00 buy →
License:
Demo
File size:
0K
Language:
OS:
Windows Vista

(?)

Rating:

0

/5 (0 votes)
Save Keys 5.5 is a completely invisible key recorder. It grabs keys, which you type on your keyboard and saves them to a log file. Save Keys 5.5 will also save the title of a window that is in focus.

It has many configuration options and encryption. It will record keys from English or German keyboards.
tags

save keys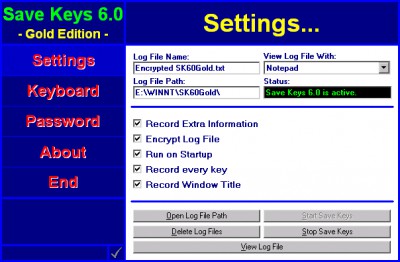 Download Save Keys 6.0
Purchase:

Buy Save Keys 6.0
Authors software

Save Keys 6.0
Froebis

Save Keys 5.
Similar software

Save Keys 6.0
Froebis

Save Keys 5.

Save Keys Gold Edition 6.0
Froebis Interactive

Save Keys is a completely invisible key recorder that secretly records every key typed into the keyboard along with the window title of the window or program that the keys were typed into.

Secure Keys 4.0.2
Mike Messer

Even with the very best anti-spyware devices running, spyware still seems to find its way into your online computers, so, the Secure Keys idea is, to assume that you are being spied on, sometimes, and to operate invisible to these spies.

Mouse Keyboard Wizard 2.1
VsiSystems.com

Mouse Keyboard Wizard lets you type using your mouse.

MountFocus Keyboard Designer 3.2
MountFocus Information Systems Ltd.

Wouldn't it be nice to have a computer keyboard that you could customize to your liking? You could make the keys any size or color.

Macro Wizard Keyboard Mouse Recorder 2.1
Vsisoftware.com

Macro Wizard Keyboard Mouse Recorder 4.

KeyboardChanger 1.1
zhang'xu

KeyboardChanger is a Windows program which can redefine your keyboard, disable the keys or change the keys-output.

Macro Keyboard Mouse Recorder Wizard 2.1
VsiSoftware.com Inc

Macro Wizard Keyboard Mouse Recorder is a software which lets you to record and play back keyboard and mouse actions.

I Hate This Key Deluxe Edition 4.0
ByteGems

If one were to comprise the list of keys most hated by computer users, it would include Caps Lock, Win key and Sleep keys at the very top.

The Keys Program 3.1
CyberNiche Software

The Keys Program is an easy to use database for businesses to keep track of keys for buildings, offices or vehicles that are issued to employees or other individuals.
Other software in this category

Omniquad Surveillance Anywhere 1.1e
Daniel Sobstel

Surveillance Anywhere provides a useful management tool for sys-admins and others concerned in the activities on and contents of the systems for which they are responsible by enabling them to monitor activity on any pc at any time, from anywhere without the need to physically access that computer.

Second Sight 1.43
iQuesoft-Online

Install Second Sight on your PC and start recording everything that's happening on your computer.

Cybervizion 1.2
Moonlight Software

Cybervizion will let you protect your kids from the dangers of the Internet, concerned about your employees playing games, surfing inappropriate websites, leaking company information by e-mail, or wondering what your spouse or mate is doing online, CyberVizion will provide you with everything you need to know.

Sensor 1.21
NFG group Software

The program conducts statistics of the started programs, ciphers and writing down it in a file.

iWitness 2003
Robert Perk Software

Desktop surveillance has never been so easy.