SAT GRE Crash Course 1.0

SAT GRE Crash Course is a software that helps you to learn SAT and GRE words easily.

Developer:
Sheppard Software
software by Sheppard Software →
Price:
14.00 buy →
License:
Trial
File size:
0K
Language:
OS:
Windows Vista

(?)

Rating:

0

/5 (0 votes)
SAT GRE Crash Course is a software that helps you to learn SAT and GRE words easily.

SAT GRE Crash Course teaches 840 frequently appearing SAT and GRE words. It features a study level and five different learning levels. The five learning levels allow the student to attack the words from different angles allowing more complete learning. A special "Crash Course" rapid learning plan is also included.

The 840 vocabulary words are divided into 42 lists of 20 words each. It is suggested that students master one word list at a time. The word list may be selected from the "Subject" menu at the top of the form.

After selecting the appropriate word list, the player is ready to proceed to Level One. Level One, "Quizzes - Multiple-Choice," is the standard vocabulary quiz with which most students are familiar. Each vocabulary word has five multiple choice answers; the student must pick the correct one. Whether the student gets the answer correct or incorrect, the full definition of the word is provided for further study.

After finishing Level One, a list of words will appear. The player can then mark the words that he or she doesn't know well enough. This word list will appear after each level except Level Four. At any point the student can choose to concentrate on his or her marked words by selecting "Marked Words" from the "Subject" menu.

Level Two, "Quizzes - Multiple Choice With Definitions First," also has vocabulary quizzes. On this level however the definition is provided and the student must pick the word that best fits the definitioon.

On Level Three, "Flip Cards - Supply The Definition," each vocabulary word is presented to the student. The student then must define the word to himself and hit the submit button. He then must compare his definition to the one provided, and score it on a scale from zero to five.

On Level Four, "Matching," the student must match the ten words in column one with the ten definitions in column two by dragging and dropping. Hurry up! To receive the highest score of 100, you must complete all 20 matches in 60


SAT GRE Crash Course features
Teaches 840 frequently used SAT GRE words

Includes a "Crash Course" for rapid learning

Enables deeper learning with five different levels

Features a rapid-fire game

Allows students to concentrate on words they don't know

Includes best vocabulary learning and test taking tips


Limitations
30 days trial

tags

the student crash course word list the word sat gre level one gre crash student must multiple choice gre words then must vocabulary word each vocabulary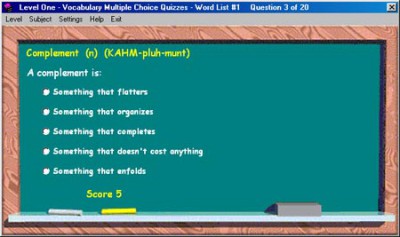 Download SAT GRE Crash Course 1.0

Download SAT GRE Crash Course 1.0

Purchase:

Buy SAT GRE Crash Course 1.0
Authors software

Brain Builder - Math Edition 3.0
Sheppard Software

Brain Builder - Math Edition is a game that includes over 500 million problems presented in a fun multimedia format.

Algebra - One On One 1.1
Sheppard Software

Algebra One on One is an educational game for those wanting a fun way to learn and practice Algebra.

Astro-Mania 2.0
Sheppard Software

Astro-Mania is an application that teaches all the important things about astrology.

SAT GRE Crash Course 1.0
Sheppard Software

SAT GRE Crash Course is a software that helps you to learn SAT and GRE words easily.

Math Function Mania 3.0
Sheppard Software

Math Function Mania is a multimedia game that help you to learn functions, algebra and how to solve problems.
Similar software

SAT GRE Crash Course 1.0
Sheppard Software

SAT GRE Crash Course is a software that helps you to learn SAT and GRE words easily.

Vocaboly 5.01
Vocaboly Software

Vocaboly is a learning software for English vocabulary, especially for TOEFL, GMAT, GRE, SAT test takers, through many learning methods, including test and game, the hard memorization will be much easier and more efficient, especially lots of fun.

WordPal Vocabulary Builder 1.12
MindPal

Do you want to increase your chances of getting into the college of your choice? Is your career stuck in a rut? Are you only able to converse in a few limited areas? Then let WordPal Vocabulary Builder program help you.

Word Stars 2.1
Class One Software

Word Stars 2.

JLearnIt 5.0
Anthony Goubard

JLearnIt is a multilingual dictionary sorted by categories that will help you learn the vocabulary of another language progressively (each word has a level of use).

Vocabulary Wizard 6.7
Prosigner

Vocabulary Wizard is a useful vocabulary utility that will help you very much.

WordHacker Mini Edition 4.1
WordHacker Computing,Inc

WordHacker is a powerul vocabulary builder for GMAT/GRE/SAT/ACT/TOEFL test takers, ESL students and teachers.

MSN Password Sniffer 1.0
mythusoft

MSN Password sniffer is a useful and handy utility that can capture MSN passwords.

QB - Text Analyzer 1.1
Sierra Vista Software

Are you learning a new language? One of the most critical things you need to learn is the vocabulary.

ChineseAssist 2006 1.3
Synergy Data Solutions

ChineseAssist gives you the possibility to learn chinese reading and improve your vocabulary quickly.
Other software in this category

Eye Relax 1.2
United Research Labs

Everyday so many thousands of people across the globe are working on their computer for hours.

DANCE - the dance patterns database 4.51
Markus Bader

DANCE - the dance patterns database is a very useful utility for those who want to learn how to dance.

Academia 3.0
Genesis Software

Academia is an educational program that can be used by anyone.

Open Book 2.3.4
Aleksei Vinidiktov

Open Book is a useful vocabulary maker utility for Windows 98, Me, XP, 2000, 2003 Server featuring an effective method for memorizing information.

Hormonal Forecaster - Fertility Software 5.2
Brian Frackelton

The Hormonal Forecaster easily charts fertility and ovulation to help you avoid or achieve pregnancy and conception by charting the most fertile days of a woman`s menstruation.