FileBox eXtender 2.00.03

FileBox eXtender enhances the Windows user interface in several powerful ways.

Developer:
Hyperionics Technology LLC
software by Hyperionics Technology LLC →
Price:
20.00 buy →
License:
Shareware
File size:
0K
Language:
OS:
Windows Vista

(?)

Rating:

0

/5 (0 votes)
FileBox eXtender enhances the Windows user interface in several powerful ways. It adds a "push-pin" button to your "top level" windows. This function prevents any window you "pin" to the desktop from being covered by any other windows.

This is great when you want to keep an eye on one program, but use another. (For example, refer to a document window in Word while typing an E-mail in another program.)FileBox eXtender is a tool that helps you to manage windows and navigate folders.

Another FileBox enhancement is the "roll-up" button added to top level windows. When you click it, the window is "rolled up" leaving only its title bar visible, and uncovering what was underneath it. Click that button again, and the window rolls back down.

FileBox further enhances Windows by adding several advanced functions to the standard Open File and Save File dialog boxes. (Note that if a program uses its own "private" dialog boxes for these functions, you won't see our FileBox buttons, sorry.)

FileBox adds two handy buttons to these standard dialogs. These appear on the right side of the Windows dialog box title bars. These buttons appear next to the minimize, restore, and maximize buttons with which you're probably already familiar.

FileBoxcan also forcibly resize the standard Windows file management dialog boxes so they're bigger, and thus easier to use if you've got lots of files in a folder through which you need to look.
tags

dialog boxes the window the standard when you which you windows this the windows top level level windows filebox extender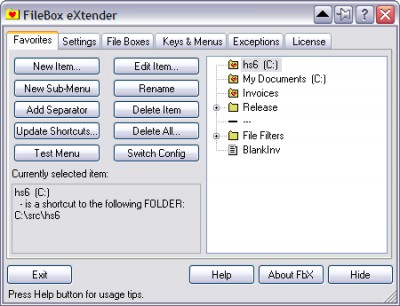 Download FileBox eXtender 2.00.03

Download FileBox eXtender 2.00.03

Purchase:

Buy FileBox eXtender 2.00.03
Authors software
Similar software

FileBox eXtender 2.00.03
Hyperionics Technology LLC

FileBox eXtender enhances the Windows user interface in several powerful ways.

Chameleon Clock 5.1
Jury Gerasimov

Chameleon Clock is a desktop clock which purpose is to be useful, user-friendly, and beautiful.

MSN Password Sniffer 1.0
mythusoft

MSN Password sniffer is a useful and handy utility that can capture MSN passwords.

Parity Plus 2.1
DataBull

Parity Plus is one of the most powerful Stock Charting and Technical Analysis software application available on the market.

Outlook Profiler 2.7.0.1
GOFF

Outlook Profiler addresses the need to create Outlook Exchange profiles automatically.

DivX DVD Ripper 1.5
Openwares

DivX DVD Ripper is a free and useful tool for backing up your DVD movies.

Torrent Search 4.8
Openwares

Wired Magazine declared "Kazaa is tired, BitTorrent is Wired!" BitTorrent is the fastest and the newest growing file sharing client for the Windows operating system.

Download Accelerator Lite 1.0.4
Openwares

Download Accelerator Lite (DAL) is a free and useful open source tool for increasing download speeds and for resuming, scheduling, and organizing downloads.

Direct Folders 3.71
Code Sector Inc.

Waste lot of time while opening and saving files? Direct Folders will allow you access most recent and favorite folders directly from the standard File Open and File Save dialog boxes, as well as Explorer, WinZip and WinRAR.

Actual Title Buttons 8.14.4
Actual Tools, Inc.

Actual Title Buttons lets you add the new Minimize To Tray and Stay On Top buttons to any application's title bar next to the Windows standard Minimize/Maximize/Close buttons.
Other software in this category

AutoMove 1.9.4
K.Tkalec

AutoMove is a service, which moves, copies and renames files/direcotries on hard disks by user defined criteria.

1 Click Runner 2.0
Gapso Software

1 Click Runner is specially designed for fast start of programs, fast opening files, fast access to WWW and FTP sites, fast starting of e-mail writing, and fast creation of links.

Windows Keyboard Indicator 2.0.1
Clever Components

Windows Keyboard Indicator is a small utility which stays in your windows system tray.

Invisible Launcher 1.01
Segobit Software

Invisible Launcher is a configurable software designed to offer you a fast way to organize and start up your applications and to open folders, shortcuts and documents that you frequently access.

LogonStudio 1.0
Stardock Corporation, Inc.

LogonStudio allows users to easily customize new logon screens for Windows XP.