dupeGuru 3.6.0

dupeGuru is a tool which allows you find duplicate files on your PC.

Developer:
Hardcoded Software
software by Hardcoded Software →
Price:
19.00 buy →
License:
Shareware
File size:
0K
Language:
OS:
Windows XP/Vista

(?)

Rating:

0

/5 (0 votes)
dupeGuru is a tool which allows you find duplicate files on your PC.

dupeGuru can scan either filenames or contents.

The filename scan features a fuzzy matching algorithm that can find duplicate filenames even when they are not exactly the same. dupeGuru runs on Windows 98/Me/NT/2/XP and Mac OS X 10.4 (Universal binary).

dupeGuru is efficient. Find your duplicate files in minutes, thanks to its quick fuzzy matching algorithm.

dupeGuru is customizable. You can tweak its matching engine to find exactly the kind of duplicates you want to find.

dupeGuru is safe. Its engine has been especially designed with safety in mind. Its reference directory system as well as its grouping system prevent you from deleting files you didn't mean to delete.


Requirements
.NET Framework 2.0

tags

exactly the matching algorithm fuzzy matching duplicate files find duplicate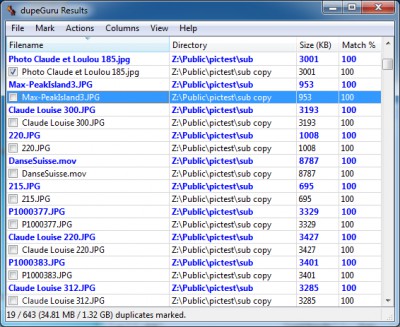 Download dupeGuru 3.6.0
Purchase:

Buy dupeGuru 3.6.0
Authors software
Similar software

dupeGuru 3.6.0
Hardcoded Software

dupeGuru is a tool which allows you find duplicate files on your PC.

dedupeIT 1.06
helpIT Systems

Don't be fooled by dedupeIT's ease of use.

FuzzyDupes 2007 5.7.5
Kroll Software-Development

FuzzyDupes (Fuzzy Duplicate Search) will find similar records in address and other databases.

Find Duplicate Files 3.1
miami share

Find Duplicate Files is an application that find and delete all duplicate files on your computer.

Moleskinsoft Clone Remover 1.9
Moleskinsoft

Clone Remover - duplicate file finder - find duplicate mp3, find duplicate pictures and more! Clone Remover will detect file duplicates on your hard drives.

NoClone Home Edition 4.0.42
NoCloneSoft

NoClone - Find and Remove TRUE duplicate files.

zsDuplicateHunter Standard 2.21
Zizasoft, LLC

zsDuplicateHunter offers you seven methods of deleting duplicate files.

Duplicate files manager 4.0
Cequal Software

Duplicate files manager help you find out and clean duplicate files,expand disk space and optimize disk.

Unique Filer 2.01b
InTouch Communications

Unique Filer is a powerful solution to help you find and remove duplicates from your computer.
#1 Duplicate File Finder 1.01
twotails.biz

#1 Duplicate File Finder free's up space and speeds up your computer by finding duplicate files on your harddrive.
Other software in this category

MagicDoc 1.00
TDOC Projects Ltd

MagicDoc is a document scanning, encryption, archiving and retrieval solution suitable for home and business use.

Print Folder 1.01
Print Folder

Print Folder is a simple program for printing directories.

FolderToDrive 1.0
DDGroup

FolderToDrive associates a path with a drive letter.

O&K Print Watch 4.1.1058
O&K Software

O&K Print Watch allows you to track and audit print jobs on Windows NT 4.

Advanced Directory Printer 1.83
Segobit Software

Advanced Directory Printer is a Windows based software created to print or export a list of directories, sudirectories and files.