ChemLab 2.6.2

ChemLab allow you to develop your computer technology skills.

Developer:
Model Science Software
software by Model Science Software →
Price:
32.00 buy →
License:
Shareware
File size:
0K
Language:
OS:
Windows Vista

(?)

Rating:

0

/5 (0 votes)
ChemLab allow you to develop your computer technology skills.

ChemLab - whether your challenge is to introduce new computer technology to your curriculum, or bring the lab experience to on-line students or a need for an alternative to dangerous, expensive or environmentally hazardous labs, then Model ChemLab is the classroom proven solution for you.

Model ChemLab originated from academic work in computer simulation and software design at McMaster University. It has continued to be developed with extensive input from educators interested in the possible application of computer simulations for classroom and distance learning.

Model ChemLab is a unique product incorporating both an interactive simulation and a lab notebook workspace with separate areas for theory, procedures and student observations. Commonly used lab equipment and procedures are used to simulate the steps involved in performing an experiment. Users step-through the actual lab procedure while interacting with animated equipment in a way that is similar to the real lab experience.

ChemLab comes with a range of pre-designed lab experiments for general chemistry at the high school and college level. Users can expand upon the original lab set using ChemLab's LabWizard development tools, thus allowing for curriculum specific lab simulation development by educators. These user designed simulations combine both text based instructions and the simulation into a single distributable file.


ChemLab features
Easy to use lab interface modeled on common lab procedure

Student lab notebook workspace area

Real time animated interactive simulation engine

Lab Wizard tools for easy user created lab simulations

Support for plug-in lab simulations extensions

Demostration mode, allows user to capture and replay a simulation.

Integration with RasMol molecular viewer

Integrated Periodic Table application with quiz

Available in English, Spanish and French


Limitations
15 days trial

tags

model chemlab notebook workspace lab procedure lab notebook lab simulations interactive simulation lab experience simulation and computer technology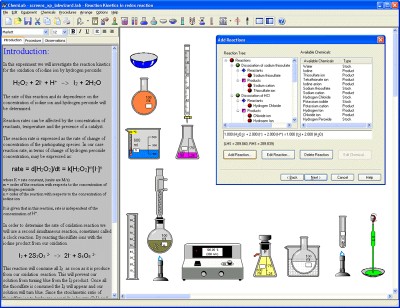 Download ChemLab 2.6.2
Purchase:

Buy ChemLab 2.6.2
Authors software

ChemLab 2.6.2
Model Science Software

ChemLab allow you to develop your computer technology skills.
Similar software

ChemLab 2.6.2
Model Science Software

ChemLab allow you to develop your computer technology skills.

Real Lives 1.1
Educational Simulations

Educational Simulations offers Real Lives, the life simulation that gives you the opportunity to learn how people really live in other countries.

Orbit Xplorer 2.2
ottisoft.com

Educational orbit and gravitation simulator for high school, college and beginning university physics and astronomy.
EKG Simulation 1000
Two Brothers Software

Theatrical EKG simulation Program, Two Brothers Software.

The STIMULATOR 1
Stock Thing

STIMULATOR is a Stock Market Modeling and Simulation engine with a "real-life" approach to trading.

MaterialWorlds Simulations 1.5
MaterialWorlds

MaterialWorlds Simulations provide you with live interactive physics simulations that let you explore the Solar System (satellites and comets, gravity, tides, orbits, seasons), play snooker (on a full size table) and experiment with Laws of Motion simulations (free worksheets provided for pendulum, Newtons cradle, terminal velocity and Galileos balls - as dropped from the Leaning Tower of Pisa).

Mechanics Labs 1.0
Multimedia Science

Mechanics Labs contains ten simulated computer labs that students can run on any PC.

Simulation Studio 1.3
eyeWyre Corporation

Simulation Studio is an interactive, 3d robotics and microcontroller simulator for Windows, all in physics enabled virtual world.

Vox Maris GMDSS Simulator 1.0
Advenio Softwate

Vox Maris is a useful and reliable technical trainning tool.

Virtual Fashion Professional 1.0 build 8.98
Virtual Fashion

Virtual Fashion Pro is the first fashion design tool which allows you to bring your creative fantasies to life.
Other software in this category

Eye Relax 1.2
United Research Labs

Everyday so many thousands of people across the globe are working on their computer for hours.

DANCE - the dance patterns database 4.51
Markus Bader

DANCE - the dance patterns database is a very useful utility for those who want to learn how to dance.

Academia 3.0
Genesis Software

Academia is an educational program that can be used by anyone.

Open Book 2.3.4
Aleksei Vinidiktov

Open Book is a useful vocabulary maker utility for Windows 98, Me, XP, 2000, 2003 Server featuring an effective method for memorizing information.

Hormonal Forecaster - Fertility Software 5.2
Brian Frackelton

The Hormonal Forecaster easily charts fertility and ovulation to help you avoid or achieve pregnancy and conception by charting the most fertile days of a woman`s menstruation.