Web Chart Creator 3.0

Developer:
Ankord
software by Ankord →
Price:
49.00 buy →
License:
Shareware
File size:
0K
Language:
OS:
Windows Vista

(?)

Rating:

0

/5 (0 votes)
tags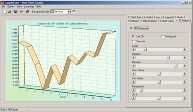 Download Web Chart Creator 3.0

Download Web Chart Creator 3.0

Purchase:

Buy Web Chart Creator 3.0
Authors software

PHP Expert Editor 4.3
Ankord

PHP Expert Editor is a powerful PHP IDE (Integrated Development Environment) for Windows.

Web Chart Creator 3.0
Ankord



zxChart 2.2
Ankord

zxChart - creates dynamic charts in the Macromedia Flash SWF format.

GIF Base CGI 2.0
Ankord

GIF Base CGI is your tool for fast creation of dynamic images for the Internet/Intranet projects using databases of any type (counters, baners etc.
Similar software
Other software in this category

Web Chart Creator 3.0
Ankord



BB TestAssistant 2.6.4.1294
Blueberry Consultants Ltd



EZP3P 2.20
P3P Tools Inc.