Update Cleanup 2.00
Update Cleanup safely removes the backup files that were created when installing a Windows hotfix or service pack update.

Developer:
PC Shareware Inc
software by PC Shareware Inc →
Price:
4.00 buy →
License:
Trial
File size:
0K
Language:
OS:
Windows XP/Vista

(?)

Rating:

0

/5 (0 votes)
Update Cleanup safely removes the backup files that were created when installing a Windows hotfix or service pack update. Removing the old backup files with Update Cleanup will free up hard disk space. Update Cleanup will also remove the associated Registry entries for these items -- entries that visibly show up as unnecessary application entries in the Add/Remove Programs panel.

Microsoft regularly makes available critical Windows XP and Windows 2000 security patches (or hotfixes as they are also called) which ensure that your operating system keeps up to date. These patches/hotfixes are obtained in a variety of ways:

A) By visiting the Windows Update or Microsoft Update website (accessible from your START button).

B) Through the Automatic Update service which runs in the background on your PC and weekly checks for recently issued updates/patches/hotfixes.

C) By System Administrators downloading and applying patches and hotfixes to your PC.

Regardless of how the patch/hotfix is obtained one thing you should be aware of: All of the files that will be replaced are backed up on your hard drive just in case the update goes awry and you need to return your PC to its prior state. These older files that are replaced are stored in hidden folders in your Windows system folder.

Over time these backup folders accumulate and can occupy a significant amount of disk space. For example a typical Windows 2000 PC would have had over 80 patches/hotfixes installed between Fall 2002 and Fall 2005. These 80+ udates created 80+ folders and contains thousands of old files. On a typical Windows XP PC a user could expect to find over 3 dozen patches/hotfixes installed over a period of just 12 months! The amount of hard disk space occupied by these old, backed up files could easily reach 800 megabytes. Are these backed up files useful to retain, or can they be deleted and disk space freed up?

After you install an update and reboot your PC you should monitor your PC for a few days to see if everything is working properly, and that nothing "broke" during the update. Sometimes an update can go awry for a multitude of reasons, and if so, you can uninstall the recent patch/hotfix through the "Settings > Control Panel" where you will find an Add/Remove Programs applet (tool). All of the updates will be listed there by date.

However, if days and weeks pass and your computer is running perfectly, then there is no need to keep those backed up old files on your hard
tags

disk space patches hotfixes update cleanup files that replaced are your hard the update old files hotfixes installed typical windows you should through the hard disk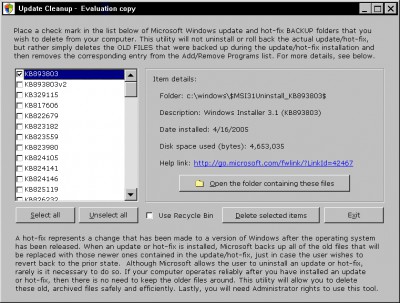 Download Update Cleanup 2.00
Purchase:

Buy Update Cleanup 2.00
Authors software

Another Notepad 1.70.32
PC Shareware Inc

ANOTHER NOTEPAD - Windows text editor.

Zip Code Companion 4.14
PC Shareware Inc

Zip Code Companion is a handy database which allows you to quickly find or verify zip codes, states, cities and area codes within the USA.

Password Guardian 5.01
PC Shareware Inc

Password Guardian is handy software database that stores all of your passwords into a single, convenient file.
Update Cleanup 2.00
PC Shareware Inc

Update Cleanup safely removes the backup files that were created when installing a Windows hotfix or service pack update.
Similar software
Update Cleanup 2.00
PC Shareware Inc

Update Cleanup safely removes the backup files that were created when installing a Windows hotfix or service pack update.

ASIS Backup 2.4
SOFTOTEC

ASIS Backup - We know what you think: "Another backup utility? I have seen too many of these already.

SecureCentral PatchQuest Free Edition 4.3.1
AdventNet Inc

SecureCentral PatchQuest is an automated, patch management software application for distributing and managing patches, security hotfixes and updates across heterogeneous networks comprising Windows, Red Hat Linux and Debian Linux systems, in just a few simple clicks.

MSI Patch Builder 1.0
MSI Patch Builder

MSI Patch Builder compliments Microsoft Visual Studio Setup Projects by providing a quick and simple way to create MSI Patches.

PatchBreeze 1.4
MagpieSoft

PatchBreeze is a simple but powerful software patch and update building tool which is used for creating extremely compact software, documents and databases updates from the old version to the new one.

RemoteExec 4.0
IS Decisions

RemoteExec is a very powerful tool for remotely updating your Windows NT/2/XP networks.

VisLogic 1.7
VisLogic

Administrators take care of all Microsoft Windows computers within the network by updating all systems with the latest patches and updates provided by Microsoft constantly.

SOS Backup and Restore 5.0
Digital Security Group Inc

SOS Backup and Restore is a backup and recovery tool which was developed to help you reduce the pain around installing Microsoft SP2 and other patches or software, SOS Data Protection & Recovery Software Reduces the Risks of Critical Updates and Service Packs Errors and System Conflicts.

Backup 2.0
Roncli Productions

Backup is a powerful FTP file backup solution which works as a Windows service.

GFI LANguard Network Security Scanner 8.0 Beta
GFI Software

GFI LANguard Network Security Scanner (N.
Other software in this category

Folder Clean v1.3
Digital-W Soft

This system tool is used to automatically clean unwanted files from your folders.

Evidence Eliminator 5.058
evidence-eliminator.com

Did you know.

WipeUrTrax 1.30
Collake Software

WipeUrTrax is an advanced web browser history management and cleaning application that offers unique functionality of concealing some browsing activities without having to delete the entire WipeUrTracks, browser history.

Crystal Clean .0 Beta 1
Crystal Art Software.

Crystal Clean is the product that brings you more harddisk space, a higher performing system and anonymous Internet surfing.

IE Pets 1.0.0.1
Enjoy! Software

IE Pets brings privacy and cleanup features to Internet Explorer using a convenient toolbar installed right into IE.