Quick Ping Monitor 3.3.0

Quick Ping Monitor is a powerful graphic ip monitor tool.

Developer:
TallSoft
software by TallSoft →
Price:
28.00 buy →
License:
Shareware
File size:
0K
Language:
OS:
Windows Vista

(?)

Rating:

0

/5 (0 votes)
Quick Ping Monitor is a powerful graphic ip monitor tool. It is able to monitor the states of thousands of IP equipments simultaneously and send message when states of some equipments change ! it could also adopt necessary steps to deal with troubles.

Quick Ping Monitor is very useful for network administrators, server administrators, webmasters .

Quick Ping Monitor is a software that allows you monitor IP address.

Quick Ping Monitor is the updated version of SuperPinger. Compared with SuperPinger, Quick Ping Monitor is more efficient ,more stable , has more functions and a more friendly interface .

Quick Ping Monitor is able to do two things:

Watch states of network line/server/switch/router/work station/other IP devices.

Watch IP address situation of one or more network address segments and ON/OFF information of computers.

Quick Ping Monitor can set the mail group mail priority and could set the length of ping packet from 12 bytes to 65500 bytes.

Compared with other present products , Quick Ping Monitor owns following advantages :

A tool which provides parallel watching , Quick Ping Monitor's parallel detecting method is much sensitive , while traditional in-turns method sometimes results in long interval-time when there are too many IP devices to be watched .

A short interval-time as short as 50 millisecond ! Even facing thousands of IP devices , Quick Ping Monitor is still able to check the states of all IP devices within seconds , without any confusing results .

Several watching parameters . you can check following parameters such as IP device UP/DOWN, package-lost rate , etc .

Rich dealing means such as beep,box warnings , mails to as many as 256 administrators, running related program .

More notify functions.

Macro parameters

tags

quick ping ping monitor interval time set the the states compared with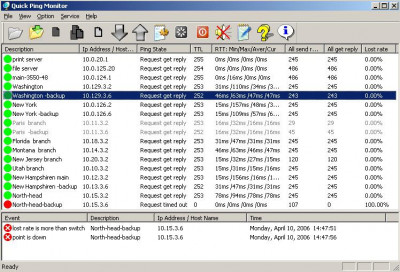 Download Quick Ping Monitor 3.3.0

Download Quick Ping Monitor 3.3.0

Purchase:

Buy Quick Ping Monitor 3.3.0
Authors software

MSN Track Monitor 3.55
TallSoft

MSN Track Monitor is a msn spy utility to capture MSN chat on network.

Quick Access Folders & Files 2.2
TallSoft

Quick Access Folders & Files is an efficient desktop enhancement utility and a powerful explorer assistant.

Quick Ping Monitor 3.3.0
TallSoft

Quick Ping Monitor is a powerful graphic ip monitor tool.

Cisco CDP Monitor 3.32
TallSoft

Cisco CDP Monitor is an efficient network diagnostic and troubleshooting tool.

Quick Tftp Server Pro 2.3
TallSoft

Quick Tftp Server Pro is a multi-threaded tftp server and telnet server for Windows.
Similar software

Quick Ping Monitor 3.3.0
TallSoft

Quick Ping Monitor is a powerful graphic ip monitor tool.

SuperPinger 2.02
TallSoft Ltd.

SuperPinger is a powerful graphic ping software.

Omni Net Monitor 4.5
Jacques Cooper

Omni Net Monitor allows the user to create a list of IP addresses, and periodically ping each computer at a user-specified time interval.

Utility Ping 2.1.2
QKsoft Inc

Utility Ping is a handy and powerful ping utility for system administrator or webmaster to check network connection, intended to replace the standard ping program that comes with Microsoft Windows for ever.

ServerMonitor Pro 3.3.2.8
Power Admin LLC

ServerMonitor is a good utility available for ensuring your critical infrastructure is up and running correctly.

Ultra Ping Pro 2.1
John Facey, II

Ultra Ping Pro network utility is a highly advanced ping program capable of pinging IP ranges, trace routes and whois.

Monitor Wolf 2.00
Lone Wolf Software

Monitor Wolf - if your website goes down wouldn't you like to know about it ? The fact is that most Web Hosting companies never bother to notify you when your web site is not responding.

Overseer Network Monitor 5.0.219.12
Sensible Software Solutions

Overseer Network Monitor- windows 2/XP based network/system monitoring software designed to monitor websites, network devices, services, event logs, and available disk space and notify administrators of problems via Email, pager, cell phone, or net send.

AB Complete Ping 3.00
AB Software

AB Complete Ping allows you to ping one or more IP addresses, to scan a network for shared resources and to scan a computer for open ports.

WinSuperKit 6.3.1.574
Mjksoft, Inc.

WinSuperKit is a strong network package tool that is used to list ip and MAC addresses of all PCs on your home LAN, find ip address of a special host or host name of a special ip address on internet or intranet, ping a host, trace routes and display the geographical location of the ip address.
Other software in this category

A1Monitor 7.0.1
A1Tech

A1Monitor is a software designated to monitor your network and web server Here are some key features of "A1Monitor": · Monitor multiple URLs (http or https) · Ping any IP address · Monitor any TCP port (ftp, pop3, smtp, telnet etc.

Friendly Pinger 4.2.3
A.Kilievich & Co.

FPinger lets you visualize your computer network as an animated display with indications for which computers are present or absent.

SiteMonNak 2004 V1.0.0
Complete Software Solutions

SiteMonNak can monitor and report on the status of a variety of items that affect the accessibliity of web sites including https web sites, items like DNS, Ping and HTTP response.

The Guardian 5.5.6
PB Software

Keep critical programs running and be alerted.

Box Monitor 1.51
BoxWare

BoxMonitor is a useful Server-Monitor program with an intuitive interface.