IsItUp Network Monitor 8.69

IsItUp Network Monitor is a website monitor, email system monitor and server monitor.

Developer:
Taro Software Inc
software by Taro Software Inc →
Price:
19.00 buy →
License:
Trial
File size:
0K
Language:
OS:
Windows XP/Vista

(?)

Rating:

0

/5 (0 votes)
IsItUp Network Monitor is a website monitor, email system monitor and server monitor. It continuously monitors multiple IP devices, websites, servers & alerts you via email or pager.

Website content check; runs as a service; maintains performance statistics for each device it monitors - up time, maximum response time, minimum response time, standard deviation & error log. IsItUp tracks the last successful and last failed Traceroute.

Taro Software's IsItUp - When you need to know the status of your network. IsItUp continuously monitors multiple "pingable" devices using TCP/IP's Ping utility; it tests email servers by bouncing messages off auto-reply accounts and websites by using HTTP. Devices are monitored at specified intervals, notifying you, by email alert, pager alert or phone, when they go down - or come back up.


IsItUp Network Monitor features
Full featured Windows based IP monitor, email monitor, and Website

Monitor any number of devices, 24 hours a day, 365 days a year

Runs as a Service and on the system tray

Checks TCP/IP (ping) devices, websites, LAN servers, email servers, switches, routers, etc.

Graphical interface is easy to customize and use

Configuration "wizard" makes it easy to add devices and configure options

Watch any mail system by sending email messages and looking for returned echos (Mail systems must have auto reply turned on and a test account with auto reply rule turned on (delivery receipt))

System tests reports on uptime, average response time, and logs all data to a Microsoft Access database for you to work with on your ow

Email message tells how many times failed, return to operation email tells how long it was the down time

Monitor a website for text changes or for a checksum

Website content check lets you know if your website is defaced

HTTP support for GET, POST, and HEAD, Proxy Server


Limitations
30 days trial

tags

auto reply response time content check website content email servers tells how devices websites monitors multiple website monitor network monitor monitor email monitor and continuously monitors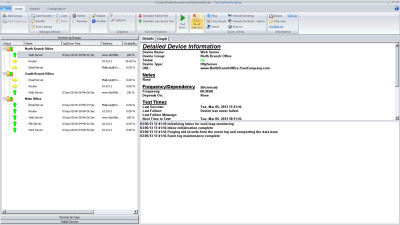 Download IsItUp Network Monitor 8.69

Download IsItUp Network Monitor 8.69

Purchase:

Buy IsItUp Network Monitor 8.69
Authors software

IsItUp Network Monitor 8.69
Taro Software Inc

IsItUp Network Monitor is a website monitor, email system monitor and server monitor.
Similar software

IsItUp Network Monitor 8.69
Taro Software Inc

IsItUp Network Monitor is a website monitor, email system monitor and server monitor.

Servantix Network Monitor 1.0.6
Servantix LLC

Servantix Network Monitor is an advanced Windows based application that can monitor any IP based device on your network including web servers, mail servers, file servers, routers, switches, firewalls, database servers and much more.

Overseer Network Monitor 5.0.219.12
Sensible Software Solutions

Overseer Network Monitor- windows 2/XP based network/system monitoring software designed to monitor websites, network devices, services, event logs, and available disk space and notify administrators of problems via Email, pager, cell phone, or net send.

Network Device Monitor 1.0.4.1
JCITS Systems

Network Device Monitor, NDM for short, (the server), gives permission to a network administrator to poll and scan multiple network devices at set intervals to ensure they are operational.

Macaw Website Monitor 2.0.2.2
Macaw Software

Websites provide direct access to customers, employees, partners, and suppliers.

Radar Website Monitor 4.6.1.7
ApicalSoft

Radar Website Monitor is an automated multithreaded tool that keeps a constant and close watch over your website which can monitor different types of internet services, including HTTP, SMTP, POP3, FTP, and TCP.

First Alert Service Monitor 18.06.01
ElectraSoft

Monitors Internet Services and alerts the user with a variety of methods if down.

TCP Server Monitor 2.3.3.113
Savant Software Inc

TCP Server Monitor is a TCP/IP server and service scanner that monitors multiple servers to ensure Uptime Here are some key features of "TCP Server Monitor": · Monitors user selected servers and services.

Alchemy Eye 11.5.5
Alchemy Lab

Alchemy Eye is a system management tool that continuously monitors server availability and performance.

Theone Server Monitor PRO 3.7.0
Theone software

Server Monitor is a software application that checks the health of any server.
Other software in this category

A1Monitor 7.0.1
A1Tech

A1Monitor is a software designated to monitor your network and web server Here are some key features of "A1Monitor": · Monitor multiple URLs (http or https) · Ping any IP address · Monitor any TCP port (ftp, pop3, smtp, telnet etc.

Friendly Pinger 4.2.3
A.Kilievich & Co.

FPinger lets you visualize your computer network as an animated display with indications for which computers are present or absent.

SiteMonNak 2004 V1.0.0
Complete Software Solutions

SiteMonNak can monitor and report on the status of a variety of items that affect the accessibliity of web sites including https web sites, items like DNS, Ping and HTTP response.

The Guardian 5.5.6
PB Software

Keep critical programs running and be alerted.

Box Monitor 1.51
BoxWare

BoxMonitor is a useful Server-Monitor program with an intuitive interface.