Enterprise IP - Address Manager 3.3.0

Developer:
Enigma Creations
software by Enigma Creations →
Price:
19.00 buy →
License:
Trial
File size:
0K
Language:
OS:
Windows Vista

(?)

Rating:

0

/5 (0 votes)
tags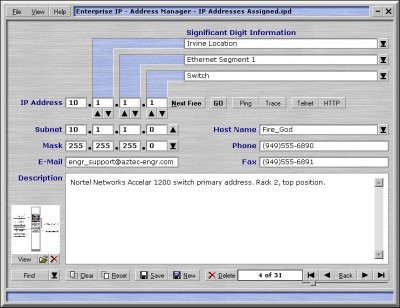 Download Enterprise IP - Address Manager 3.3.0

Download Enterprise IP - Address Manager 3.3.0

Purchase:

Buy Enterprise IP - Address Manager 3.3.0
Authors software

Kaleid-O-Space 2.1.1a
Enigma Creations

Kaleid-O-Space is a brand new Windows screen saver that brings you all the fascination and beauty of a real kaleidoscope, right on your PC! Kaleid-O-Space begins with a panoramic view of planets and a galaxy in space.

Note-A-Phi 2.1.0
Enigma Creations

Note-A-Phi is a tool for managing all types of e-mail newsletters, e-mail notification and response messages, and associated lists of e-mail addresses.

Enterprise IP - Address Manager 3.3.0
Enigma Creations


Similar software
Other software in this category

Select-a-Net 4.1.1 beta 2
Digerati Technologies, LLC

If you use a laptop to connect to multiple networks or switch among multiple browser/proxy settings, then Select-a-Net is for you! What can Select-a-Net do for you? - It allows you to easily store and retrieve your PC's network settings to and from a configuration file making it easy to move your laptop/PC from one network to another.

Subnetting Calculator 1.5
Camalot Designs



IP Helper 4.1
Rebrand Software, LLC

This IP Helper software shows you both your internal and external IP addresses, can notify you by email when they change, performs DNS and Whois lookups, and much more! Many Internet Service Providers (ISPs) use non-static IP Addresses.

SwitchIP Address 3.5.5
Yuval Faigel



Enterprise IP - Address Manager 3.3.0
Enigma Creations