URL Capture 1.4

URL Capture is your serf assistant.

Developer:
URL Toy software
software by URL Toy software →
Price:
14.00 buy →
License:
Shareware
File size:
0K
Language:
OS:
Windows Vista

(?)

Rating:

0

/5 (0 votes)
URL Capture is your serf assistant. It tracks all opened browser windows and saves all their addresses.

All interesting pages can be saved into "packages" and restored by one mouse click on your demand or after internet connection failures.
For work-time serfers it has ability to hide some selected by you applications by pressing "Hot key".

You can interrupt surfing at any time and start surfing from the same position some hours or days later. All key combinations can be reassigned by user.

For home users URL Capture has ability to block unwanted sites from being opened by browser.
tags

ability capture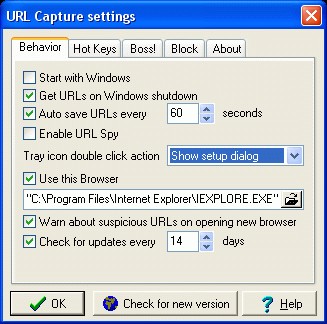 Download URL Capture 1.4
Purchase:
Buy URL Capture 1.4
Authors software

URL Capture 1.4
URL Toy software

URL Capture is your serf assistant.

Advanced SmartCheck 3.2 build 663
URL Toy software

Advanced SmartCheck is an unique software solution that is developed to provide detailed and comprehensive information about the hard drive health on all your network computers and help prevent hard drive failure and loss of important and valuable data.

Personal SmartCheck 3.1 build 351
URL Toy software

Personal SmartCheck (PSC) is an original application designed to offer detailed information about the condition and status of the hard drives on your PC.

Advanced Flash Synchronizer 1.7
URL Toy software

Advanced Flash Synchronizer helps you backup and synchronize data on two PCs that are not connected directly by the help of the external Flash/USB/ZIP drive.
Similar software

URL Capture 1.4
URL Toy software

URL Capture is your serf assistant.

MSN Password Sniffer 1.0
mythusoft

MSN Password sniffer is a useful and handy utility that can capture MSN passwords.

Chameleon Clock 5.1
Jury Gerasimov

Chameleon Clock is a desktop clock which purpose is to be useful, user-friendly, and beautiful.

Outlook Profiler 2.6.0.3
GOFF

Outlook Profiler addresses the need to create Outlook Exchange profiles automatically.
Parity Plus 2.1
DataBull

Parity Plus is one of the most powerful Stock Charting and Technical Analysis software application available on the market.

DivX DVD Ripper 1.5
Openwares

DivX DVD Ripper is a free and useful tool for backing up your DVD movies.

Download Accelerator Lite 1.0.4
Openwares

Download Accelerator Lite (DAL) is a free and useful open source tool for increasing download speeds and for resuming, scheduling, and organizing downloads.

IENavigator 2.0.18
SoftInform

With IENavigator you can easily manage the currently opened Internet Explorer windows, switch between them in a breeze and close all the windows with just one mouse-click.

Torrent Search 4.8
Openwares

Wired Magazine declared "Kazaa is tired, BitTorrent is Wired!" BitTorrent is the fastest and the newest growing file sharing client for the Windows operating system.

BannerZapper 4.02
Nimbleware Solutions, Inc.

BannerZapper will block all pop-up and pop-under windows that appear while surfing the Internet with Internet Explorer.
Other software in this category

Internet Explorer Security Pro 7.0.1.1
Eugene Mihailov

Internet Explorer Security is an utility that customizes many aspects of the Internet Explorer Web browser.

iSpellit v1.0
interjag

iSpellit is the one tool that integrates spell checking functionality into your Internet Explorer browser.

Ie Minder 1.0
Screechy

Test all the URLs you have saved in your Internet Explorer favorites list.

IEQuickSaver 1.02
PNAsoft

IEQuickSaver helps you to save the web pages to groups into your collection, the only operation is just one click.

IEPlus Pro 1.4
ShuttleSoft Inc

Features: - unique feature of searching bookmarks; - flexible and customizable quick search function (such as Google); - conveniently saves Flash and image files embedded in web pages to local drive; - choosing from multiple proxy servers without closing Internet Explorer; - disable the download of Flash, images, videos and sound files, which enhances your browsing experience significantly.