Player 1.7.5

Audio and video player, playlist editor, mp3 tags editor.

Developer:
RF1 Systems
software by RF1 Systems →
Price:
14.00 buy →
License:
Shareware
File size:
0K
Language:
OS:
Windows Vista

(?)

Rating:

0

/5 (0 votes)
Audio and video player, playlist editor, mp3 tags editor. Supported formats include WMA, CDA, AVI, MPG, ASF, MP3, WAV, MID, WMV, WM, SND, AU, AIFF, M1V, MP2.

The list and played position saved automatically. Also supports m3u list manipulations: load, save, modify. 5 displaying modes: micro, brief, medium, full and background.

Modes - 5 different views allows you to choose from many views. Even in micro mode you can resize the window of Player. 2 modes without playlist: brief and micro and 2 modes with playlist: medium and full.

Player recalls last choosen mode from the first two and last choosen mode from the second, it allows you easy changing between them by pressing 'Switch mode' button.

Full mode allows you to sort the playlist by any of criteria such as artist, title, genre, year. 5th mode (background mode) allows you to control Player from popup menu in the system tray.

Video window - Video window is separate window without border. Allowed video modes are 25%, 50%, 100%, 200%, 300%, 400%, full screen with control, full screen without control. Control (player window in brief mode) can be docked at top of the video window, at bottom of video window and undocked.

Playlist - You can add items in the playlist, sort the list, delete selected items, delete not existing files by one click. Also you can assign additional file to any media file and add virtual tracks (cue tracks).

Virtual tracks - Virtual track is not actual track, it contain only start position and description, not actual data. Is has been made to make navigation of each individual file more friendly.

Especially it can helps you to play a long files, such as video films or dj mixes. You can fully manipulate the virtual tracks inside the Player.

Cue file format is used for saving all information of virtual tracks. Several advantages of it include ability to edit cue files manually (it's a text format) and to import a cue file in many CD burning programs.
tags

video window virtual tracks you can allows you full screen not actual cue file control player tracks virtual sort the choosen mode last choosen mode from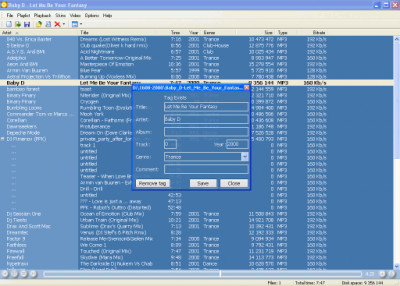 Download Player 1.7.5
Purchase:
Buy Player 1.7.5
Authors software

SaveCD 0.9.1
RF1 Systems

CD to WAV, CD to MP3, CD to OGG ripper; Wav to MP3 converter.

Player 1.7.5
RF1 Systems

Audio and video player, playlist editor, mp3 tags editor.

MIDI Tracker 1.7.4
RF1 Systems

MIDI Tracker was developed as an music editing tool which will combine both new and old style of music editing.

BackUp Utility 1.4.0
RF1 Systems

Backup utility is a useful program created to simplify files and folders copying to the archives.

SiteMan 1.0.6
RF1 Systems

SiteMan provides you a easy way to create a professional web site.
Similar software

Player 1.7.5
RF1 Systems

Audio and video player, playlist editor, mp3 tags editor.

TrayList Player 1.0
D-Net Software

TrayList Player is a truly unique media player and m3u playlist manager that has the ability to load and play your playlists from the system tray, within a few clicks of the mouse you can jump from one playlist to another and back again without even opening the application window.

@MAX Tray Player 2.5b
@MAX Software

@MAX Tray Player is a small and useful media player.
My Music Quiz 1.4.2a
Fishbend Ltd

My Music Quiz is a PC based audio quiz that challenges you and your friends to identify tracks from your music collection, extracted as short samples and played in fiendish ways.

CDH Media Wizard 11.0
CDH Productions

CDH Media Wizard - Powerhouse all-in-one media player, playlist (including full screen video), converter, editor, recorder, and much more.

Tornado Flash Player 1.7
UsShare Software

Tornado Flash Player is a very easy-to-use flash player which not only reinforces functions provided by Macromedia Flash Player, but also has its own expanding that give you the opportunities to enjoy or collect flash and manage your flash movie files more conveniently.

VIPlayer 1.0
Valeri Vlassov

VIPlayer - Media player with possibility to play many media files together and MS Access Database support.

Ace Media Player 2.8.398
GustoSoft, Inc.

Ace Media Player is the most convenient mpeg, divx, rm(Real), mov(QuickTime), dat(Video-CD), asf, wmv, avi media player under windows platform.

VidLizard 1.25
Arbecey Investment ltd.

VidLizard is a multimedia player of video (DIVX, AVI, MPEG, ASF) and audio (MP3, WAV, MID) files for Windows.

MultiMediaPhile 1.6
George Taylor ISD

Catalog your computer's entire music and video collection in minutes, find single files or groups of files instantly and compose a playlist in seconds! Play Mp2, Mp3, Wav, Midi, Mpeg, Avi, and Wmv files using the built-in playback system or launch the audio playlist in your default media player with one click.
Other software in this category

CD/Spectrum Pro 2006.0204
Synthesoft

CD/Spectrum Pro is a 32bit shareware CD-Audio Player with Graphical Spectrum Analyzer and MP3/WAV player.

StarCD 1.4
Fyang.com

StarCD is a full featured AudioCD player with very nice digital audio processes.

CDMaster32 6.0.0.0
Zittware

CDMASTER is a shareware (free to try) CD player that provides conversion technologies for WAV, MP3, and CDs.

WinCD 2.71
Konrad Windszus

WinCD is a multimedia player, that can play back MP3s, CDs, Wave and Ogg-Vorbis files.

iPilot 1.01
Invention Pilot, Inc

iPilot is an attractively-looking control center for your CD-ROM and WinAMP.