Ofilter Player 1.1.0.0

Ofilter Player is an easy-to-use multimedia player.

Developer:
DigitByte Studio
software by DigitByte Studio →
Price:
19.00 buy →
License:
Trial
File size:
0K
Language:
OS:
Windows Vista

(?)

Rating:

0

/5 (0 votes)
Ofilter Player is an easy-to-use multimedia player. Ofilter Player is able to play many kinds of audio and video formats such as mp3, wav, midi, avi, mpeg, VCD etc.

It supports the powerful playback control: play, pause, stop, step, skip forward, skip backward. It can display and configure all filters' properties during the playback of the video.


Limitations
30 day trial

tags

ofilter player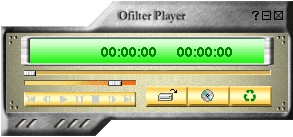 Download Ofilter Player 1.1.0.0

Download Ofilter Player 1.1.0.0

Purchase:
Buy Ofilter Player 1.1.0.0
Authors software

MP3 To Wave 1.2.5.2
DigitByte Studio

MP3 To Wave is a friendly used tool to convert MP3 to wave file.

Photo Slide Show 3.2
DigitByte Studio

Photo Slide Show is a program that converts digital photos to video.

MP3 Splitter 3.2.4.9
DigitByte Studio

MP3 Splitter is an utility that allows you to cut MP3 files.

Mpeg Joiner 2.4.1.9
DigitByte Studio

MPEG Joiner is an easy-to-use and reliable video joiner program which will join several MPEG files into one bigger MPEG format.

File Tree Printer 3.0.7.4
DigitByte Studio

File Tree Printer is a program that will let you to display and print DVD lists.
Similar software

Ofilter Player 1.1.0.0
DigitByte Studio

Ofilter Player is an easy-to-use multimedia player.

Elecard MPEG Player 6.0
Moonlight Cordless Ltd

Moonlight's Elecard MPEG Player is a real-time software MPEG player that provides high resolution and full quality playback of MPEG-1 or MPEG-2 formats of any type.

River Past PlayDV 5.8
River Past

River Past PlayDV is a easy-to-use and flexible DV player.

Elecard DVD Player 2.1.60803
Elecard

Elecard DVD Player allows you to play DVDs or media files (a list of files) from a directory of files copied from a DVD.

HDX4 Player 1.3.14
Jomigo Visual Technology GmbH

The "HDX4 Player" consists of the powerful HDX4 decoder and a video player which can not only playback MPEG4 videos but also a great number of common audio and video files.

X360 Multiple Video Player ActiveX OCX 3.03
X360 Software

X360 Multiple Video Player ActiveX Control helps application developers to control multiple video files playback simultaneously.
Hero Super Player 3000
Century Herosoft Computer Technology Co.,Ltd

The software video player supports almost all formats and disks, you needn't other software player to play various video files.

Easy Karaoke Player 3.0.2.7
DigitByte Studio

Easy Karaoke Player is a program that allows you to record and play karaoke songs.

AVIivaPlus 1.0
RKA Productions

AVIivaPlus is a video player and presentation program.

Sencesa Flash Player 2.0
Sencesa Group

Sencesa Flash Player is a stand-alone player that enables Flash users to easily play their Flash movies (SWF , Flash files).
Other software in this category

Koala Film Player XP 2.6
Koala

Koala Film Player is a program developed to offer the users fast and high quality playback of movie files with subtitles.

MovieView 1.0
Bersoft Inc.

Video player that uses the Windows Media Player engine to play videos in its own fully customizable window.

Gusto MiniCinema 1.40
GustoSoft, Inc.

Gusto MiniCinema is an all-in-one universal media player that works by using external media engines, it supports DivX, QuickTime, RealMedia and Windows Media files, this means that you have to have the media engines installed in order to use Gusto MiniCinema for these formats.

DivX Operational Player 1.35
Gromkov's Software

DivX Operational Player is an unique player with additional functionalities, and is much more useful than all standard media players.

Cool Flash Player 2.18
Siskin Software

Cool Flash Player is a very easy-to-use flash player which not only reinforces functions provided by Macromedia Flash Player, but also has its own expanding that give you the opportunities to enjoy or collect flash and manage your flash movie files more conveniently.