7tools Partition Imager 2005
7tools Partition Imager 2005 affords everything you may need to backup your data.

Developer:
Paragon Technologie GmbH, Syst
software by Paragon Technologie GmbH, Syst →
Price:
39.00 buy →
License:
Demo
File size:
0K
Language:
OS:
Windows Vista

(?)

Rating:

0

/5 (0 votes)
7tools Partition Imager 2005 affords everything you may need to backup your data.

With the new backup-to-CD function you may be 100% SURE that, whatever happens, your documents and programs will be safe and within your reach. It also provides the remote management over LAN through TCP/IP or IPX network protocols and allows to backup, clone or split any partitions of your hard disk, even rare ones and unknown by the program.

7Tools Partition Imager can create backup images and place them on both local drives and removable media, such as ZIP, JAZ, MO, or network drives. It also includes the SID changing utility and can split the backup images (used automatically for removable medias).

Muliticast option, included in the program, allows to copy the partition/or disk image to dozens of PCs across the network. It happens at the same time so it takes much less time than loading image to each workstation.

New options make the program even more secure and convenient - fast copying algorithm speeds up copying process in several times. (Partition Imager 2005 copies only necessary data without using operating system file I/O functions) , sector-by-sector copy allows you to MIRROR you drive – copy all sectors, even those marked as unused. You can copy even to damaged disks! Partition Imager 2005 automatically arranges data to avoid bad sectors.


What's new in this version:
- Burn backup image directly on CD or DVD.
- Backup and restore your hard disk. Restored disk immediately becomes bootable.
- Simple Recovery - boot from Recovery CD, access the backup image (any, even located on hidden partition), restore partition or hard disk.
- Boot from Recovery CD to perform any maintenance operations via DOS and Linux version of the Program or to use NTFS for Linux Driver to fix some critical system files on the NTFS partitions on the hard drive.
- Copy FAT, NTFS, Ext2/3 FS partitions with simultaneous size change.
- Preview changes. Virtual pre-execution of operations lets you make sure that the desired result will be achieved.
- View archive info, create and send logs.
- ISO Burning utility to burn a bootable Recovery CD, which includes DOS and Linux versions of the Partition Imager and allows access to all FAT, NTFS and Ext2/3 FS partitions to place or read backup image.
tags

partition imager the program backup image imager 2005 hard disk boot from dos and fat ntfs and linux drive copy from recovery backup images sure that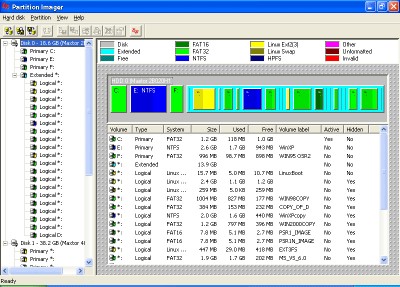 Download 7tools Partition Imager 2005

Download 7tools Partition Imager 2005

Purchase:
Buy 7tools Partition Imager 2005
Authors software
Similar software
Other software in this category

Directory Snoop 5.11
Briggs Softworks

Directory Snoop is a cluster-level search application that lets Windows users snoop through their NTFS and FAT formatted disk drives to see what data can be hiding in the cracks.

Back Rest 3.0
Darkhorse Industries

Back Rest will restore and backup your favorite files and folders.

File Backup Watcher 2.7.11
Desktop Software Ltd

File Backup Watcher is intended for files and folders backup/restoration, both with their following archiving, or without it.

Aid Backup Master 2.35
AidSoft

Aid Backup Master is a highly configurable backup program.

Norton Ghost 9.0
PowerQuest

Noston Ghost helps keep the data on your hard drive safe.