ZVolume Pro 3.44

ZVolume Pro is a nice, powerful replacement to the standard Windows Volume Control.

Developer:
Shelltoys Inc.
software by Shelltoys Inc. →
Price:
14.00 buy →
License:
Shareware
File size:
0K
Language:
OS:
Windows Vista

(?)

Rating:

0

/5 (0 votes)
ZVolume Pro is a nice, powerful replacement to the standard Windows Volume Control. It can be vastly customized, including changing its look using skins. ZVolume Pro supports hotkeys and command-line parameters as well as all other functions the standard Windows Volume Control supports.

ZVolume Pro is a nice alternative to the original volume control for your system. The program takes the form of a tiny toolbar - as small as 64x14 pixels. Use your mouse to adjust the volume or take advantage of its extensive hotkey support.

Besides allowing you to use your keyboard to adjust your sound card's output, ZVolume Pro can control Winamp, Sonique, the NAD MP3 Player, WPlay (Pro), the Windows CD Player and Microsoft's Internet Explorer 4.0/5.0. You can mute your sound with a quick double click on the ZVolume Pro system tray icon and just as easily configure many aspects of the program to suit your needs to a tee.

Other nice features include support for Winamp bitmap skins (several skins are included), a choice of mixer devices and fader controls, the ability to restore the volume level on startup and several command-line parameters.
tags

zvolume pro volume control use your the volume your sound the program command line the standard standard windows windows volume line parameters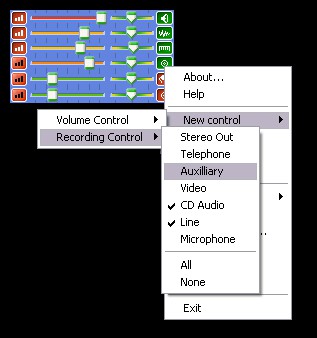 Download ZVolume Pro 3.44
Purchase:
Buy ZVolume Pro 3.44
Authors software

Active WMA Studio 1.2
Shelltoys Inc.

Active WMA Studio is the audio conversion utility with Explorer-like interface, It allows you to encode WAV, MP3 and OGG files to WMA (Windows Media Audio) format with a lot of format options(from 8000 to 48000Hz, up to 192kbps), convert WMA and MP3 files to WAV PCM format, convert WMA files to MP3 format with LAME 3.

Personal Assistant 1.1
Shelltoys Inc.

How to organize the day of our life? Try Personal Assistant - powerful personal information manager and day planner.

ZVolume Pro 3.44
Shelltoys Inc.

ZVolume Pro is a nice, powerful replacement to the standard Windows Volume Control.

Access Folders 2.11
Shelltoys Inc.

Access Folders is a fine Windows enhancement that keeps all of your directories and sub-directories within easy reach.

Cool Desk 3.87
Shelltoys Inc.

Cool Desk is a virtual desktop manager.
Similar software

ZVolume Pro 3.44
Shelltoys Inc.

ZVolume Pro is a nice, powerful replacement to the standard Windows Volume Control.

Power Mixer 2.10
Actual Solution

Power Mixer is an advanced Volume Control replacement application for Windows.
IndieVolume 3.5.99.171
GerixSoft Ltd

IndieVolume is a small utility extending Windows with functionality to allow applications to have totally separate volume, balance and mute audio settings.

SoundWheel 1.2.1
SoundWheel.com

Modern sound systems for PCs usually offer you a way to control the sound level.

VolumeLock 1.4
Actual Solution

VolumeLock is an easy-to-use audio control utility that gives you the freedom in loudness control.

AceKeyboard 1.00
Nufsoft

AceKeyboard is a useful windows utility that will increase productivity and also bring fun to your computer.

Ipodelite Sound Recorder 3.7
Ipodelite Co Ltd

Ipodelite Sound Recorder is a professional tool for those who want a sound recorder.

Audio Sliders 4.2
Code Sector Inc.

Audio Sliders is a versatile and complete audio control tool that includes a Volume Control replacement which is five times smaller than the Windows version.

ArticPlay 2.1
NormalSoft.com

ArticPlay – is convenient, powerful and original, but at the same time this audio player has minimal requirements to resources of your PC.

NoiseNakPlus 2004 1.0.0
Complete Software Solutions

NoiseNakPlus enables the volume to be restricted to different limits depending on the time and day, can slowly increase after unmuting and Windows startup.
Other software in this category

GuitarPower 1.2.9
JanaSoftware

GuitarPower - The Ultimate Chord, Scale and Arpeggio Reference for Guitarists.

Any Recorder 3.60
Zjsoftware

Any Recorder is a very useful sound recording tool.

Speak & Mail 2000.15
Shadi Shalabi

Speak & Mail allows your computer to "talk to you".

BpmChecker 4.0
Shareware Hangvogel

Determine the tempo or BPM of a song or other piece of music with BpmChecker by manually tapping along with the music, using your pc keyboard.

Mp3 Media Studio 3.0
ortam.com

Mp3 Media Studio is all-in-one MP3 organizer for converting audio CDs to MP3 and WAV format using CDDB (Internet Compact Disc Database), editing ID3 tags, converting Wav to Mp3 files and Mp3 to Wav files, managing M3u playlists, renaming files using ID3 tags, searching for duplicate Mp3 files, searching and cataloging Mp3 files into Mp3 library, listening Mp3's using your favorite Mp3 player, and much more.