RFC Viewer 1.41

RFC Viewer is a RFC browsing utility for networking programs and protocol developers.

Developer:
EffeTech
software by EffeTech →
Price:
35.00 buy →
License:
Trial
File size:
0K
Language:
OS:
Windows Vista

(?)

Rating:

0

/5 (0 votes)
RFC Viewer is a RFC browsing utility for networking programs and protocol developers.

RFC Viewer parses the original RFC file, and generates a section directory tree as well as a page index for content browsing. Users can select to view original RFC document, or to hide each page's header and footer. Other features include section titles highlighting, multiple RFC documents viewing concurrently, and colorful RFC document printing.

RFC Viewer is the first full-featured RFC viewing utility and also the only one in the world until now . Previously, when develop a network protocol program, you have to browse the RFC documents for reference with notepad or other common editors through the whole developing period. But a RFC document is organized by a section architecture, and common editors can't recognize and highlight sections.

Therefore, it is very hard and inconvenient to read RFC documents. Now, with the emergence of RFC Viewer, things are different. You can easily read and print RFC documents, as well as browse them with section directory. It will accelerate your developing substantially.


RFC Viewer features
Browse RFC documents with section directory trees
Usually, a RFC document is organized by sections. It is hard to browse content with sections, because an original RFC document is pure text under common text editor. However, in our RFC Viewer, not only the original text content is reserved, but also an easy browsing section directory tree is provided. Then, when read a RFC file and want to refer to other section, just one click will bring you there.
Section highlighting

The build-in RFC parser recognizes section titles and makes them highlight. It also provides an interface to configure the color and font of section titles.
Hide the original header and footer of RFC documents

Are you tired of the header and footer of RFC documents? In our RFC viewer, you can select to hide them or make them gray.
Color Print & Print preview

Print everything same as in the viewer, colorful and highlighting.
Speedy

The speed it analyzes and parses a RFC document is so fast that a RFC file can be read in, analyzed, directory generated and ready for browsing within 1 second according to our test.
View multiple documents

Switch between documents using File Selection Tab, the same in the UltraEditor.


Limitations
30 day trial

tags

rfc documents rfc viewer rfc document section directory and footer section titles rfc file the original header and original rfc with section our rfc you can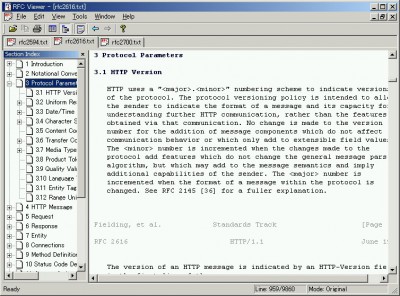 Download RFC Viewer 1.41
Purchase:
Buy RFC Viewer 1.41
Authors software

EffeTech HTTP Sniffer 4.1
EffeTech

A HTTP protocol network sniffer, packet analyzer and file rebuilder.

Ace Password Sniffer 2011.1105
EffeTech

Ace Password Sniffer is able to listen on your LAN and enable network administrators or parents to capture passwords of any network user.

RFC Viewer 1.41
EffeTech

RFC Viewer is a RFC browsing utility for networking programs and protocol developers.

MSN Sniffer 2
Effetech

MSN sniffer is a handy network utility to capture MSN chat on network.
Similar software

RFC Viewer 1.41
EffeTech

RFC Viewer is a RFC browsing utility for networking programs and protocol developers.

RFC Assistant 1.0
Tiger Studio

RFC Assistant is a useful, simple, easy but very powerful RFC browsing software for networking program and protocol developers.

GYZ Tree Document Editor 1.0
Yanzhong Gui

GYZ Tree Document Editor is a tree-structured rich document editor and viewer.

eXPert PDF ViewerX Control 1.0
Visagesoft

eXPert PDF ViewerX provides a standalone (no needs for readers) embeddable PDF Viewer for windows application developers.

PDF Text Viewer 2.1
Foxit Software Company

PDF Text Viewer is the first PDF text viewer and extractor that produces real readable result.

Deductus 1.06
olej

Deductus is disk catalog and personal full-text search engine with explorer-like interface.

DynamicPDF ReportWriter 1.6.0
ceTe Software

DynamicPDF ReportWriter was designed to quickly generate PDF reports from database queries and stored procedures.

Mapsoft TOCBuilder 1.5.1.0
Mapsoft Computer Services Ltd

TOCBuilder is a useful tool which allows you to create a Table of Contents for a document.

ActiveLaunch 3.0
GSI Software Research

ActiveLaunch - Do you want to select several documents and open them at once? Very often you have to launch the same applications several times.

RFC Browser Lite Edition 3.5
RFCBrowser.com

RFC Browser Lite Edition is a viewer tailored to RFC browsing.
Other software in this category

Hex Editor II 2.1
Diplodock

Hex Editor is a hexadecimal editor.

PDF Explorer 1.5.0.55
RTT

PDF Explorer is a PDF file management software and image extraction tool.

Zeus for Windows 3.97n
Xidicone Pty Ltd.

Zeus for Windows Programmer's Editor has been specifically created for software developers working in the Windows environments.

BitShape iEdit 1.0.83
BitShape

BitShape iEdit is an advanced text editor for web-programmers and web-designers with highlighting of HTML, PHP, XML, VB, Perl, SQL, and C/C++ code, template system and number of tools that easier HTML coding.

Programmer Studio 4.4
Whisper Technology Limited

Programmer Studio is a fully customizable Windows code editor designed specifically for programmers developing for PC and server platforms.