QWave 1.6

QWave is designed to simplify the previewing of audio files Most players will take up to 10 seconds to load just the program.

Developer:
Sinner Computing
software by Sinner Computing →
Price:
6.00 buy →
License:
Shareware
File size:
0K
Language:
OS:
Windows Vista

(?)

Rating:

0

/5 (0 votes)
QWave is designed to simplify the previewing of audio files Most players will take up to 10 seconds to load just the program. QWave gets to the point faster by having only an icon in the System Tray and does nothing during start-up other than play the file.

In addition, QWave itself is extremely small (6 KB - the ReadMe is larger than the program itself) and uses the in-built Media Control Interface to play files. Thus, QWave supports almost all Multi-Media files, including Wave, MIDI, MP3, MPEG and AVI. (Audio only.) QWave configures itself to appear in the context menu of all files for easy previewing, but QWave can also be used as the default player.
tags

program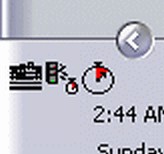 Download QWave 1.6
Purchase:
Buy QWave 1.6
Authors software

CryptIt 1.4
Sinner Computing

CryptIt is capable of using either a string or a file for the code.

CPUSpy 1.044
Sinner Computing

Most x86 processors support the CPUID instruction which returns data describing the make and model of the CPU.

SmEdit 1.17
Sinner Computing

SmEdit is a Small Text Editor created for a general text manipulation and viewing.

GigAlarm 1.343
Sinner Computing

GigAlarm is an application program, capable of over 4 million different alarms.

Egg 1.6
Sinner Computing

Have you ever forgotten to put your clothes in the dryer or left your moon rocket warming up too long? Then this program is for you! Egg is an easy to use countdown timer, settable by second divisions from 1 second up to 99 hours.
Similar software

QWave 1.6
Sinner Computing

QWave is designed to simplify the previewing of audio files Most players will take up to 10 seconds to load just the program.

Ute 1.21
Sinner Computing

Ute is a compact utility with Window Shutdown control, Wave File playing, Time Syncing, Delayed / Controlled Running and Wallpaper Changing capabilities.
Search and Play - Media Player 1.1.0
Brenaige Co.

Search and Play - Media Player is an audio and video player and it supports the usual file formats (such as avi, asf, wav, mp3).

@MAX Tray Player 2.5b
@MAX Software

@MAX Tray Player is a small and useful media player.
Genusoft Media Player 1.0
Genusoft Corporation

Genusoft Media Player is a player developed by MyDesk 2.

Blaze TrayAudio 3.0
Mystik Media

Blaze TrayAudio is a little yet strong media player for playing all of your favorite multimedia files.

MultiMediaPhile 1.6
George Taylor ISD

Catalog your computer's entire music and video collection in minutes, find single files or groups of files instantly and compose a playlist in seconds! Play Mp2, Mp3, Wav, Midi, Mpeg, Avi, and Wmv files using the built-in playback system or launch the audio playlist in your default media player with one click.

Gusto MiniCinema 1.40
GustoSoft, Inc.

Gusto MiniCinema is an all-in-one universal media player that works by using external media engines, it supports DivX, QuickTime, RealMedia and Windows Media files, this means that you have to have the media engines installed in order to use Gusto MiniCinema for these formats.

WinX DVD Player 3.1
FreeTime Soft

WinX DVD Player is a full-featured and easy to use DVD, Audio-CD, Video CD, and media file player.

Video to Audio Converter 2.20
AudiotoolsFactory

Video to Audio Converter extracts the audio from your video files to MP3s so you can play them on your Mp3 player.
Other software in this category

CD/Spectrum Pro 2006.0204
Synthesoft

CD/Spectrum Pro is a 32bit shareware CD-Audio Player with Graphical Spectrum Analyzer and MP3/WAV player.

StarCD 1.4
Fyang.com

StarCD is a full featured AudioCD player with very nice digital audio processes.

CDMaster32 6.0.0.0
Zittware

CDMASTER is a shareware (free to try) CD player that provides conversion technologies for WAV, MP3, and CDs.

WinCD 2.71
Konrad Windszus

WinCD is a multimedia player, that can play back MP3s, CDs, Wave and Ogg-Vorbis files.

iPilot 1.01
Invention Pilot, Inc

iPilot is an attractively-looking control center for your CD-ROM and WinAMP.