My Password Manager 2.2.53

Many people keep names and passwords in their memory.

Developer:
Animabilis Software
software by Animabilis Software →
Price:
19.00 buy →
License:
Trial
File size:
0K
Language:
OS:
Windows Vista

(?)

Rating:

0

/5 (0 votes)
Many people keep names and passwords in their memory. However, it is difficult to remember all the information if there is too much of it. The Password storage program My Password Manager will help unload your brain.

My Password Manager is a convenient tool for storage, protection and comfortable use of any secret information containing passwords.

The program provides reliable encryption, has a convenient interface and a built-in password generator as well as a search feature.

You can create an unlimited number of accounts to store names, passwords and other confidential data; you can sort, edit and copy the accounts as well.

Besides, a data backup system is built-in in the program. To encrypt the data file, My Password Manager uses the 256 bit Advanced Encryption Standard algorithm, so in the future it will be protected from the "brutal force" method attacks (by scanning all possible keys).

The additional functions increasing the reliability of data storage are realized in the program as well.


Limitations
My Password Manager is SHAREWARE. You can use the fully functional trial version for evaluation purposes during a test period of 30 days. To continue to use this software following this test period or earlier, you must register. Otherwise you must remove the software from your computer.

tags

password manager you can the program you must test period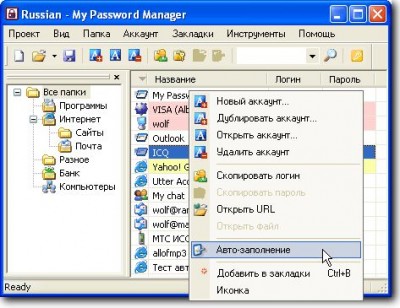 Download My Password Manager 2.2.53

Download My Password Manager 2.2.53

Purchase:
Buy My Password Manager 2.2.53
Authors software

My Password Manager 2.2.53
Animabilis Software

Many people keep names and passwords in their memory.

Aurora Password Manager 3.0
Animabilis Software

Precious information needs to be kept under lock and key.
Similar software

My Password Manager 2.2.53
Animabilis Software

Many people keep names and passwords in their memory.

Network Password Manager 4.9
SOW

Network Password Manager is a multi-functional program for storage, management and protection of valuable information containing passwords.

Advanced Password Manager 2.33
Rayslab Inc.

If you've been using the Internet actively for over a year, you probably have at least a dozen of different logins and passwords to remember - one for your e-mail, couple for your credit cards and bank accounts, a few more for online newspapers and magazines, and one for each online shop or auction where you made your purchases.

Softabar Password Manager 2.0.1
Softabar

Softabar Password Manager is a tool for managing usernames and passwords to various services such as Internet emails, online shops, web servers and other accounts.

Paraben's Password Manager 2.1.2
Paraben Corporation

Paraben's Password Manager is an easy to use personal password management program.

Protected Passwords Base 2.6
Digital Works

Protected Passwords Base means storing your passwords, logins, credit card numbers, and any other confidential data in a strongly encrypted password database file.

Password Boss 2.25
Ammosoft Software

Multifunctional password manager with unique capabilities.

Big Crocodile 3.10
SOW

Big Crocodile is a powerful, secure password manager.

Yamicsoft Password Storage 1.0.0
Yamicsoft

Yamicsoft Password Storage will help you to to store secret and sensitive information on your PC.

Easy Password Storage 3.2
Rebrand Software, LLC

Tired of trying to remember all your different passwords? Sick of Internet Explorer's built in password saving that lets anyone using your computer access your password protected accounts? Now you can store all your passwords for easy access in one secure, encrypted location.
Other software in this category

Secure Password Store 0.81
L.M. Photonics Ltd

Secure Password Store is a secure Password database manager that stores all passwords in a safe database.

Advanced Password Generator 3.58
Segobit Software

Advanced Password Generator is a useful application that was designed to generate passwords of any length and character content.

Entropia Password Manager & Generator 1.3
Nikos Kourkoumelis

Entropia is an application which actually does two things: (a) Stores passwords using modern secure cryptographic methods and (b) Generates passwords using random or pseudo random options.

Password Maintenance 2.1
Softdd

Password Maintenance is a useful software which will store and keep track of all your passwords securely on your PC or diskette.

Account Safe 1.04
Collake Software

Account Safe stores information for all your accounts in a secure encrypted archive.