Mobile Database Viewer(Access,xls,Oracle)for S60 1.5

Developer:
Cellica Software Services
software by Cellica Software Services →
Price:
14.00 buy →
License:
Shareware
File size:
0K
Language:
OS:
Windows Vista

(?)

Rating:

0

/5 (0 votes)
tags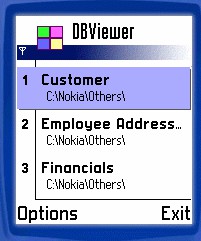 Download Mobile Database Viewer(Access,xls,Oracle)for S60 1.5

Download Mobile Database Viewer(Access,xls,Oracle)for S60 1.5

Purchase:
Buy Mobile Database Viewer(Access,xls,Oracle)for S60 1.5
Authors software

PalmBFL:The Body for LIFE Companion 6.4c
Cellica Software Services

What is PalmBFL? Body-for-LIFE involve activities like planning your next day exercise and meal schedule, performing the schedule you planned, taking your body measurements, keeping track of your performance.

Desktop U.S. Army Body Fat % Calculator 1.3
Cellica Software Services

Desktop U.

BlackBerry Database Viewer 1.4
Cellica Software Services

BlackBerry Database Viewer lets you view any desktop database on BlackBerry Device.

Pocket Contacts Synchronizer 2.0
Cellica Software Services

Pocket Contacts Synchronizer - Transfer and keep desktop database contents synchronized with your Pocket PC Contacts.

Pocket Database Viewer Plus(Access,Excel,Oracle) 3.1
Cellica Software Services

Synchronize & View, Update, Manage Microsoft Access, Excel, Oracle, Foxpro, dBase, MySQL or any ODBC enabled database with Pocket PC.
Similar software
Other software in this category

LogoManager Classic 1.4
Mike Bradley



Oxygen Phone Manager II 2.18.15
Oxygen Software



Oxygen Phone Manager II for Symbian OS phones 2.18.24
Oxygen Software



Nokia free unlock codes calculator 3.10
NokiaFREE


MobiMB Mobile Media Browser 3.6
LogoManager