IntroCreator 2.60.02

IntroCreator is a useful program which can create an intro for your CD.

Developer:
Software-Entwicklung Klaus Schwenk
software by Software-Entwicklung Klaus Schwenk →
Price:
29.00 buy →
License:
Shareware
File size:
0K
Language:
OS:
Windows Vista

(?)

Rating:

0

/5 (0 votes)
IntroCreator is a useful program which can create an intro for your CD. Give your business, product, service or CD presentation immediate impact with a short multi-media introduction.

Intro is computer jargon for a presentation consisting of images, text and animations. (Intro is, of course, short for introduction) .


IntroCreator features
Optimized for use with CD/DVD ROMs

The intro Player can be started directly without installation from a CD/DVD

Runs on all Win32 systems without the need for special additional software

Simple user interface

Sound integration (mid, wav, mp3)

No unique DLLs or run-time modules

Incredibly easy to learn and use

Intro Features


Up to 20 slides for each intro created

A selection of fading effects for the slides

20 text objects per slide with fade-in effects

Background sound (mid, wav, mp3)

Option to run once or in an endless loop

Its Main Use

Creating intros for self-starting (Autoplay) CDs for:


Business presentations

Presenting products or services

CD business cards

Self-starting PowerPoint presentations

Documentary CDs

Training CDs

Job application CDs

Slide shows

Intro-Creator is an excellent choice

Intro-Creator is an excellent choice when:


You're looking to create an intro without having to thumb your way through 500 pages of documentation.

You don't want to spend your time worrying about whether certain "exotic" components have been installed on the target computer before your intro will run reliably.

This is because:

The IntroCreator is easy to use

And your intro will run on all Win32 systems (Win95…XP)

tags

excellent choice your intro intro will will run intro creator self starting win32 systems mid wav wav mp3 all win32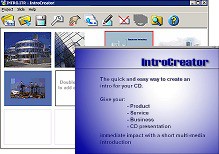 Download IntroCreator 2.60.02
Purchase:
Buy IntroCreator 2.60.02
Authors software

IntroCreator 2.60.02
Software-Entwicklung Klaus Schwenk

IntroCreator is a useful program which can create an intro for your CD.
Similar software
Other software in this category

Image Master 2000 3.5.1
Accidental Software

Image Master 2 allows you to use your pictures to create a unique image viewer or a screen saver.

KlicKlac Studio 1.1
Burel Pascal

KlicKlac Studio is a complete software suite that lets you organize, download, manage and show within a screensaver, the wallpapers or pictures you point and clic in your browser.

requestXpress 0.9
Speciality Applications Pty Lt

requestXpress helps manage software development projects by tracking software bugs/problems/requests as they are reported.

VersaBar 5.1.5.0
Riblio Software

VersaBar is an easy and fast way to create your own bar code, text and graphical labels.

Visual Patch 2.04
Indigo Rose Software

Visual Patch 2.