FastPaste 3.18
FastPaste does save your time.

Developer:
Dextronet
software by Dextronet →
Price:
19.00 buy →
License:
Shareware
File size:
0K
Language:
OS:
Windows Vista

(?)

Rating:

0

/5 (0 votes)
FastPaste does save your time. Paste frequently used text, formatted text and images with custom hotkeys! Makes it easy to enter frequently used text blocks: signatures, e-mail addresses, Internet and IP addresses, logins or passwords, etc. Supports RTF and images.

FastPaste can be used for pasting commonly used text phrases, formated text and even images into the application. There are 30 clips in every project. You can set hotkeys to clips or just click on icon every time. Data will be copied to the clipboard and automatically pasted (you may turn off auto paste). FastPaste have rich configuration and nice and clean user interface.

FastPaste also does offer various clipboard formatting functions. You may convert text in clipboard to the lower, upper, proper, sentence case or even reverse case. You can also use funny ZiG zAg case, reverse it and remove diacritics. Another function is total clean-up of clipboard. You also can copy current time or date quickly from system tray. FastPaste also supports various images effect which can be performed on images which are you using frequently.


FastPaste features
Paste any (even very long) text using hotkey or button

Import/export text files, RTF files, images

Paste formatted text (RTF), using various fonts and colors

Paste images (modern PNG format is supported)

Apply various image effects to your images

Format clipboard - Upper/Lower/Proper case, Remove Diacritics, Reverse text, etc.

Copy current time or date quickly from systray at any time

Instantly clear clipboard

Configure almost anything

Use global and internal hotkeys and great systray menu

Global paste menu with all your clips

Minimize to system tray, run at Windows startup

Export hotkey overview to HTML

tags

used text current time copy current date quickly quickly from system tray remove diacritics you may text and formatted text and images you can frequently used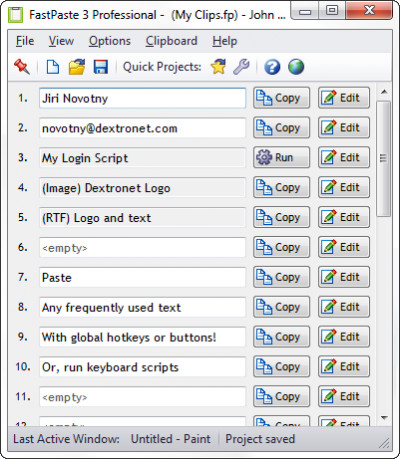 Download FastPaste 3.18
Purchase:
Buy FastPaste 3.18
Authors software
FastPaste 3.18
Dextronet

FastPaste does save your time.

Daily To-Do List 4.522
Dextronet

Daily To-Do list is a to-do list application with reminder and to-do lists organized day by day.

Tree Notes 4.522
Dextronet

Tree Notes is a universal, very user friendly and powerful note manager that organizes your notes in a neat tree.

My Timeboxing 2.01
Dextronet

My Timeboxing is a timeboxing application which allows you to allocate certain amount of time to each of your tasks, and then track your progress.
Similar software
FastPaste 3.18
Dextronet

FastPaste does save your time.

Clip Strip 1.5.4
Innovative Software Creations

Clip Strip is a windows utility that will convert the contents of the windows clipboard into plain text.

Clipboard Express Pro 3.2.7
Chequers Software Limited

Clipboard Express Pro is a useful and performanct clipboard management product.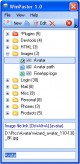 WinPaster 1.2.0
FineApp

WinPaster will allow you to quickly paste a text, graphical or other type of data, prepared beforehand, into any application, using clipboard.

PasteLister 2.3
Progency Software

PasteLister is a tool that captures and saves clipboard data and allows you to paste to any program much easier.

Clipboard Box 5.0
DreamFly Software

Clipboard Box saves times and makes you more productive by adding clipboard functions that windows clipboard leaves out - starting with the ability to save 50 clips, instead of just one.

Smart Paste 1.1
Online P2000

Smart Paste is a multi-line text storage manager, which enhances your window clipboard capabilities.

Buffer 2.0
Uncomsoft

Extended Windows Clipboard.

Just Stuff 2.1
VsiSystems.com

Just Stuff is an all-in-one application with a lot of useful utilities.

Text Monkey PRO 1.0.1
Boxer Software

Text Monkey PRO is a clever program that cleans up ugly, over-quoted email text.
Other software in this category

CuteClipboard 4.3
Haisi Studio

CuteClipboard is an application based on the Windows Clipboard, but supports more functions in order to facilitate your use.

Clipboard Assistant 1.139
Ixis Ltd

Clipboard Assistant is intended for an acceleration and a simplification of text operations via the Clipboard.

MClipboard 2.1
F-Group

Do You want to be limit with one windows clipboard or You want more? MClipboard gives You 10 completent clipboards with additional functions: design hotkey for copy, cut, paste for each, save/load clipboards content, easy change skins and interface language - make application suitable for You! If You think "It isn't for me", You are right, but You still haven't try yet! Features: · MClipboard manager gives you 10 full-scale windows clipboards! · You can use all clipboard's operations only with one shortcut! · You can customize any clipboard's shortcuts! · You can operate data in clipboards with mouse! · This clipboard manager allows to change skins and languages.

clipbox 4.2.4
HJL

The native clipboard in Windows is great for cutting and pasting a single item at a time, but if you want to move a series of items, or save items for later use, then you need ClipBox! Rather than working with one piece of clipboard data at a time, ClipBox enhances the native clipboard functionality by remembering all items (both text and graphic) that are copied to the clipboard and storing them in "collections" for later pasting.

VG Clipboard Master 1.0
VitGroup Ltd

VG Clipboard Master is very useful software that provides extended clipboard capabilities, helps you to work with computer, saving your time and it is easy to use.