Employee Monitoring 3.1

Employee Monitoring is the most dependable, powerful, capable, and very affordable, Internet monitor in the world.

Developer:
Employee Monitoring
software by Employee Monitoring →
Price:
299.00 buy →
License:
Shareware
File size:
0K
Language:
OS:
Windows XP/Vista

(?)

Rating:

0

/5 (0 votes)
Employee Monitoring is the most dependable, powerful, capable, and very affordable, Internet monitor in the world.
It records all Internet activity including all web surfing and instant messaging on MSN, AOL, Yahoo! and ICQ. E.M. records any file downloads and streaming content and all emails including POP3 and I/M usernames and PASSWORDS. E.M. searches for and alerts prohibited Internet use.

It's advanced architecture is designed especially for large companies, universities, libraries and ISPs, yet its methods and feature set are configured for non-technical deployment and utilization.

Employee Monitoring overcomes the 5 Main Obstacles of Employee Internet Monitoring (EIM) corporate deployment:

1) High Expense- Only $299, it comes at one of the lowest prices in the industry;

2) Multiple Installations- Most EIM products require installations on every computer, causing major access, privacy and compatibility problems. (Additional costs range from $49 to $179 per license = Thousands.) E.M. can monitor thousands of computers from just one computer, one installation, one license;

3) Technical Complexity- Employee Monitoring is simple, anyone can install and operate it;

4) Incomplete Surveillance- Employee Monitoring is unique in that it monitors and records ALL WEB SURFING, EMAIL, INSTANT MESSAGING, DOWNLOADS, STREAMING CONTENT, and more, and provides USERNAMES and PASSWORDS.

5) Inconvenient- Through the use of its Watch List feature, Employee Monitoring alerts management early when employees begin wasting time or breaking company Internet policies.

Not only is Employee Monitoring a potent productivity tool, itís also a great network diagnostic utility tool, spyware detector, bandwidth monitor, sniffer, security tool and intellectual property theft deterrent. Get your FREE DOWNLOAD NOW! Within minutes you'll be providing detailed management information regarding employee performance! We'll show you how!
tags

employee monitoring content and usernames and and passwords streaming content instant messaging records all all web web surfing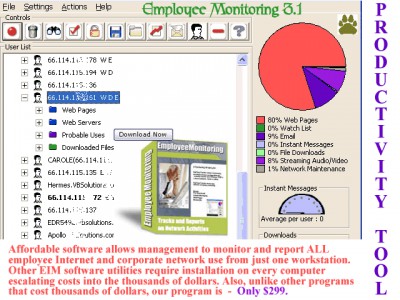 Download Employee Monitoring 3.1

Download Employee Monitoring 3.1

Purchase:
Buy Employee Monitoring 3.1
Authors software

Employee Monitoring 3.1
Employee Monitoring

Employee Monitoring is the most dependable, powerful, capable, and very affordable, Internet monitor in the world.
Similar software
Other software in this category

Omniquad Surveillance Anywhere 1.1e
Daniel Sobstel

Surveillance Anywhere provides a useful management tool for sys-admins and others concerned in the activities on and contents of the systems for which they are responsible by enabling them to monitor activity on any pc at any time, from anywhere without the need to physically access that computer.

Second Sight 1.43
iQuesoft-Online

Install Second Sight on your PC and start recording everything thatís happening on your computer.

Cybervizion 1.2
Moonlight Software

Cybervizion will let you protect your kids from the dangers of the Internet, concerned about your employees playing games, surfing inappropriate websites, leaking company information by e-mail, or wondering what your spouse or mate is doing online, CyberVizion will provide you with everything you need to know.

Sensor 1.21
NFG group Software

The program conducts statistics of the started programs, ciphers and writing down it in a file.

iWitness 2003
Robert Perk Software

Desktop surveillance has never been so easy.