Dr.Web 4.33

Doctor Web, Ltd.

Developer:
Doctor Web, Ltd.
software by Doctor Web, Ltd. →
Price:
40.00 buy →
License:
Trial
File size:
0K
Language:
OS:
Windows Vista

(?)

Rating:

0

/5 (0 votes)
Doctor Web, Ltd. antivirus solutions based on the Dr. Web antivirus engine with the uniform virus bases updating system and the global technical support service are offered for a wide range of users.

The Dr. Web technologies enable both administrators of large corporate networks and home users to implement a reliable antivirus protection.

The Dr. Web antivirus can be used under the following operating systems:

Microsoft Windows 95/98/Me/NT/2/XP

Linux - all distributions with versions glibc-2.1, 2.2 & 2.3

FreeBSD 3.5 or higher (3.x, 4.x and 5.x)

OpenBSD 3.1 or higher

Solaris 8 or higher (i386)

Novell NatWare - version 3.12 or higher

MS DOS

OS/2

Low system resources requirements, speedy performance, compactness and reliability in detecting all types of malicious applications differentiate Dr. Web® from the analogues solutions of other developers.

Doctor Web provides:

Protection for home users

Protection for small and medium business

Protection for large corporate networks

Here are some key features of "DrWeb":

Exceptional compactness of the program modules and the virus bases allowing to easily update even for users having slow Internet connections;

A specially designed programming language for creation of virus bases which allows not only to highly efficiently detect the computer viruses and their modifications, but also to neutralize the malicious code infiltrated into a user's system;

Full scanning of the computer system memory allowing to detect viruses not existing in a file form (CodeRed, Slammer);

Well proved methodology of the virus bases updates allowing users to get protection from any viruses almost immediately after their signatures are added to the Dr. Web virus base;

Possibility of automatic updating of the virus bases without any user's intervention, requiring Internet connection only. User of the Dr. Web® for Windows can feel sure the newest virus bases will be downloaded to their computers in seconds after their release in the Internet;

The highest level of protection of the most critical, from the point of view of the antivirus security, components — the SpIDer Guard resident monitor and the SpIDer Mail mail filter securing their smooth operation in any kind of the virus attacks;

Ability to detect the computer infection with malicious programs and to cure the affected elements of the user system without full scanning of all hard drives by an antivirus scanner launch only;

Unique possibility of the mail traffic protection on the workstation by the SpIDer Mail antivirus mail filter which allows not only to prevent penetration of infected mail messages into a computer, but can also avert mass distribution by an unknown mail worm of its copies;

High response speed to emergence of new viral threats provided by the global virus monitoring network;

Exclusive quality of the heuristic analyzer allowing users of the Dr. Web for Windows to meet many virus epidemics fully armed without waiting for the respective virus bases updates.

tags

virus bases the virus the computer the spider and the protection for allowing users bases updates full scanning for windows mail filter spider mail web for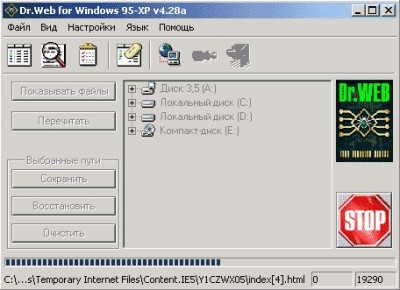 Download Dr.Web 4.33
Purchase:
Buy Dr.Web 4.33
Authors software

Dr.Web 4.33
Doctor Web, Ltd.

Doctor Web, Ltd.
Similar software
Other software in this category

WinNavigator 1.96
WinSoft

WinNavigator is a powerful and easy to use file manager.
CuteZIP 2.1 Build 10.26.1
GlobalScape

CuteZIP offers superior ease-of-use, plus powerful security and archiving features for the most versatile compression utility on the market.
Electrical Calculations 2.70.0.4
L.M. Photonics Ltd

Electrical Calculations software provides calculations for busbar and cable ratings, static and bulk power factor correction, motor starting currents and curves, enclosure ventiation, transformer calculations and many metric / imperial conversions and constants.

mmSensitivity 2.07
MM&Soft Personal Service

Sensitivity Analysis add-in for Microsoft Excel 97, 98, 2000, and 2001 for Windows.